Institutions and Infrastructure
Explore Gallup's research.
The American public would benefit from more discussion and explanation of four of the major themes in President Trump's recent State of the Union address.
Americans have lost track of the fundamentals of education. We measure grades and graduation rates, but are we measuring all of the things that we value? It's not all explained by test scores.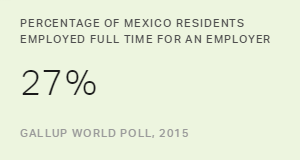 To achieve the greater economic inclusion that Mexico needs, schools and government should work together -- casting a wider net to find and develop a new generation of business leaders that spans regions and socioeconomic classes.