Story Highlights
56% of White adults, 19% of Black adults confident in police
Large racial gaps also seen for confidence in the presidency
Black-White differences not significant for eight of 16 institutions
WASHINGTON, D.C. -- Fifty-six percent of White adults and 19% of Black adults say they have "a great deal" or "quite a lot" of confidence in the police. This 37-percentage-point racial gap is the largest found for any of 16 major U.S. institutions rated in Gallup's annual Confidence in Institutions poll.
Black and White respondents' ratings of the presidency display nearly as large a gap: 47% of White Americans versus 13% of Black Americans express confidence in the institution with Republican President Donald Trump in office.
By contrast, Black and White respondents express similar levels of confidence in half of the institutions rated, showing gaps of five points or less.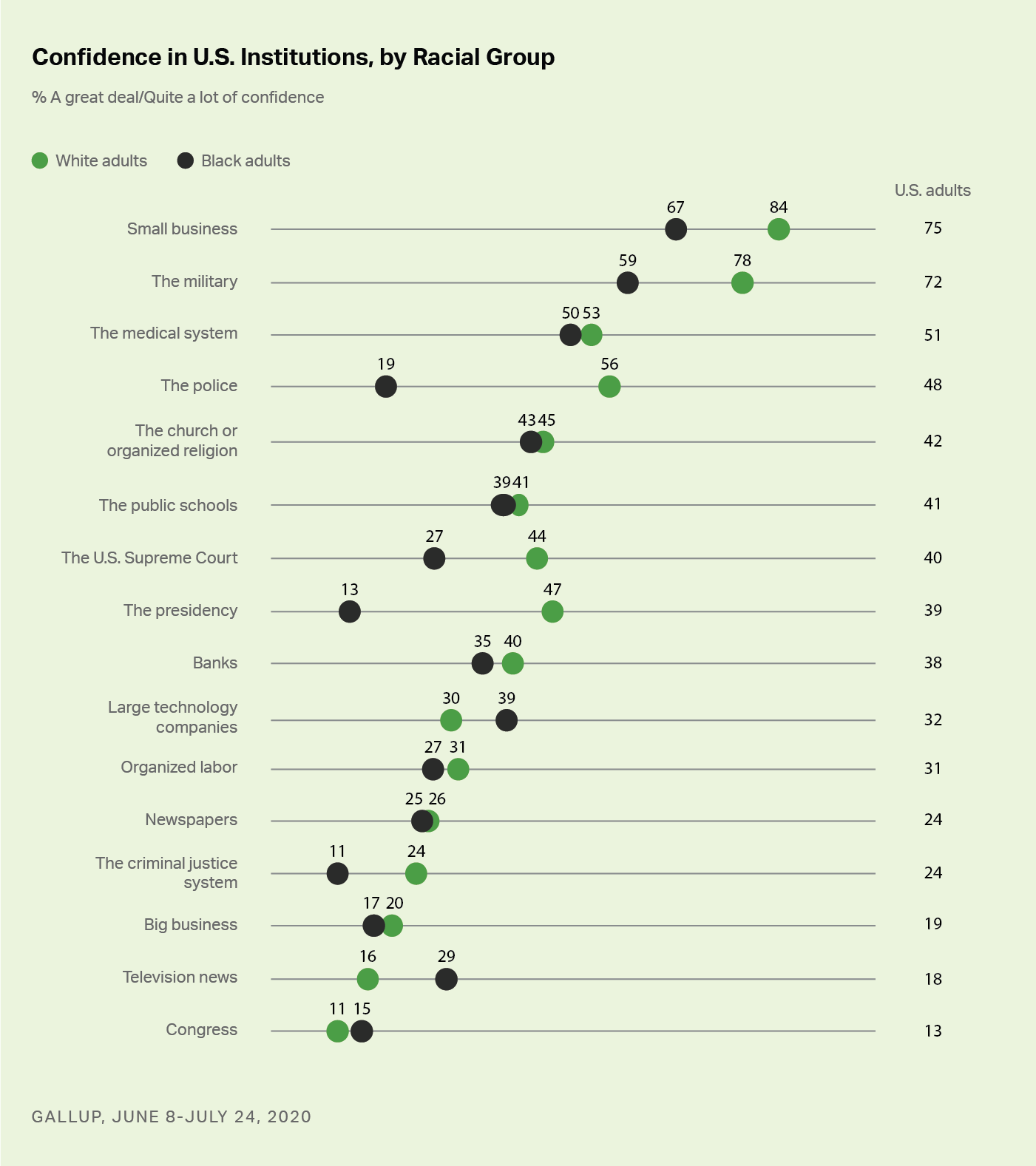 Black and White Americans' confidence ratings in US institutions diverge most on police and the presidency. They show little difference in their confidence in the medical system, organized religion public schools banks organized labor newspapers big business and Congress.
The 2020 results are based on a June 8-July 24 poll of 1,226 U.S. adults, which included an oversample of Black Americans. Gallup's Confidence in Institutions sequence has been asked since 1973, including annual measures since 1993. This year's survey was conducted after George Floyd was killed while in police custody in Minneapolis in late May.
As a whole, Americans are most confident in small business and the military. These are two of the eight institutions that show meaningful racial differences, including a 17-point difference on small business (84% of White respondents and 67% of Black respondents are confident) and 19 points on the military (78% and 59%, respectively).
Other institutions viewed differently by White and Black Americans include the Supreme Court, the criminal justice system, TV news and large technology companies. The latter two are the only institutions in which Black adults express greater confidence than White adults -- 29% of Black respondents and 16% of White respondents are confident in TV news, while 39% of Black respondents and 30% of White respondents are confident in large technology companies.
Racial Gap in Ratings of Police Has Grown Over Time
Gallup has found persistent, wide racial differences in Americans' confidence in the police since adding it to the roster of institutions measured in 1993. White respondents have been much more confident than Black respondents in the police, but the current 37-point gap is larger than it has been historically.
From 1993 until the beginning of the Black Lives Matter movement in 2013 -- after the acquittal of the shooter in the Trayvon Martin case -- about 25 points separated Black and White adults' ratings of confidence in the police. Over the subsequent six years -- 2014 through 2019 -- Black Americans' confidence in police dipped six points to an average of 30%, while White Americans' confidence was steady at 60%, increasing the racial gap to 30 points.
The current poll shows less faith in the police among both White and Black respondents; however, the decline has been larger among Black than White respondents, which has resulted in an even wider racial gap than before.
56% of White Americans and 19% of Black Americans are confident in the police. The 37 point gap is larger than it has been in the past.
Racial Gaps in Confidence in Presidency, Other Institutions Also Common
The 34-point gap in confidence in the presidency between Black and White Americans is larger than it has been previously during the Trump administration. Before this year, 22 points on average separated White (40%) and Black (18%) Americans' confidence in the presidency since Trump took office in 2017.
But this year's racial gap in confidence in the presidency is typical of what Gallup measured during the Obama administration, only with Black Americans much more confident than White Americans on average.
Racial gaps tended to be smaller during the George W. Bush and Bill Clinton presidencies.
White adults
Black adults
Difference

%

%

pct. pts.

2017-2020 (Trump)
42
17
+25
2009-2016 (Obama)
31
66
-35
2001-2008 (Bush)
46
23
+23
1993-2000 (Clinton)
43
55
-12
Gallup
The racial gaps in confidence observed this year in the military, small business, the Supreme Court and TV news are typical. All but the gaps for small business are slightly larger than had been the case over the prior 25 years.
Gallup typically has not measured a significant racial gap in the criminal justice system, and it usually finds modest racial differences in ratings of organized religion, organized labor and newspapers, with Black Americans usually more confident in all three.
% A great deal/Quite a lot of confidence
White adults
Black adults
Gap,

1994-2019

Gap, 2020

%

%

pct. pts.

pct. pts.

Police
61
33
+28
+37
Small business
70
53
+17
+17
Military
75
61
+14
+19
U.S. Supreme Court
41
32
+9
+17
Banks
37
33
+4
+5
Criminal justice system
24
21
+3
+13
Public schools
34
35
-1
+2
Big business
21
24
-3
+3
Congress
16
19
-3
-4
Medical system
38
42
-4
+3
Newspapers
27
33
-6
+1
Organized labor
23
31
-8
+4
Church
48
58
-10
+2
Television news
25
37
-12
-13
Note: Averages date back to 1994 when institution list was expanded and Gallup began including Hispanic adults in a racial/ethnic category separate from White adults. Averages for the presidency not shown due to variation in confidence depending on party of the president. Large technology companies not asked about prior to this year.
Gallup
Implications
Institutions are a major part of the fabric that weaves democratic societies together, and lack of confidence in some key institutions could result in civil unrest and frequent political turnover, and could hamper citizen wellbeing and national economic prosperity. Black Americans have long been less confident than White Americans in the police, likely due to racial disparities in crime arrests and incarceration. Additionally, the number of high-profile incidents of police violence against Black citizens grew this year with Floyd's death while in police custody.
Those factors prompted a further decline in confidence in the police among both Black and White Americans and ignited a wave of protests around the country. Police departments in many communities have responded by adopting, or at least considering, various reforms. Whether those reforms will lead to positive changes in policing and help to instill greater confidence in law enforcement remains to be seen.
View complete question responses and trends (PDF download).
Learn more about how the Gallup Poll Social Series works.