When news of the financial services meltdown hit last September and photos of panicky or despondent stockbrokers appeared on front pages every day, many Americans were grateful not to be in the banking business. Since the financial crisis began last year, more than 30 banks have gone under in the United States alone, and the bleeding hasn't stopped yet.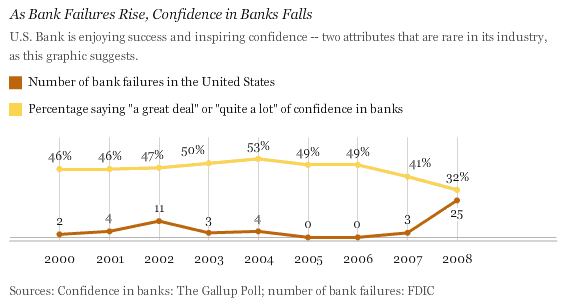 A few banks, however, appear well-equipped to weather the crisis, and prominent among them is U.S. Bank. The company's financials remain fundamentally sound, in large part because its home mortgage group maintained conservative lending practices when many of its competitors were trying risky strategies to cash in on the housing boom.
While other banks have struggled to stay in business in an environment of low consumer confidence and reduced consumer spending, U.S. Bank has been able to sustain trust among its current and potential customers. It was one of two banks able to increase its loans in the fourth quarter of last year; moreover, new deposits flooded in during that time as customers turned to a bank they viewed as secure. Those perceptions weren't unfounded: in February, Global Finance magazine named U.S. Bank as one of the world's 50 safest banks, based on total assets and long-term credit ratings.
"Our future is very bright," says Dan Arrigoni, president of U.S. Bank Home Mortgage. "With all the turmoil, there has been much consolidation and a thinning of competitors. We've benefitted from our reputation for quality, and our volume is projected to increase significantly."
Taking care of business
Much of the philosophy that has allowed U.S. Bank to avoid the worst effects of the subprime lending fiasco can be summed up in two words: relationships and discipline. More specifically, the bank's loan officers are good at building lasting relationships with customers and disciplined enough to avoid advocating loans that carry too much long-term risk.
It was the importance of those two characteristics that led the company to establish a partnership with Gallup in 2004. Marla Mayne, U.S. Bank's senior vice president for national retail lending, sums up the company's recruiting strategy prior to that point as "hiring based on experience, a handshake, and revenue numbers" -- an approach that lacked discipline and led to inconsistency in the productivity of new hires.
U.S. Bank sought a more scientific approach that included assessing its best performers and seeking candidates with similar talents. The initial partnership began with the selection of loan officers, followed soon after by selection of sales managers and regional managers.
An emphasis on hiring people who share U.S. Bank's core values helped the company avoid what now appears to be "irrational exuberance" on the part of much of the financial services industry. "We have a culture that is different from other cultures, one that emphasizes doing the right thing for the long term," Arrigoni says. "Gallup has helped us find the right people who fit our culture and embrace our business plan."
Gallup Senior Advisor John Wood agrees that the quality of the leadership team and loan officers at U.S. Bank helped keep the company from veering off course. "They were confident that the talent they had was good enough to win," he says. "In contrast, if you're worried about your talent, it could make you become more reckless."
Discipline
Mayne cites discipline as an aspect of U.S. Bank's culture that helped the company avoid entering the subprime business when many banks were taking on more -- and more risky -- loans. She notes that in order to sustain the perception of U.S. Bank as a "safe haven" for investors, loan officers and sales managers must have the discipline to say no to potential mortgage customers when their risk of default is too high.
U.S. Bank's disciplined approach also extends to responsible management of human capital. Mayne believes strongly in the business impact of selecting and engaging talented employees. For prospective loan officers, that meant finding new employees with the same level of integrity and the capacity to build powerful customer relationships as the company's best.
Under Mayne's guidance, the proportion of loan officers identified by Gallup as having the best fit of talent for the role has increased 82%. She has insisted on maintaining this high standard -- often in the face of considerable pressure -- because relaxing it would not help her find and hire loan officers who would deliver the results she wanted to achieve. "If you start down the path of hiring for talent and you don't have discipline," Mayne says, "then you'll get the same outcome as you got before."
Relationship building has long been characteristic of U.S. Bank's culture, beginning with the company's executive leadership.
The rationale for that strict approach is simple: Only the best are good for business. U.S. Bank's retail lending sales force produces more than twice the national average for loan officer revenue. They also boast twice the national average for loan officer retention.
Relationships
Relationship building has long been characteristic of U.S. Bank's culture, beginning with the company's executive leadership. Arrigoni is known for his people management skills; Gallup's Clifton StrengthsFinder -- an online assessment that reveals people's top talents -- identifies talent themes such as Relator and Empathy as among his most prominent. During the housing boom, Arrigoni put his commitment to doing what was right for individual customers over the long term ahead of the short-term temptation to pull in as many new customers as possible with subprime loans that carried considerable risk for them. In doing so, he saw to it that the bank stayed true to its objective of creating "clients for life."
The talent for building long-term customer relationships is a central part of the profile Gallup developed for U.S. Bank loan officers. The interview taps into talents such as integrity, belief, and responsibility, which enable loan officers to deliver the right solutions for their clients. Their concerns are always client-focused: What does the customer need? Which products are right for the customer? Are they in a state of readiness to purchase?
The resulting relationships are not transactional but consultative. "Our loan officers will go out of their way to help a customer," Mayne says. "They will show up on moving day and help them move boxes and educate them completely on our products. Instead of just putting them in a loan because it's the easiest and they make the most money on it, they'll put them in a loan because it's the right loan for that customer. They're much more focused on the customer as an individual than they are on themselves and their own pocketbook."
Those kinds of relationships take time and effort, but the payoff is huge. Clients who consider their loan officer to be not just another bank representative, but a trusted advisor -- or even a friend -- tend to refer him or her to parents, grandparents, children, neighbors, and colleagues. Developing and sustaining that referral network is key to U.S. Bank's stability and long-term growth.
Beyond the basics of talent
Though Mayne lives and breathes a philosophy of strengths, she's also quick to note that simply hiring talented employees is not enough in an industry that suffers from low average retention rates. In fact, U.S. Bank continued to lose loan officers after the development of Gallup's profile for the position. That's what led the company to extend its focus to keeping great loan officers engaged in their jobs -- and that meant ensuring that they all had talented managers. "The worst thing you can do is have highly talented [employees] whose manager is making them disengaged," Mayne says.
At U.S. Bank, mortgage loan officers with the best fit for the role who are also engaged bring in 40% more sales revenue than their disengaged peers. So their sales manager plays a critical role in ensuring that the work environment supports and inspires positive outcomes. As part of their orientation process, U.S. Bank's sales managers are trained to focus on the unique characteristics of each loan officer. They schedule regular conversations with each team member geared toward coaching and development to lay the foundation for success. Managers also illuminate key performances through frequent recognition programs.
The results have been dramatic. Just a few short years ago, the turnover rate among the company's retail loan officers was 65% to 68%; today, that group boasts a 65% to 68% retention rate.
Compared to the host of seemingly unassailable banks that have fallen during the recent financial turmoil, U.S. Bank seems like a beacon of stability and shrewd judgment. The bank's customer focus has positioned it quite well compared to its struggling or doomed competitors.
Mayne believes that hiring and engaging sales reps who have the talent to build great customer relationships is a focal point of their success. She sums it up succinctly: "We know it works. Talent makes a difference."