The percentage of actively disengaged employees -- the disenchanted and disaffected, who are often vocal about their negative attitudes toward their work and employer -- is on the rise in Singapore's workforce. At 17%, this figure is up five percentage points from May 2002, according to a recent Gallup Organization survey.
What's more, Gallup estimates that the lower productivity of actively disengaged workers penalizes Singapore's economic performance, costing between $4.9 and $6.7 billion annually. If the proportion of engaged employees were to increase significantly, there would be huge economic benefits for the nation. This is vital, given the fact that economic growth in Singapore has slowed significantly over the past three years.
Until recently, assessing the economic value of employee engagement and the cost of disengagement has been difficult. Without a concrete measure to gauge employee engagement, it is impossible to assess the cost of disengagement. And the multitude of industries and workplace types also complicates making an accurate assessment.
The Gallup Organization's Q12, which measures employee engagement across 12 key workplace dimensions, removes those obstacles. The Q12 and its linkages to key business outcomes have been validated across 285,314 workgroups drawn from teams and industries from around the world. The Q12 items measure factors including whether employees know what is expected of them at work, whether their opinions seem to count, and whether they have a best friend at work.
Problems now and in the future
In September 2003, Gallup released the results of its third annual survey of employee engagement in Singapore. Gallup calculated the percentage within the total workforce for three categories of employees: "engaged" -- those who are loyal, productive, and find their work satisfying; "not engaged" -- those who are not psychologically committed to their roles; and "actively disengaged" -- those who are disenchanted with their workplaces.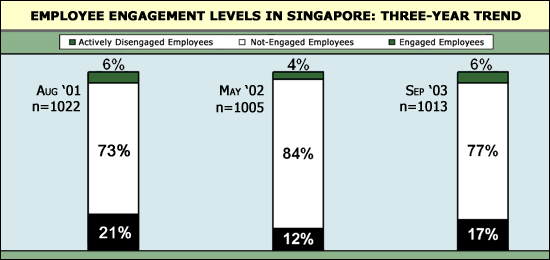 As the chart shows, the engagement level of Singapore's workforce has been consistently low. This poses a major problem for Singapore. Gallup's work with companies worldwide indicates that employee engagement is the foundation upon which organizational success and failure is built -- now and in the future. And what's true for companies also holds true for countries: Many aspects of running a business or an economy -- such as production processes and information technology -- can be copied, but employees and their engagement levels must be nurtured and managed.
The benefits of engagement are readily apparent. Although respondents were generally pessimistic about prospects for Singapore's economy, engaged employees were more upbeat. Nearly one-third of engaged employees (29%) believe economic conditions in Singapore are improving, compared to only 10% among the actively disengaged.
The bottom line: Employee engagement in Singapore is a cause for concern. Gallup has measured engagement levels in 11 countries in the past three years, and Singapore's percentage of "engaged" employees ranks among the lowest.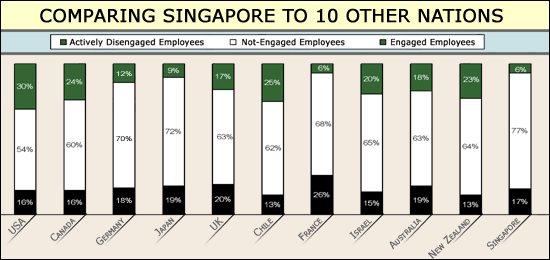 A management problem
The root of employee disengagement is poor management. Gallup's research has shown that managers play a key role in raising engagement levels by clearly communicating what is expected of employees, matching talents with roles to capitalize on employee strengths, and providing feedback to employees regarding their progress at work. Managers also play a significant role in making employees feel cared for in the workplace.
High levels of disengagement among Singapore workers can be attributed to these manager-related issues:
Setting expectations. Gallup's survey found that only about one in five employees know exactly what is expected from them at work. In fact, one in every four employees are extremely unclear about their roles. Role uncertainty is especially high among blue-collar workers and those working in companies with fewer than 500 employees. No significant differences were observed across education levels, length of service with current employers, or gender and ethnic groups.
Using potential. The survey found that fewer than one in five respondents perceive themselves to be in roles that give them opportunities to do what they do best every day. One in three respondents consider themselves to be miscast in their current roles.
Giving feedback. One in ten respondents strongly agree that they have received progress-related feedback in the past six months. Half of the respondents report not having received any kind of feedback during that time frame.
Learning and growing. Only one in ten respondents strongly confirm that they have had opportunities to learn and grow in the past year, while about half of all respondents indicate they have not had developmental opportunities in the past year.
Sense of caring. The sense of feeling cared for -- or rather, the lack of it -- mirrors the issues above. Nearly half the respondents surveyed do not feel cared for in their workplaces. Interestingly, on a different issue, an identical proportion also feels that their opinions do not count.
Training, in and of itself, does not contribute to employee engagement, yet corporations continue to invest in training. Gallup found that employees who have been through training are almost as disengaged as those who have not undergone training. (The percentage of actively disengaged employees is nearly the same, but the percentage of engaged employees is higher for those who received training.)
Clearly, there is much work to be done in Singapore.
Results of this survey are based on a nationally representative sample of 1,013 Singaporean citizens and permanent residents between the ages of 18 and 54 who are currently employed full- or part-time. This Gallup Poll was conducted by telephone during September 2003. For results based on samples of this size, one can say with 95% confidence that the error attributable to sampling and other random effects could be ±3 percentage points. For findings based on sub-groups, the sampling error would be greater.