Most hospital executives are driven by organizational mission and personal passion to deliver exceptional healthcare. But those executives know that providing safer, higher quality care also produces financial results.
Indeed, there is substantial evidence that high quality predicts better financial performance -- both on the top and bottom line. Patients who receive care that is free of avoidable complications are more likely to speak positively about their healthcare experience. They're also more likely to return for future services, thus increasing a hospital's revenues.
On the expense side of the equation, consider the following:
Low-quality nursing homes' direct-care costs are 22% higher than those of high-quality organizations, according to a 2003 study by the University of Missouri.
On average, a general surgery without complications costs a hospital about $9,400 -- but costs rise to more than $36,000 when multiple complications occur, a recent Medstat study reports.
More than half of all adverse events -- such as surgical complications, adverse drug events, and delayed and incorrect diagnoses -- are preventable. Each of those events costs more than $1 million, according to a 1999 study by the states of Utah and Colorado.
The Agency for Healthcare Research and Quality (AHRQ) reports that medical errors are responsible for injury in as many as 1 out of every 25 hospital patients; an estimated 48,000 to 98,000 patients die from medical errors each year. In a large teaching hospital, errors in healthcare have been conservatively estimated to cost more than $5 million per year, and preventable healthcare-related errors cost the U.S. economy up to $29 billion each year.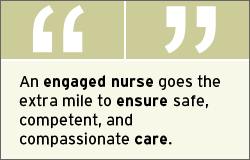 These financial implications, coupled with the fact that improved care and complication-free recovery create strong patient relationships, lead healthcare leaders to ask: Is there a silver bullet for delivering near-perfect quality to patients? The answer is no. Research has uncovered many factors that have a significant impact on patient safety and quality. But there's one factor that many hospitals may be overlooking: how engaged their nurses are at work.
Avoiding complications and deaths
A previous Gallup Management Journal article related a Gallup study that examined the key factors influencing avoidable deaths and complications, as well as the human influence on patient safety and healthcare quality. (See "Rx for the Nursing Shortage" in See Also.) Based on statistical analysis, this study concluded that although many factors influence quality outcomes -- including staffing patterns, overtime hours, patient acuity, and use of contracted employees -- the engagement level of the nursing professionals has a significant and profound impact. Indeed, the study found that hospitals with higher nurse engagement have statistically lower mortality index and complication index. (Each index is the calculated difference between actual and expected incidences.)
Engagement also has a significant effect on other specific quality indicators. For example, a Gallup study comparing nosocomial infection rates at an internationally acclaimed medical institution found that bloodstream infections were 18 times higher for less engaged units. The same study found that patients on less engaged units were 54 times more likely to get surgical-site infections than those of more engaged units.
What's more, another Gallup study found that hospitals with the least engaged nurses pay more than $1.1 million annually in malpractice claims than those with the most engaged nurses. Again, recognizing that there are multiple factors in these claims, data show that when hospital leaders focus on creating a more engaging workplace for nurses, the hospital pays out less in legal suits for malpractice claims.
The positive financial impact of engagement alone is staggering. But when it comes to managing employees, the reduction in human suffering, the loss of time and energy from defending malpractice claims, and the demoralization of personnel from paying such claims are just as significant.
An emotional bond
Keep in mind that "engagement" is more than whether employees like their jobs or are satisfied with their manager or benefits. Engagement measures if employees have an emotional bond and psychological commitment to their jobs and their employers.
"An engaged nurse goes the extra mile to ensure the provision of safe, competent, and compassionate care," says Cathy Dyke, vice president of nursing operations for Medical Center of Plano, Texas. In fact, this hospital has enjoyed increases in patient quality and safety as a result of improving nurse engagement.
"There is a definite tie between our improvement in nurse engagement and quality outcomes," Dyke says. "Our nursing-sensitive indicators show that offering evidence-based care can prevent certain complications, and the data prove that an engaged nurse takes that responsibility to heart."
Sandy Haire, chief nursing officer at Medical Center of Plano, adds, "There is no question that nurse engagement affects quality. We've initiated shared-governance councils on every nursing unit to improve care based on the input and the decisions of the bedside nurse -- not top-down directives. Allowing nurses a voice in their practice not only fosters engagement but also quality outcomes."
While studies demonstrate a powerful relationship between nurse engagement and quality, leaders should also note that engaged employees are also more likely to follow protocols and use technology designed to improve safety and quality. For example, technologies such as electronic medical records and computerized provider-order entry systems facilitate better communication among team members. But as many health professionals would probably attest, disengaged employees are less likely to use these technologies effectively.
And studies from the Journal of the American Medical Association, AHRQ, and the National Council of State Boards of Nursing found that lower nurse-to-patient ratios provide a safer environment for patients. These lower ratios have also been found to reduce nurse turnover and burnout. This, in turn, further improves patient outcomes, according to the Gallup studies.
The bottom line: Ratios, protocols, technology, and processes do influence quality. But if the goal is to transform the quality of a healthcare organization -- and in turn maximize financial performance -- improving nurse engagement must be a key strategic initiative for hospital leaders. Engagement is key to healthcare quality and safety.