Recently, Gallup asked more than 17,000 U.S. adults about how they use social media -- evaluating everything from the latest mobile social media apps to old-school word-of-mouth. What we found debunks three big myths regarding social media: that it effectively drives customer acquisition, that social networking is an online-only phenomenon, and that social networkers are all the same. More importantly, our analysis reveals practical actions that organizations can take to make their efforts more effective.
First step in a social media initiative: Determine who your most emotionally engaged customers are.
Far too many organizations approach social media using a "one-size-fits-all" approach. They launch Facebook pages or have their CEOs tweet brand-friendly messages. Everyone receives the same corporate-sponsored message, which effectively makes it a mass tactic. And using mass tactics to reach consumers implies that all social networkers are pretty much the same. They're not.
Whether you're targeting customers or prospective customers, some will be predisposed for or against your organization depending largely on their existing relationship with you. Emotionally engaged customers -- those with a deep rational and emotional attachment to your brand -- are far more likely to be socially engaged customers who will work for your company or brand within their social networks. (See sidebar "How Engaged Are Your Customers?")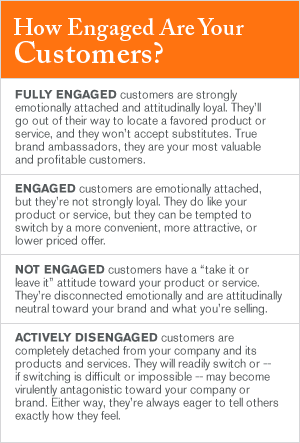 The first step in a successful social media initiative is to determine who your most emotionally engaged customers are. The next step is to find out why these customers use social media; people tweet, post, blog, and "friend" others to meet their intrinsic needs, wants, and goals. They won't change their motivation or reasons to fit yours, so your organization must align its initiatives with your customers' goals. That's why it is critical to understand your customers' social engagement typology and level of social engagement.
The Social Engagement Universe
Based on our analysis, Gallup has found that there are three basic kinds of behavior in the social engagement universe: creation, consumption, and connection.
Creation refers to customers initiating conversations about products, services, or organizations within social networks. Some of these customers -- we call them bohemian creators -- initiate their opinions about organizations and brands frequently online and offline. Conversely, casual creators share their opinions about organizations and brands much less often and entirely offline.
Consumption refers to customers gathering information about products, services, or organizations from social networks. Our analysis shows that there are two main types of these consumers: active consumers, who talk about organizations and brands on their social networks every day and passive consumers, who don't engage in these kinds of conversations every day.
Connection refers to customers intentionally connecting others with information about organizations and brands. Connectors do this type of linking while non-connectors do not.
These three behaviors combine into eight social engagement typologies. Each typology exhibits a distinct set of needs, wants, and ways in which people use their social networks. (See graphic "The Social Engagement Universe.")
To demonstrate how diverse social engagement is, the two largest typologies in the social engagement universe exhibit completely different characteristics. For example, the Casual/Passive/Non-Connector typology is the dominant mode of the oldest respondents and accounts for 35% of the social engagement universe. In comparison, Bohemian/Active/Connector is the dominant mode of the youngest respondents and accounts for 30%. Combined, these vastly different typologies represent almost two-thirds of the social networking population (65%). The remaining third is fragmented into six other unique typologies.
The intrinsic reasons why the typologies engage in social networking are also different. Some seek mainly to influence, entertain, or inform. Others seek to learn, warn, create, or share -- or some distinctive combinations of these behaviors. Knowing the reasons why customers advocate and how they advocate by channel -- which also differs by typology -- is critical for the targeting and messaging of any strategic social initiative.
The implication is clear: "One-size-fits-all" social media strategies can't account for this incredible variation in social networkers.
In addition to their typology, customers and prospects have a social engagement charge that reflects their likelihood to talk about your organization and brands either positively or negatively in their social networks. This charge varies among individuals and specific organizations, across industries, and over time based on an individual's level of knowledge and experiences with your organization. Customers have a more positive -- and lower negative -- social engagement charge than prospects. (See graphic "Getting a Charge out of Social Engagement.")
Despite the differences in typology and social engagement charge, we were surprised to discover one striking commonality across social networkers: On average, the size and reach of social networks are remarkably similar across types. And our analysis shows that network size and reach isn't predictive of whether a consumer will advocate positively on your organization's behalf. Therefore, social media strategies that target individuals with large social networks to use them as influencers underestimate the differences between social networkers.
Three recommended actions
Our findings lead us to recommend three practical actions for social media decision makers:
1. Target your most engaged customers with your social initiatives.

2. Apply different tactics to address the needs and wants of the relevant typologies.

3. Measure and manage your customers' social engagement and customer engagement to track progress and refine your approach.
Organizations of all types and sizes are pouring more dollars than ever into social media initiatives. Some comb the social sphere to react to negative opinion. Others try to generate buzz. And most are launching both reactive and proactive efforts mixed with dozens of other traditional and digital tactics to see what sticks.
No matter how many social media initiatives organizations engage in, their decision makers tell us that with increasing social media budgets come greater expectations for return on investment, for a strategic process for measurement and management, and for accountability within these initiatives.
We understand, and we sympathize. But our analysis reveals a paradox that most social media initiatives fail to address: Your best bet to acquire new customers is to engage your existing customers, then align your strategy with the wants and needs that encourage them to engage their social networks on your behalf.
Advice for Leaders of Customer Initiatives
If customer loyalty or engagement initiatives are part of your chief marketer's scorecard, then you're heading down the right path. But if your customer loyalty strategy is not connected to your social media initiatives, you could be wasting valuable resources. Instead, consider a phased approach:
1. Start by measuring customer engagement. If you're measuring customer satisfaction or using Net Promoter, that's a start. But Gallup data suggest that customer engagement is a better predictor and diagnostic of the emotional connection with your customers and subsequently, a better metric for those who will engage their social networks on your behalf.
2. If you have high levels of customer engagement, measure social engagement. Determine the social engagement typologies of your best customers and their level of social engagement charge. The virtue of social engagement measurement is that it is channel-neutral, which can help you measure the larger portion of social networking about your organization that isn't happening online. (In part 1 of this article, we debunked the myth that social networking is an online-only phenomenon.)
3. To give your customers what they need to advocate on your behalf, structure your social initiative strategies based on their predominant typologies. By focusing your messaging on your customers' social engagement typologies, you can design effective initiatives that give your customers what they want so they will feel confident vouching for you in their social networks.
Survey Methods
Results are based on a Gallup Panel study consisting of web surveys completed by 17,254 national adults, aged 18 and older. Respondents were deemed proficient internet users based on their ability to complete the survey via the web. The study was conducted in September and October 2010. Gallup Panel members are recruited through random selection methods. The panel is weighted so that it is demographically representative of the U.S. adult population. For results based on this sample, one can say with 95% confidence that the maximum margin of sampling error is ±1.43 percentage points. Margins of sampling errors vary for individual subsamples. In addition to sampling error, question wording and practical difficulties in conducting surveys can introduce error or bias into the findings of public opinion polls.