Private-sector organizations must ensure that employees are right for their roles.
Employed Emiratis are among the most likely in the Arab Gulf region to be engaged at work, at 26%. But that leaves almost three in four such workers not engaged or actively disengaged at work.
This lack of engagement clearly poses a challenge, as the United Arab Emirates is seeking to diversify its economy through continued foreign investment and expansion of the private sector (to reduce oil-revenue dependency by 2030) and to stem rising unemployment among Emiratis by increasing their involvement in the private sector. Government and industry leaders must now focus on engaging more Emiratis in their work to assist in these key societal objectives and promote long-term growth and global competiveness.
Understanding Emiratis beyond "Emiratization"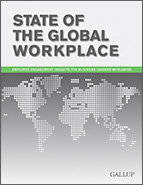 One recent analysis estimates that if the public sector (UAE nationals' preferred employer) continues its current course of absorbing young Emirati workers, government spending will increase by more than US$10 billion annually. Government Emiratization initiatives seeking to promote a minimum proportion of Emirati nationals in several private-sector industries can successfully engage and retain Emiratis only if their individual talents and fit for each role are considered. Instead, organizations are often engaging in "ghost Emiratization" by employing Emiratis on the "sidelines" of their businesses.
Private-sector organizations must implement a strengths-based approach to selection and development to ensure that employees are right for their roles; they must implement sustainable engagement strategies to get employees more emotionally connected to their workplaces. The insights produced by such systems will also assist private-sector leaders in engaging Emirati employees over the long term through career and progression planning. These systems should also help decrease employers' risk that their workers will eventually defect to often more lucrative public-sector jobs -- or to other private-sector organizations looking to fulfill their Emiratization goals.
Managers need support in engaging a multicultural workforce
Similar to Qatar and Saudi Arabia, the UAE has a multicultural workforce, consisting of Emiratis, Arab expats, and a sizable non-Arab expat population. Strategies and tools for engagement must be culturally adapted to this unique situation.
Gallup studied 3,477 managers from Gulf-area organizations in the oil and gas, banking and finance, property development, tourism, automotive, and telecommunications sectors. The results show that too many managers in the region are unable to consistently clarify what they expect from their employees. They struggle when setting goals and objectives, defining employees' roles, and linking employee performance to the organization's growth. This lack of clarity about expectations makes it difficult to empower employees and create a robust performance-based organizational culture; the result has been a deficit of accountability across the region's organizations.
In addition, business and government leaders must ensure that they are hiring managers with real leadership talent rather than promoting employees to management positions based solely on tenure, as is the practice in many well-established UAE-based companies. Organizations must look for a more sustainable, culturally adapted, talent-based approach to leadership and employee development. Only then can they hope to optimize the individual and collective talents of their employees -- their human capital.
Note: The data cited in this article is based on surveys that covered UAE Nationals and Arab expatriates.