Indonesian leaders must actively promote a culture of openness and dialogue and be serious about rewarding innovation and merit.
Indonesia sustained GDP growth of more than 6% in 2010, 2011, and 2012. This is impressive when you consider that the global recovery has sputtered and the two Asian powerhouses, China and India, each face an economic slowdown.
Also heartening is recent Gallup research that shows improvements since 2006 in Indonesians' general state of well-being, life ratings, and satisfaction with local healthcare and education services -- all harbingers of continued growth.
But Indonesia might not be in a position to capitalize on its economic opportunity. The country -- a multicultural society with tremendous geographic and linguistic diversity -- faces some big domestic challenges, including an urgent need for infrastructure development, a slow pace of economic and social change that hinders an optimal business environment, and widespread corruption.
Yet Indonesia has a major asset: Its young, dynamic, and large workforce could be a real vehicle for economic growth. However, other nations in Southeast Asia boast a similar asset, so relative economic success will inevitably accrue to the country that manages its younger employees best. Whatever the business, a more engaged and productive workforce is directly correlated with better business outcomes, which at a macro level are linked to GDP growth.
Grim workplace picture
In this respect, Gallup's latest research on employee engagement paints a grim picture. Only 8% of Indonesian employees are engaged at work, while 15% are actively disengaged. If businesses -- private or state-owned -- don't realize how important great workplaces are to economic development and job creation, the Indonesian economy might run out of steam in the next few years.
The following key factors are particularly likely to have an impact on employee engagement in Indonesia:
The rise of Gen Y and changing corporate culture: Fifty percent of Indonesia's population is younger than 30. The concept of engaging younger employees is starkly different from the more traditional focus on retaining employees. Pay and promotion in a hierarchical business structure are unlikely to jump-start the cultural change necessary to nurture the kind of "learning organization" that Gen Y workers will want to embrace.
Companies need a better understanding of younger employees' expectations -- including opportunities to use their talents at work and to develop those talents throughout their careers. Younger employees also want their opinions to matter. Our advice to Indonesian leaders is to actively promote a culture of openness and dialogue. Leaders must also be serious about rewarding innovation and merit -- key requirements for meeting Indonesia's stated goal of becoming a "creative economy."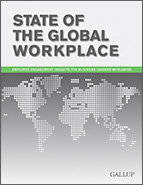 The war for Indonesia's talent: As the economy grows, effective business leadership will be a crucial factor for success in supporting the country's growth. Indonesian leaders must understand the challenges the local business environment presents and be able to harness opportunities amid sometimes unexpected and evolving market conditions.
Leaders like these will be immeasurably valuable and highly prone to poaching by other companies. Businesses will need a well-thought-out strategy to recruit and retain top talent -- one that manages and nurtures its people assets -- to stay competitive.
The role of manager as coach: Indonesian managers have traditionally used a fairly straightforward command-and-control method of managing. This style might not work with today's Indonesian workforce, particularly younger employees. Indonesian managers must become better coaches and mentors to their employees. Companies that hold managers accountable for engaging their employees will make significant gains in performance, productivity, and profitability.
In the years to come, Indonesia looks poised to take its rightful place as a regional economic powerhouse -- if it can effectively manage key challenges during its growth. The country's businesses will need to transform their workplace culture and human resources practices before they can capitalize on the potential of their younger workers. Companies that put the right emphasis on the engagement and well-being of their employees not only will thrive and grow, but will also help boost Indonesia to economic preeminence.