Leaders must turn their attention to creating workplaces that unlock the full potential of all New Zealand workers.
For a small country competing in the global economy, New Zealand's current levels of employee engagement pose a barrier to competitiveness and economic success. Gallup's 2011-2012 data indicate that less than a quarter of New Zealanders who work for an employer (23%) are engaged in their work, while 62% are not engaged, meaning they head to work each day uninspired and lacking motivation and will likely do just enough to fulfill their job requirements.
And 15% are actively disengaged; they are not only unhappy at work but likely to act out that unhappiness. Actively disengaged workers account for more quality defects and safety incidents and have higher absenteeism and lower retention rates than other employees. They cost the New Zealand economy an estimated $7.5 billion (NZ) annually, based on the New Zealand Bureau of Statistics' average New Zealand wage figure.
Employers that fail to foster employee engagement risk losing talented employees not only to other New Zealand-based companies, but also to businesses in neighboring Australia. Research by Deloitte in 2012 found that 65% of New Zealand's organizations are concerned about losing employees to other employers in the country, while 36% report concerns about losing employees to Australia.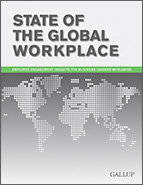 Overcoming New Zealand's economic challenges requires a focus on productivity, process efficiencies, product quality, and innovation. To improve outcomes in these areas, organizational leaders must turn their attention to creating workplaces that unlock the full potential of all New Zealand workers -- currently an underused asset.
Land Information New Zealand (LINZ) is an example of an employer that has made impressive strides toward that goal. The government agency has seen steady improvement in its employee engagement scores over the past several years. In 2012, LINZ's average engagement score was the highest in New Zealand's public sector. And in 2013, the agency won a prestigious award from the Institute of Public Administration New Zealand for "improving performance through leadership excellence" by building a highly engaged workplace.
Following are among the most important considerations for LINZ and other organizations in pursuing that goal:
Increase collaboration: Executives and managers should work closely with their employees to identify barriers to engagement and opportunities to create positive change. Employees provide valuable insights into a company's processes, systems, products, and customers -- and these are essential to leaders considering strategies to improve performance, foster business innovation, and create a more engaging workplace.
Hire great managers: The catalyst for collaboration is a great manager. The best managers understand that their success, and that of their organization, relies on the success of their people. But not everyone can be a great manager. The truly exceptional ones seek to understand each person's talents and provide workers every opportunity to use their talents in their roles. It takes talent to be a great manager, and leaders in New Zealand need to be sure they are using tools and advice that have proven reliable in selecting individuals with true innate management ability.
Meet your employees where they are as people: To state the obvious, employees are people, and they don't check their personalities at the door when they come to work. Businesses that respect their employees as individuals can have a significant impact on how workers view their overall lives. Each person's potential extends well beyond his or her job description, but tapping that potential means recognizing how employees' beliefs, talents, goals, and life experiences drive their performance, personal success, and well-being.
Should organizations in New Zealand implement these steps, the battle for talent might be theirs for the taking.