Successfully navigating patients through discharge is a difficult task that requires a unique skill set.
Hospitals are well-oiled machines when it comes to providing quality inpatient care. But after patients leave the hospital, managing outcomes becomes more complicated. Post-discharge care can be difficult to coordinate, and factors outside the hospital's control affect it. When things don't go according to plan, readmission is often necessary.
The Centers for Medicare and Medicaid Services (CMS) define readmissions as hospitalizations that occur within 30 days of discharge. Though not all readmissions are preventable, high readmission rates are considered an indicator of inadequate quality of care or poor coordination of post-discharge care. Medicare payments for readmissions cost the CMS $17 billion per year, according to one estimate.
Hospitals have a clear financial incentive to reduce readmissions. To improve care and cut costs, CMS imposes a financial penalty on hospitals with high readmission rates. For many hospitals, these penalties make readmission a significant expense.
But identifying and deploying the right strategies to reduce readmissions is easier said than done. Using a research-based approach, we identified four factors that influence readmissions. By following best practices in these areas, hospitals can reduce readmission rates and increase clinical excellence.
1. Involve the patient's social network, family, and friends
When patients and the people in their social support system are highly engaged in the ongoing care plan, hospitals can maximize compliance and reduce the likelihood of readmission. The following practices can foster engagement among individuals in the patient's social network:
Encourage members of the patient's support system to be present when hospital staff provide discharge instructions.
Make sure family and friends thoroughly understand the patient's care needs, such as medication, wound hygiene, and follow-up visits.
Establish responsibility and accountability for the patient's care plan, sharing ownership for ongoing patient needs.
Hospitals can also improve compliance by accommodating patients who lack a strong social support network. For these patients, hospitals should address ongoing care concerns during discharge, such as arranging transportation to and from follow-up appointments or coordinating home support. Helping patients understand why a strong social support system is important to their recovery -- and making relevant suggestions to help them establish one -- can increase patient compliance following discharge and reduce the likelihood of readmission.
2. Use an effective discharge process
An effective discharge process is crucial for ensuring patient compliance with the care plan. The following practices can streamline the discharge process and improve patient education:
Encourage effective communication between physicians and nurses when they are coordinating a patient's discharge.
Prioritize and organize discharge instructions to improve clarity and emphasize the most crucial information.
Create and improve alignment with other providers, such as home health, nursing homes, and other healthcare facilities. This is especially important for high-risk patients, when the potential for readmission may be high.
3. Get to know your patients
When hospital staff members are attentive and purposeful -- not just checking a patient's vital signs, but getting to know the patient -- they can learn how to improve patient understanding and simplify patient education. The following practices can increase the patient's retention of the care plan:
Assess the patient's ability to understand basic health information and to make informed health decisions.
Determine the best ways to provide health information. Patients will have different degrees of technological literacy, so implement methods that meet patients at their level.
4. Build the right discharge team
Successfully navigating patients through discharge is a difficult task that requires a unique skill set. Gallup recommends that healthcare institutions hire based on talent, recruiting nurses who possess the innate talents for assisting patients through the transition to post-discharge care.
Gallup's research shows that organizations that identify and select people whose talents are similar to those of top performers in that role experience many benefits, including reduced turnover, higher productivity, and increased safety. When hospitals use Gallup methods to select nursing staff, they see significant performance differences between nurses who are recommended for their role versus nurses who are not recommended.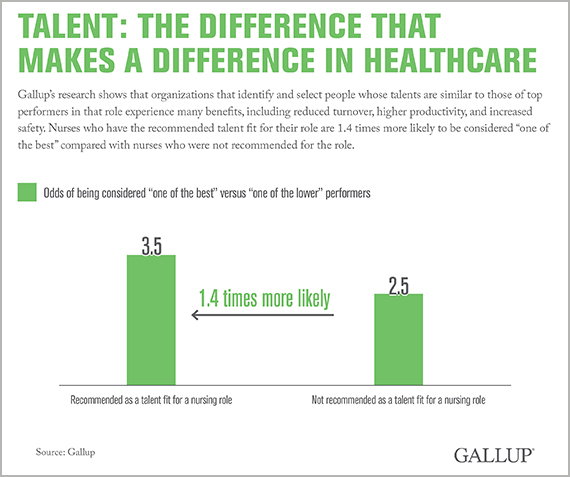 Reducing preventable readmission is important not only to improve clinical excellence but also to ensure a hospital's financial success. Implementing these best practices can help hospitals foster high patient engagement, improve patient education, and cut readmission rates.