If Mike Morrison had his way, more companies would develop employees' strengths and virtues. Such an approach would transform workplaces "from a performance-management focus to one of facilitating growth; from prevention to building capabilities; from treating workers as replaceable parts to treating them as sources of competitive advantage," said Morrison, dean of the University of Toyota.
Morrison was introducing a workplace symposium at the Fifth International Positive Psychology Summit in Washington, D.C. The annual event is a big draw for business leaders, who discuss how they've applied the principles of Positive Psychology to enhance or reorient their management approaches with other executives and glean further insights from leading scholars in the social sciences. (See "Toyota Applies Quality Management to People" and "The Power of Positive Management [Part 1]" in the "See Also" area on this page.)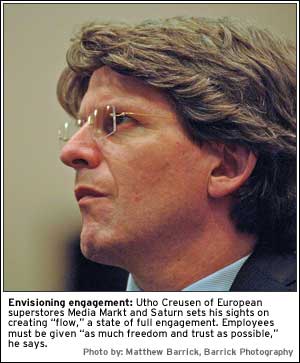 The symposium that Morrison introduced was one of the event's most heavily attended, and his comments on employee strengths complemented those of two of the summit's speakers, Utho Creusen, chief human resources officer of European superstores Media Markt and Saturn, and Gabriel Gonzalez-Molina, author of the management book Follow This Path. Creusen and Gonzalez-Molina demonstrated how the precepts of Positive Psychology have profound implications for both huge multinational corporations and the micro-enterprises that represent the seeds of a better future in developing nations.
Creating an environment for "flow"
Media Markt and Saturn, the European market leaders in consumer electronic retailing, employ 37,230 employees at almost 600 sites. In overseeing them, Creusen is tasked with implementing the company's strong focus on identifying and developing talented people. Describing the four pillars on which his company's HR strategy rests, Creusen listed participation, vision, strengths orientation, and the state of full engagement, flow. (The concept of "flow" was developed by psychologist Mihalyi Czikszentmihalyi, who also spoke at the summit.)
"It's not easy to create an environment for flow," Creusen said. "You have to give [employees] as much freedom and trust as possible and generate a culture of learning and development." To that end, individual store managers are given a high degree of autonomy, a financial stake in the performance of their stores, and responsibility for keeping staff members fully engaged by continually developing their potential.
Along with his colleague Nina Eschemann, Creusen outlined the successes that this approach helps achieve. Media Markt and Saturn have enjoyed rapid growth, but an initiative by Media Markt's Italian stores provides a compelling illustration of positivity in the workplace.
While meeting to discuss ideas for reflecting the company's core values, the Italian team decided to launch a project aimed at building a place of hospitality and assistance, called "House of the Smile" for AIDS-infected women and their children in Cape Town, South Africa. Tapping a rich vein of musical talent within the company, they organized a choir with soloists and musicians and recorded a rendition of Bob Marley's "Redemption Song." More than 35,000 copies of the CD have been sold in the company's 67 Italian stores, raising 260,000 euros ($346,000 USD) for a donation to House of the Smile.
Fostering business growth in Mexico
As compelling as Creusen's description of large-scale workplace positivity was, it was no more so than Gonzalez-Molina's story of Angel, a shoemaker in the Mexican state of Puebla. Though Angel was an excellent craftsman, his business was faltering, recounted Gonzalez-Molina . Angel made only 12 to 20 pairs of shoes per week, in part because he had to wait too long for payments.
As part of a partnership with the Puebla government to foster the growth of small- and medium-sized enterprises, Gallup management experts recognized that Angel's strengths were as a craftsman, not as a salesman or business manager. So they helped Angel find a business manager to partner with him on finances and customer relationships, allowing the shoemaker to focus on his craft. Since then, Angel's business has taken off -- he now has created two new jobs and will employ 10 new employees in the next six months -- and is on track to produce 300 pairs of shoes a week.
Gonzalez-Molina has seen many such successes since partnering with Puebla's governor, Mario Marin, to establish the Puebla Institute for Competitive Productivity in 2005. He firmly believes that applying a strengths-based approach to job creation has the potential to jump-start economic growth in Mexico.
Gonzalez-Molina said that he believes much of the development focus has shifted from attracting foreign direct investment by large multinational companies to promoting organic growth from within.
"It's not about macroeconomics. It's not about signing a new trade agreement with another country," Gonzalez-Molina said. "It's about asking, 'What are the chances of a micro-sized enterprise becoming small-sized? Of a small-sized enterprise becoming medium-sized? Of a medium-sized enterprise becoming large?'"
That shift now emphasizes the Mexican government's role in fostering conditions that allow individuals to use their talents and entrepreneurialism to create growth. Gonzalez-Molina has set ambitious goals: Within 18 months, the institute intends to help 200 micro-sized enterprises to become small businesses, 100 small businesses to become medium-sized companies, and 10 medium-sized companies to become large companies. This strategy, Gonzalez-Molina believes, can create 4 million new jobs in Mexico. And like Angel the shoemaker, all those workers will be operating from positions of strength.
"The Positive Psychology movement needs to convey this message to all governments and leaders," Gonzalez-Molina says. "The world requires a new economic development model based on the micro, micro, micro -- which is the strengths of every individual."