GALLUP NEWS SERVICE
WASHINGTON, D.C. -- A military-backed interim government has ruled Bangladesh since political infighting and violent demonstrations prompted the cancellation of last January's general election, and is expected to stay in power until new elections take place in late 2008 or early 2009. Gallup World Poll interviews conducted in May 2007, several months after the emergency government was established, reveal that Bangladeshis continue to place a high value on democracy and suggest citizens do not support a return of military rule similar to the period between 1975 and 1990. Nearly all Bangladeshis say that a democratically elected government is very important to them (61%) or "essential and something they cannot live without" (32%). These results are nearly identical to those from 2006.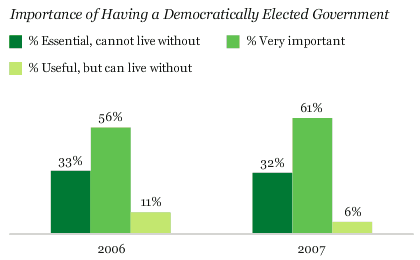 Despite the political uncertainty in this poor and predominantly Muslim country, Bangladeshis appear to place more faith in their government than they did in 2006. Three-quarters of Bangladeshis (73%) express confidence in their national government, up 12 percentage points from the previous year. After taking power this year, the caretaker government has attempted to jumpstart economic reform as well as governance reform though an aggressive anti-corruption campaign that fast-tracks prosecution. Previous efforts to improve economic performance were largely stymied by corruption at all levels of government.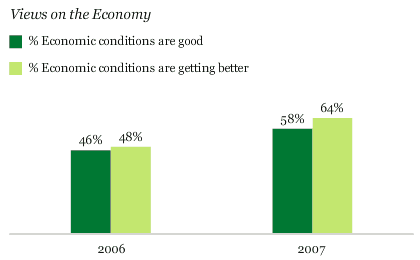 Bangladeshis are also more optimistic about their economic outlook than they were a year ago. Fifty-eight percent of respondents tell Gallup that current economic conditions in their nation are good (compared with 46% in 2006), and 64% say economic conditions are getting better (compared with 48% in 2006). The Economist Intelligence Unit predicts that Bangladesh's economy will grow 6.4% this year, after growing 6.6% last year.
Bangladeshis this year also tend to be more positive about the future of their country overall. When asked where their country will stand in five years on the 0-to-10 Cantril Self-Anchoring Striving Scale, with 10 being the best possible situation, more than two-thirds (68%) of respondents tell Gallup they expect their country to be on one of the top four rungs. In 2006, less than half (48%) of Bangladeshis predicted such a bright future for their country.
Survey Methods
Results are based on face-to-face interviews with 1,000 or more Bangladeshis, aged 15 and older, in May 2007 and April 2006. For results based on the total samples of national adults, one can say with 95% confidence that the maximum margin of sampling error is ±3 percentage points. In addition to sampling error, question wording and practical difficulties in conducting surveys can introduce error or bias into the findings of public opinion polls.