WASHINGTON, D.C. -- U.S. Secretary of State Condoleezza Rice described the negotiations ahead of a planned U.S.-brokered Middle East peace conference as the "most serious" effort in years to end the Israel/Palestine conflict. But the summit, tentatively set for late November in Annapolis, Md., has been met with skepticism by moderate Arab states concerned that the event will turn out to be nothing more than a photo-op for the Bush administration.
The current political weakness of Israel's Prime Minister Ehud Olmert and Palestinian President Mahmoud Abbas adds another element of uncertainty to the mix. Recent Gallup Polls from the region indicate that just 25% of Israelis approve of the way Olmert is handling his job as prime minister, while 68% disapprove. Support for Abbas is only somewhat higher among Palestinians; 39% say they approve of the way he is handling his job as president, while 53% disapprove.
Do renewed negotiations have the potential to shore up support for the two leaders? The 2007 polls indicate that the desire to make peace is widespread among both populations, though levels have shifted somewhat since the question was last asked in early 2006. In the intervening period, which saw Hamas elected to power in Palestine and Israel and Hezbollah warring in Lebanon, support for peace has intensified among Palestinians, but weakened somewhat among the Israeli people.
Support for Peace: Israel
Among Israelis, the proportion who say that in principle, they "strongly" or "moderately" support the peace process is 72%, down from 81% overall in January 2006. The percentage who say they strongly support the process has dropped from 32% to 22%, while the proportion who indicate they oppose the peace process (either strongly or moderately) has risen slightly from 17% to 24%.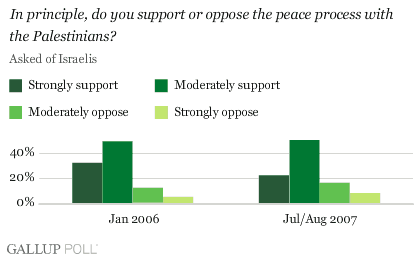 Perhaps more troubling is a weakening of the preference among Israelis for nonviolent negotiations over military solutions. In early 2006, just 16% said they preferred military solutions in the struggle for self-determination and security; this year, that percentage doubled to 32%.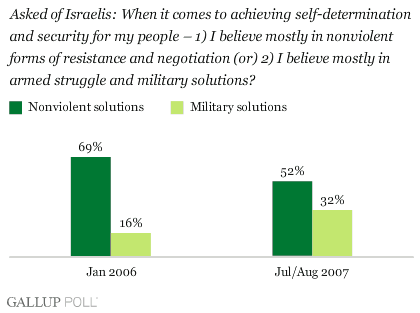 Support for Peace: Palestine
Among Palestinians, the total percentage of those who say they support the peace process has remained fairly static, at 64% in 2006 vs. 67% in 2007. However, the intensity of that support appears to have increased significantly: The proportion saying they "strongly support" the peace process increased from 26% to 39%, with a corresponding drop among those who say they "moderately support" the process, from 38% to 28%.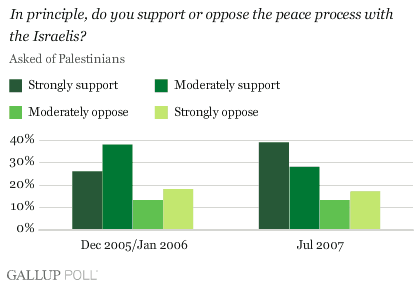 Infighting between Hamas and Fatah has claimed many Palestinian lives in recent months, adding another costly dimension to the Mideast conflict. Has this increased the urgency with which Palestinians yearn for a reduction in violence? The proportion of Palestinians who say they believe mostly in military solutions is the same as in 2006. However, the percentage who say they believe in nonviolent solutions has risen from 53% to 62%, suggesting that some of those who were previously reluctant to offer an opinion are now more likely to say they support nonviolent methods.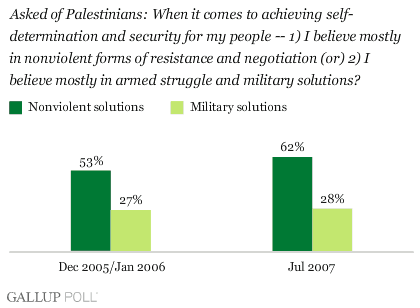 Bottom Line
Both Israeli and Palestinian leaders have the support of at least two-thirds of their people in any attempts to move the peace process forward. But momentum matters in politics; the growing support among Palestinians to seek peace suggests that Abbas may have more to gain politically than Olmert from appearing at the negotiations. However, U.S. involvement in the summit introduces a significant "x-factor": Because anti-U.S. sentiment is far greater among Palestinians (83% disapprove of U.S. leadership) than Israelis (24% disapprove of U.S. leadership) suggests that, though his people support the negotiations per se, that the planned Annapolis summit may not be right venue for Abbas to build political capital.
Survey Methods
Results from Israel are based on face-to-face interviews conducted July-August 2007 with a randomly selected sample of 872 Israeli residents, aged 15 and older. For results based on the Israeli sample, one can say with 95% confidence that the maximum error attributable to sampling and other random effects is ±3 percentage points.
Results from Palestine are based on face-to-face interviews conducted July 2007 with a randomly selected sample of 1,000 Palestinian residents. For results based on the Palestinian sample, one can say with 95% confidence that the maximum error attributable to sampling and other random effects is ±3 percentage points.
In addition to sampling error, question wording and practical difficulties in conducting surveys can introduce error or bias into the findings of public opinion polls.