IRVINE, Calif. -- Gallup Polls in China over the last decade reveal impressive growth not only in China's per-capita income, but also in the array of products finding their way into the kitchens and living rooms of the average Chinese household. Gallup data show that products ranging from telephones to TV sets are increasingly common in the majority of Chinese homes. Further, some of these increases have been nothing short of dramatic. 
In just nine years, from 1997 to 2006, the number of Chinese households with color televisions grew almost 60%, to the point at which 9 in 10 Chinese homes now have a color television. During the same time, the percentage of in-home telephones nearly tripled and microwave ovens in the home increased sixfold. Even more astounding, the prevalence of mobile phones is at a level that's 15 times what it was in 1997. And, while computers are still present in only a minority of Chinese homes (15%), that number is more than seven times the mere 2% of homes in which computers could be found nine years ago.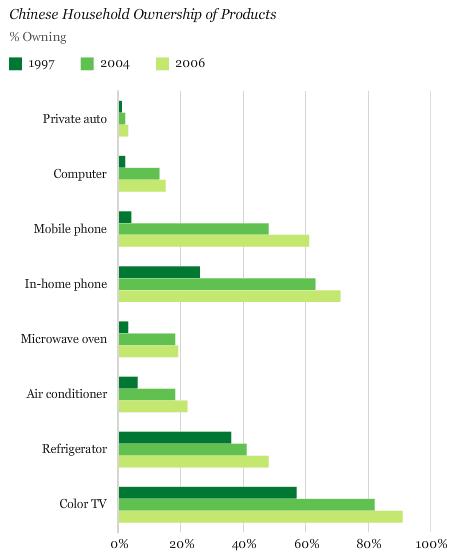 While increases in product ownership are clearly evident among urban Chinese, as would be expected, the rate of change in the rural areas is even more striking. In 1997, only 10% of rural homes had a landline phone and slightly more than a third (36%) had a color television. In 2006, 64% of rural homes had a phone and 88% had a color television. Almost a third (31%) of rural-dwelling Chinese now have a refrigerator and almost half (49%) have a mobile phone. What's more, these percentages nearly doubled in just two years.
What Will Tomorrow Bring?
The past decade in China represents a period of extraordinary growth to be sure, especially considering the vast size of this market. As a result, China continues to be a tantalizing target for any product marketer. After all, what could be more attractive than a limitlessly large and growing market with an as-yet-unsatisfied hunger for a wide range of consumer goods? However, the potential of any market, regardless of how large, is found not in what has already taken place, but rather in what's likely to happen next. 
It's dangerous to estimate market potential by simply drawing a straight line from the most recent trends, assuming that these trends will necessarily continue. And so, product marketers must carefully consider Chinese consumers' future plans and intentions.
It's here that Gallup data reveal some important caveats that need to be taken into account. In Gallup's 2006 survey of China, the country's consumers exhibited less pervasive interest in purchasing items for their households than they expressed in 2004. This could indicate a feeling among Chinese that many of the more-immediate household needs have been met, or that they are increasing their focus on longer-term planning and striking a more realistic strategic balance between what they may wish for, and what they can actually afford.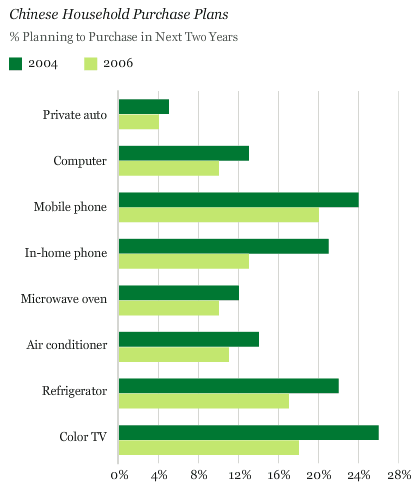 The declines in expressed buying intentions aren't precipitous, and 10% to 20% of China's billion consumers is still an immense market for any company to try and tap into. But, after years of steady increases in short-term buying intentions, it's noteworthy that the most recent data show a decline in consumers' active purchase plans. 
There are also appreciable numbers of Chinese consumers who state they have no interest in ever buying some of these household durables. More than half of Chinese consumers say they don't want a microwave oven (58%), a computer (56%). or an air conditioner (57%), and more than 4 in 10 (44%) have no intention of owning a refrigerator. Clearly it's a mistake to assume that all Chinese households are eager to possess what some already do. Some Chinese either see no tangible personal benefit or they're unwilling to spend the relatively large sums that might be required to obtain what some consider hallmarks of a modern lifestyle. For example, with product prices high and transportation alternatives apparently available, close to two-thirds of Chinese (64%) say they don't ever plan to own a private automobile.
There is no doubt that the sheer size of China's market, whether for mobile phones or family sedans, remains hugely appealing. However, these markets are being aggressively pursued by many companies who must now compete for business from a population of prospects who aren't as inclined to buy as they once were. In addition, marketers' sales volume projections may need to be tempered to reflect a Chinese consumer who is more savvy, skeptical, and strategic than previously assumed.
Survey Methods
Results are based on face-to-face interviews with more than 3,500 adults per year in China, aged 18 and older, conducted in 1997, 2004, and 2006. For results based on the total sample of national adults, one can say with 95% confidence that the maximum margin of sampling error is ±2 percentage points. In addition to sampling error, question wording and practical difficulties in conducting surveys can introduce error or bias into the findings of public opinion polls.