WASHINGTON, D.C. -- The outcome of Kenya's presidential election, scheduled for next month, remains too close to call. New Gallup Poll results show incumbent President Mwai Kibaki and Raila Odinga are neck and neck. Gallup Poll results from a late October and early November survey reveal that 45% of registered Kenyan voters say they intend to vote for Odinga and 42% say they plan to cast their ballot for Kibaki. The other leading candidate in the presidential election, Kalonzo Musyoka, is on track to receive about 11% of the vote.
Gallup teamed with Nairobi-based Research Path Associates to poll registered voters in Kenya between Oct. 25 and Nov. 10, 2007. Respondents were asked: "Now, suppose that the presidential election were being held today, and it included Mwai Kibaki from the Party of National Unity (PNU), Raila Odinga of the Orange Democratic Movement (ODM), Kalonzo Musyoka of the Orange Democratic Movement-Kenya (ODM-K), and Pius Muiru of the Kenya People's Party (KPP). Who would you vote for?"
In order to win the Kenyan presidency, a candidate must receive the most votes nationwide, as well as one-quarter or more of the ballots in at least five of Kenya's eight provinces. Gallup's analysis of voters' intentions across all eight jurisdictions shows the Central province to be Kibaki's stronghold and the only province in which a majority of respondents say they intend to vote for him, with 92% of registered voters in his favor. Odinga elicits the greatest support in the Nyanza (81%), North Eastern (74%), Western (71%), Coast (66%), and the Rift Valley (52%) provinces. Musyoka's strongest support is in the Eastern province, where 46% of registered voters say they intend to vote for him, although 44% of respondents in the province tell Gallup they will cast their ballot for the incumbent. Registered voters in Nairobi, Kenya's capital, appear to be divided. Forty-four percent intend to vote for Odinga, while 37% would choose Kibaki, and Musyoka would receive 13% of the vote.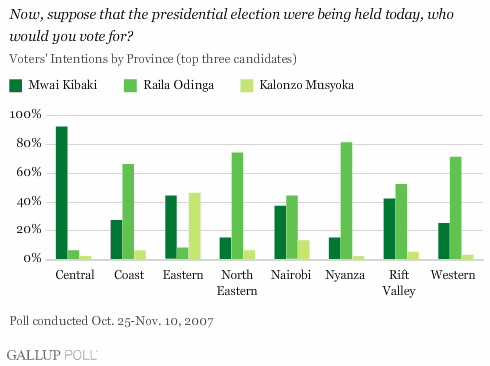 Ethnicity and tribal affiliation have played an important role in the development of the country's politics. Although Kenya has more than 70 distinct ethnic groups, seven of them (Kikuyu, Luo, Luhya, Kamba, Kalenjin, Kisii, and Meru) represent more than 80% of the population. Gallup's analysis of registered voters' intentions by ethnic group shows that each of the three leading candidates receives the overwhelming support of his ethnic group. Ninety-three percent of registered Luo voters say they will vote for Odinga, a Luo; 92% of Kikuyus plan to vote for Kibaki, a Kikuyu; and 78% of Kambas will cast their ballot for Musyoka, a Kamba.
Majorities of Luhya (68%), Kalenjin (63%), and Kisii (53%) are planning to vote for Odinga, but significant minorities from these three ethnic groups, 27%, 31%, and 35%, respectively, intend to vote for Kibaki. The incumbent also appeals to Merus, as 84% of them say they will vote for the current president.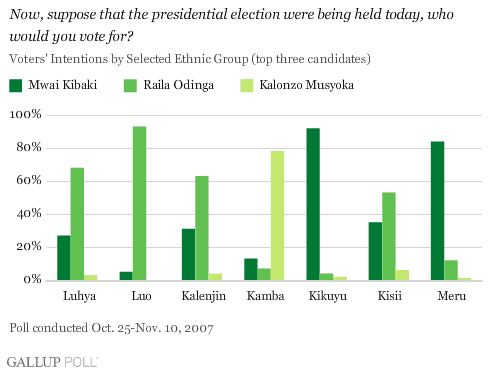 Survey Methods
Results are based on face-to-face interviews with 2,000 registered voters between Oct. 25, 2007, and Nov. 10, 2007, in Kenya. The interviews were conducted in 400 Primary Sampling Units allocated proportionally to the population aged 18 or older in the eight Kenyan provinces. A random route procedure was used to select households and each household, the Kish Grid was used to select a registered voter randomly. For results based on the total sample of registered voters, one can say with 95% confidence that the maximum margin of sampling error is ±3 percentage points. In addition to sampling error, question wording and practical difficulties in conducting surveys can introduce error or bias into the findings of public opinion polls.