PRINCETON, NJ -- The New England Patriots stand just one victory away from doing what no other National Football League team has done: go undefeated in a 16-game regular season. The 1972 Miami Dolphins are the only team that has gone undefeated during the Super Bowl era, winning 14 regular-season games, and finishing off a perfect 17-0 season by winning two more playoff games and the Super Bowl.
A slim majority of pro football fans interviewed in mid-December believed the Patriots would in fact go undefeated throughout the regular season and playoffs. However, more say they would personally rather see the Patriots lose at least one game than to see them complete an undefeated season. Even so, the vast majority of football fans would not be upset with either outcome.
These results are based on a USA Today/Gallup poll of 594 football fans nationwide conducted Dec. 14-16, before the Patriots' two recent victories over the New York Jets and Miami Dolphins made them 15-0 heading into the final week of the regular season.
According to the poll, 53% of football fans at the time of the interview believed the Patriots would complete an undefeated regular season and win the Super Bowl, while 40% disagreed. Gallup asked the same question about the 2005 Indianapolis Colts, who began that season 13-0. Fans were less likely to think the Colts would go undefeated (46%) two years ago than to believe the Patriots will do so this year. In fact, the Colts ended up losing twice in the regular season and in their first playoff game that season.
If it were up to a vote of the fans, the Patriots would lose to the New York Giants in this weekend's game or in one of their playoff games. Fifty-four percent of fans say they would rather see the Patriots lose at least one game, while 41% would prefer they go undefeated.
The poll did not ask for reasons why fans would like to see the Patriots lose. However, the team's pursuit of perfection has not been without a share of controversy. There has been criticism of the Patriots for running up the score on some of their opponents, such as in a 52-7 victory over the Washington Redskins and a 56-10 victory over the Buffalo Bills. But the biggest controversy occurred in Week 1, when the Patriots were caught videotaping the New York Jets' coaches on the sidelines in an attempt to steal their defensive signals. The NFL acted swiftly and severely, forcing the Patriots to forfeit their first-round pick in the 2008 draft of collegiate players and imposing hefty fines on the franchise and head coach Bill Belichick.
But these controversies have apparently not evoked widespread passion among fans, including those who are rooting for a Patriots loss. Among this group, only 6% say they would be "very upset" if the Patriots go undefeated, with an additional 7% saying they would be "somewhat upset."
There is a similar lack of passion or perhaps resignation among fans hoping for perfection. Just 3% of these fans say they would be very upset if the Patriots lose a game, with 11% saying they would be somewhat upset. That likely stems from the fact that the ultimate goal of any NFL team is to win the Super Bowl, regardless of how many losses the team had during the regular season. So while an undefeated season would be historic, an 18-1 Super Bowl championship team would probably be as satisfying to the team and its fans.
Taken together, about 8 in 10 football fans would not have a strong emotional reaction whatever the Patriots' ultimate fate is.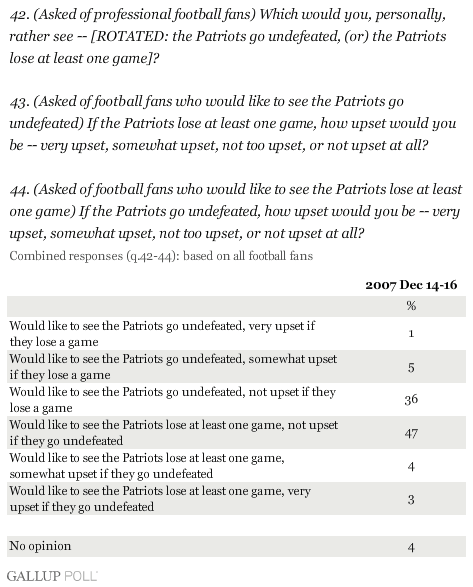 Pro Football Americans' Favorite Sport
Views on the Patriots' season come at a time when pro football is clearly the king of sports in the United States. In the poll, 60% of Americans identify themselves as fans of pro football. By comparison, just 47% said they were pro baseball fans. Pro football is the only sport that consistently claims a majority of Americans as fans. Pro baseball and college football usually fall just below the majority level.
Also, by a wide margin, Americans name football as their favorite sport to watch. In Gallup's Dec. 6-9 poll, 43% name football as their favorite, followed by baseball (13%) and basketball (11%). Football has been No. 1 on this list since 1972, overtaking baseball in the late 1960s or early 1970s. Baseball had been the No. 1 sport in the 1937 to 1960 surveys.
The 43% of Americans who say football is their favorite sport to watch matches last year's percentage, and ranks as the highest percentage claiming any sport as their favorite to watch in all measurements of this question since 1937.
Survey Methods
These results are based on telephone interviews with a randomly selected national sample of 1,011 adults, aged 18 and older, conducted Dec. 14-16, 2007. For results based on this sample, one can say with 95% confidence that the maximum error attributable to sampling and other random effects is ±3 percentage points.
For results based on the sample of 594 professional footballs fans, the maximum margin of sampling error is ±4 percentage points.
Other results are based on telephone interviews with 1,027 national adults, aged 18 and older, conducted Dec. 6-9, 2007. For results based on the total sample of national adults, one can say with 95% confidence that the maximum margin of sampling error is ±3 percentage points.
In addition to sampling error, question wording and practical difficulties in conducting surveys can introduce error or bias into the findings of public opinion polls.