PRINCETON, NJ -- The holiday season brings a bevy of college bowl games and the final determination of the National Football League's playoff participants. That suits Americans just fine, because football is the runaway winner when Americans are asked to name their favorite sport to watch. Forty-one percent mention football, with baseball (10%) and basketball (9%) a distant second, and no other sport reaching the 5% level.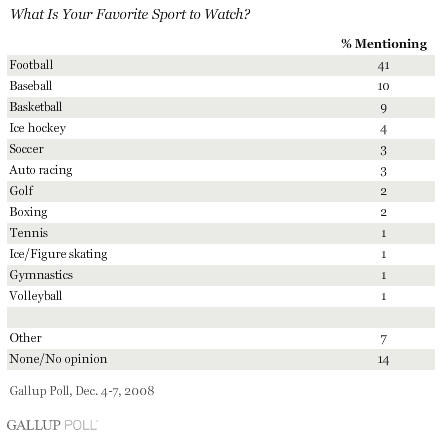 These results are based on Gallup's annual Lifestyle poll, conducted Dec. 4-7 this year. Gallup first asked this open-ended "favorite sport" question in 1937, and has updated it on a regular basis since 1990. In the very early years, baseball was king, with football second by a considerable margin. But by 1972, football had overtaken baseball, and it has been the top sport ever since, surpassing 40% mentions in each of the last three years.
After showing a modest uptick in the 1990s and the early part of this decade, basketball has slipped in recent years. The 9% who consider basketball their favorite sport this year is the lowest Gallup has measured since 1981, when the sport was beginning a surge in popularity fueled by prominent star players such as Magic Johnson, Larry Bird, and, later, Michael Jordan.
Basketball's popularity reached as high as 17% in April 1997, though that estimate may have been slightly elevated given that the poll was conducted just after the NCAA tournament concluded and just as the NBA playoffs were getting underway. Still, even as recently as December 2003, a relatively high 14% of Americans rated basketball as their No. 1 sport to watch.
On a somewhat smaller scale, figure skating has also declined in popularity, peaking at a high of 6% in December 2003 and steadily declining since then to just 1% in the latest poll.
Football is the top sport among all key demographic groups, based on aggregated data from the last four times the question has been asked (each December since 2005). But there is some variation in the extent to which football is mentioned. For example, men are more likely than women, and younger Americans are more likely than older Americans, to name football as their top sport.
As the table shows, on a relative basis, younger adults are more likely to rate basketball as their favorite sport and older adults are more likely to name baseball.
The subgroup most likely to name basketball as their favorite sport is blacks: 26% mention it, though football still rates as blacks' favorite (39%). Just 4% of blacks name baseball, putting it on par with boxing among blacks.
Survey Methods
Results are based on telephone interviews with 1,009 national adults, aged 18 and older, conducted Dec. 4-7, 2008. For results based on the total sample of national adults, one can say with 95% confidence that the maximum margin of sampling error is ±3 percentage points.
Interviews are conducted with respondents on land-line telephones (for respondents with a land-line telephone) and cellular phones (for respondents who are cell-phone only).
In addition to sampling error, question wording and practical difficulties in conducting surveys can introduce error or bias into the findings of public opinion polls.