PRINCETON, NJ -- For the sixth year in a row, President George W. Bush is the most admired man and Sen. Hillary Clinton the most admired woman in Gallup's annual survey. But neither winner had a very decisive win this year, with former President Bill Clinton nearly tying Bush and Hillary Clinton barely topping talk-show host Oprah Winfrey. This is the seventh time Bush has been most admired man and the 12th time Clinton has been most admired woman.
These results are based on the Dec. 14-16 USA Today/Gallup poll, which asked Americans, without prompting, to say what man and woman "living today in any part of the world, do [they] admire most?" Gallup has asked the most admired man and woman questions in this format in all but two years since 1948.
Most Admired Woman
With 16% of total mentions for most admired woman, Winfrey had her strongest showing to date in the current poll. But Clinton also had a stronger-than-usual score in 2007 -- the 18% who mention the former first lady is the highest since 2000 (19%). Clinton's best performance was in 1998, when 28% said they most admired her, just as her husband was being impeached by the U.S. House of Representatives in the Monica Lewinsky matter.
Winfrey has now finished second on the most admired woman list every year since 1997 with the exception of 2001, when she was third (to Laura Bush and Clinton). During that time, she has come within two percentage points of Clinton for the top spot on one other occasion (2004) and within one point on two occasions (2002 and 2005).
After Clinton and Winfrey, the remainder of the top 10 most admired women are Secretary of State Condoleezza Rice (5%), actress and humanitarian Angelina Jolie (3%), first lady Laura Bush (3%), former British Prime Minister Margaret Thatcher (2%), former Pakistani Prime Minister Benazir Bhutto (2%), House Speaker Nancy Pelosi, author Maya Angelou, and Queen Elizabeth II (all at 1%).
Eight of the top 10 women this year also made the list last year. Bhutto, who recently returned to Pakistan after several years in exile, finished in the top 10 for the first time, and Queen Elizabeth returned to the top 10 for the first time since 2004.
This is Queen Elizabeth's 41st appearance in the top 10, the most for any woman. Thatcher's 29 top 10 finishes are the second most among women in the history of the poll. Winfrey has been in the top 10 each of the last 20 years and only four women have more top 10 finishes than she does: Queen Elizabeth, Thatcher, Jacqueline Kennedy Onassis, and Mamie Eisenhower. Former Sen. Margaret Chase Smith also made the top 10 on 20 different occasions. Personal longevity and achieving prominence at a relatively early age are obviously important factors in determining frequency of appearances in the top 10 because only those living at the time of the survey are included.
Clinton has finished in the top 10 on 16 different occasions, and Angelou has now done so for the 11th time.
Clinton, who has been named most admired both as first lady and as senator, could become the first female president to win the distinction. If she were to win the 2008 presidential election, she would be only the second person to be elected president after being named most admired. Dwight Eisenhower was most admired man in 1950 and was elected president in 1952.
Most Admired Man
President Bush wins as the most admired man this year in spite of his low job approval ratings. History is on Bush's side, as the sitting president has been the most admired man every year since 1981, and in 50 of the 61 times the question has been asked overall. That list of 11 nonpresidential winners includes President-elect Eisenhower in 1952 and former President Eisenhower in 1967 and 1968. The last nonpresident to come in first was Pope John Paul II in 1980.
Bush wins despite just 10% of Americans naming him, which is two points more than his predecessor, Bill Clinton, receives. That score is Bush's lowest in the seven years he has been named most admired man, and the fact that it is enough to win suggests that no dominant male personality has captured the public's admiration this year.
The remainder of the top 10 most admired men after Bush and Clinton are former Vice President Al Gore (6%), Sen. Barack Obama (5%), the Rev. Billy Graham (3%), former South African President Nelson Mandela (3%), former President George H.W. Bush (2%), Microsoft founder Bill Gates (2%), Pope Benedict XVI (2%), and former President Jimmy Carter (2%).
The top 10 list for men is very similar to last year; the only change is that Gore is in and Gen. Colin Powell dropped out.
Many of the most admired men this year are frequent visitors to the top 10, none more so than Graham, who ranked in the top 10 for a record 51st time. Despite his ubiquitous presence in the top 10, Graham has never topped the list in any year. Carter has now made the top 10 26 times, and can claim more top 10 appearances than any man except Graham, Ronald Reagan (31 times) and Pope John Paul II (27 times). The elder George Bush has now finished in the top 10 18 times, and Clinton and Mandela have each done so 16 times.
Variations in Most Admired Rankings
The results for most admired man and woman usually vary by political party. Bush is easily the top choice for most admired man among Republicans. Bill Clinton is the top choice among Democrats, followed by Gore and Obama. Independents have no clear favorite, but Gore is mentioned more often than any other man.

Hillary Clinton is easily the Democrats' pick as most admired woman, mentioned by 32%. Winfrey is a somewhat distant second, although she still has a strong showing of 21%. Among Republicans, Winfrey and Rice are closely matched at the top of the list. Independents' top choices are Winfrey and Clinton.

Both Clinton and Winfrey are known to have strong appeal to women in their respective realms, but women are more likely to rate Winfrey as the most admired woman than Clinton. By contrast, Clinton leads among men, with nearly twice the mentions of Winfrey.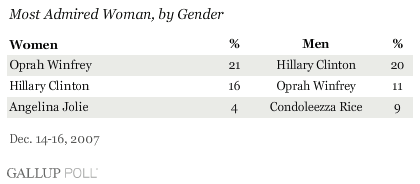 Men most often mention President Bush as the most admired man, while Bill Clinton gets the most mentions among women.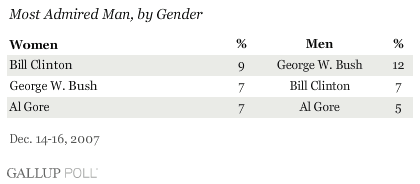 Survey Methods
These results are based on telephone interviews with a randomly selected national sample of 1,011 adults, aged 18 and older, conducted Dec. 14-16, 2007. For results based on this sample, one can say with 95% confidence that the maximum error attributable to sampling and other random effects is ±3 percentage points. In addition to sampling error, question wording and practical difficulties in conducting surveys can introduce error or bias into the findings of public opinion polls.