WASHINGTON, D.C. -- The late Benazir Bhutto was a controversial figure throughout her political career in Pakistan. She rose to become the first elected female prime minister of a Muslim state, but corruption charges marred her two terms. In the end, however, Bhutto's outspokenness following her recent return to Pakistan and her refusal to be deterred from campaigning publicly despite the ever-present danger to her own life may well be what many people remember about her.
Bhutto's fearlessness seems all the more significant given the current climate of fear among the Pakistani electorate. Political activists say that participation in political rallies has declined thanks in part to ongoing volatility in the country's tribal areas. Gallup polling reveals that even before a previous attempt on Bhutto's life at a rally in mid-October -- at which a suicide bombing killed more than 100 -- most Pakistanis said fear of expressing political opinions is common among their fellow citizens.
In a poll conducted in May and June 2007, Pakistanis were asked how many people are afraid to openly express their political views. About a third (34%) said most are afraid, while another 23% said many are afraid. Only 13% said nobody in the country is afraid to speak out politically.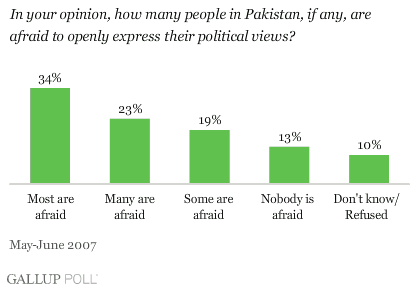 These overall results are not dramatically worse than those in neighboring South Asian countries; in India, for example, 23% said most people are afraid to express their political views, while in Sri Lanka the percentage is 26%.
In Pakistan, this fear is more prevalent in some parts of the country than in others, which could possibly be attributed to the relative independence of the outlying provinces. In Punjab, the province most closely associated with the central government, 29% of residents said most people are afraid to express their political views. In the Baluchistan and North West Frontier provinces, where fear of retribution by local authorities may be greater, the percentage is significantly higher, at 40%.
These results may also reflect a more general reduction in feelings of safety and security that has accompanied the rise in terrorist activity in Pakistan. Just 50% of Pakistanis told Gallup in the 2007 poll that they felt safe walking alone in their areas at night, down from 71% in late 2005.
Survey Methods
Results are based on face-to-face interviews with a representative sample of 1,500 residents of Pakistan, aged 15 and older, conducted May 24-June 29, 2007. For results based on this sample, one can say with 95% confidence that the maximum margin of error attributable to sampling, weighting, and other random effects is ±2.8 percentage points. In addition to sampling error, question wording and practical difficulties in conducting surveys can introduce error or bias into the findings of public opinion polls.