PRINCETON, NJ -- Americans are taking the acceleration of the primary process around the 2008 presidential election fairly well in stride. Although the first nominating elections are in January, and the identity of the 2008 nominees will likely be known by early February, these aren't vexing developments to most Americans. In fact, for the plurality, these are good things.
At worst, most Americans are neutral about the front-loaded nature of the 2008 primaries. About half (49%) say that having the caucuses and primaries begin in January is a good thing and another 27% say it is neither good nor bad, leaving less than one-quarter calling it bad.
Americans are slightly more negative about having the races essentially decided by early February, with 36% calling this a bad thing. However, more (45%) consider it a good thing.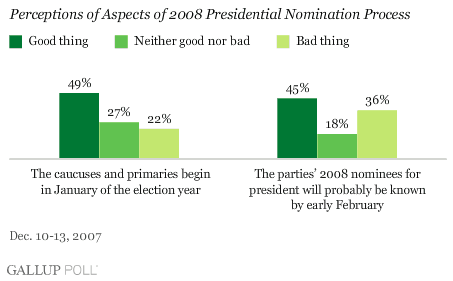 Of course, the flip side of knowing early on in the process who the nominees will be is that the states that go to the polls later in the primary season have little to no impact on choosing the nominees. Despite their relatively positive reactions to getting the nominations decided early, most Americans consider the limited influence of states with later primaries and caucuses a bad thing.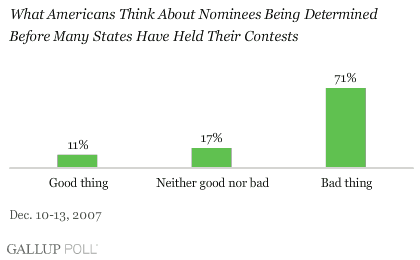 Americans are generally ambivalent about Iowa's and New Hampshire's position as the states that traditionally kick off the presidential primary season. Nearly as many Americans consider the two states' initiation of the primary season good as call it bad, while most say it is neither.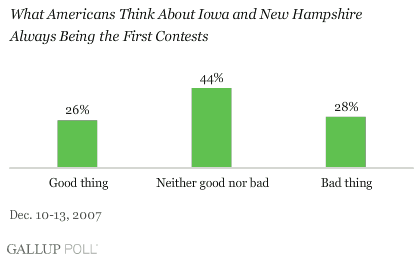 More generally, most Americans like choosing the party nominees for president through a system of state primaries and caucuses.
Democrats More Positive
Republicans and Democrats nationwide are equally supportive of the general primary system in place to choose U.S. presidential nominees -- 60% of both groups call it a good thing. Both groups also view the irrelevancy factor surrounding the late primary states as a bad thing.
However, in terms of starting the process in January, identifying the nominees by early February, and kicking off the season in Iowa and New Hampshire, Democrats are generally more positive about the 2008 nominating season than are Republicans.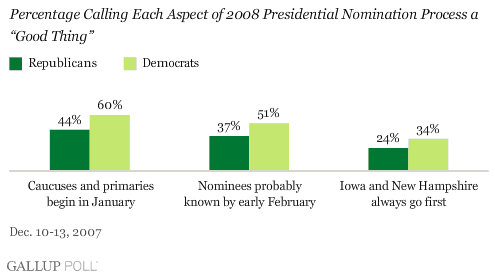 Survey Methods
Results for this panel study are based on telephone interviews with 1,008 national adults, aged 18 and older, conducted Dec. 10-13, 2007. Respondents were randomly drawn from Gallup's nationally representative household panel, which was originally recruited through random selection methods. The final sample is weighted so it is representative of U.S. adults nationwide.
For results based on the total sample of national adults, one can say with 95% confidence that the maximum margin of sampling error is ±4 percentage points.
In addition to sampling error, question wording and practical difficulties in conducting surveys can introduce error or bias into the findings of public opinion polls.