PRINCETON, NJ -- The latest USA Today/Gallup poll finds a close race between the current Republican and Democratic front-runners in a trial heat matchup for the 2008 presidential general election. The Jan. 10-13 poll of 1,598 likely voters nationwide shows that 50% prefer Republican John McCain to Democrat Hillary Clinton, while 47% prefer Clinton. McCain's advantage over second-place Democrat Barack Obama is 50% to 45% in their head-to-head matchup, which is a statistically significant lead for McCain. At this point, Mike Huckabee, the second-place GOP candidate, would appear to be the weakest of the four leading national contenders, as he trails both Clinton (by 51% to 45%) and Obama (by 53% to 43%) in these early general-election trial heats.
This is the first poll in the presidential election cycle in which Gallup has examined the preferences of likely voters. So far, the likely voter results are quite similar to those for the broader sample of all registered voters.
Based on registered voter trends from earlier Gallup Polls, McCain has now moved ahead of both Clinton and Obama in the general election trial heats after mostly running behind them -- albeit in close contests -- in polls conducted last year.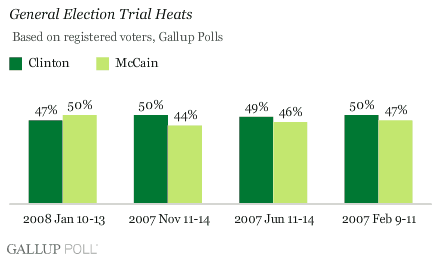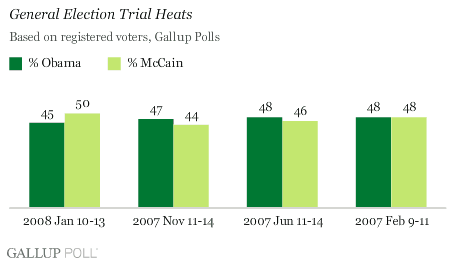 The Likability Factor
McCain's victory in the New Hampshire primary no doubt has helped to reinvigorate his candidacy. He now is the clear leader in national GOP nomination preferences (see "Updating the Nominations After New Hampshire" in Related Items), and his current 59% favorable rating among national adults is the highest it has been during the current campaign. As recently as August, when his campaign was facing financial difficulties and his support for a compromise immigration bill seemed to hurt his standing among Republicans, his favorable rating was just 41% and he had about as many negative reviews (42%) as positive ones.
McCain's all-time best favorable rating of 67% came in February 2000, immediately after he won that year's New Hampshire Republican presidential primary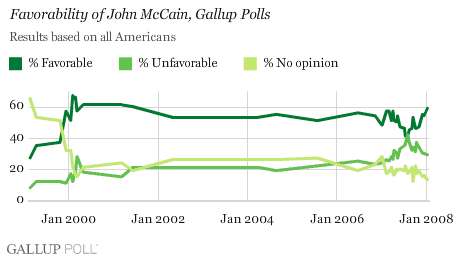 Obama matches McCain's 59% favorable rating, which is Obama's highest to date. Clinton (50%) and John Edwards (48%) have somewhat lower favorable ratings, although Clinton has much higher negatives than Edwards. Views of both Huckabee and Rudy Giuliani are about equally positive and negative. Mitt Romney is the only one of the leading candidates whom Americans view significantly more negatively than positively.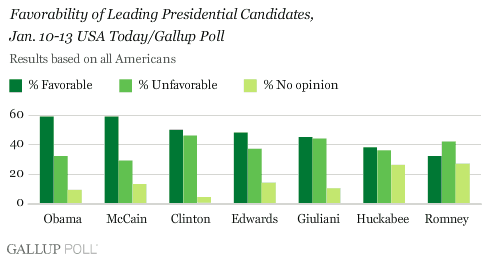 Giuliani's declining image is notable; for much of the campaign, he was the candidate with the highest favorable ratings. His ratings have declined at least somewhat in each of the last four polls, falling from 55% in November to 45% in the latest poll.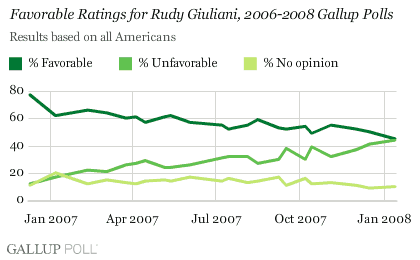 Giuliani's poor performance in the early states -- because of his decision to concentrate his efforts on the bigger states that come later in the campaign -- has likely hurt his standing nationally as other candidates now receive the lion's share of media attention. The decline in ratings of Giuliani since early November is broad-based, evident in most major subgroups.
Likewise, McCain's resurgence is broad-based. For example, his favorable rating has improved by 20 percentage points among Republicans, 17 points among independents, and 19 points among Democrats since the Aug. 3-5 poll, when his favorable rating bottomed out at 41%.
Both McCain (64%) and Obama (61%) exceed the 60% likability threshold among likely voters. Clinton's favorable rating is the same among likely voters as among national adults (50%).
Implications
McCain's victory in New Hampshire has not only propelled him to the front of the GOP field but makes him look like a formidable candidate should he reach the general election phase of the campaign, at least based on these early trial heat and likability data. Americans apparently love a winner and are hard on the losers, as evidenced by Giuliani's and McCain's shifting fortunes over the course of the campaign.
In terms of basic party attitudes, the Republicans begin 2008 in a position of weakness versus the Democrats. Americans view the Democratic Party much more favorably than the Republican Party and Democrats continue to hold a sizable advantage in party leanings (see "GOP Identification in 2007 Lowest in Two Decades" in Related Items). But the latest results suggest Republicans may be able to offset much of that advantage by nominating a popular candidate such as McCain who can hold the party's base but who also exhibits a strong appeal to independents.
Survey Methods
These results are based on telephone interviews with a randomly selected national sample of 2,010 adults, aged 18 and older, conducted Jan. 10-13, 2008. For results based on this sample, one can say with 95% confidence that the maximum error attributable to sampling and other random effects is ±2 percentage points.
For results based on the sample of 1,598 likely voters, the maximum margin of sampling error is ±3 percentage points.
Interviews are conducted with respondents on land-line telephones (for respondents with a land-line telephone) and cellular phones (for respondents who are cell-phone only).
In addition to sampling error, question wording and practical difficulties in conducting surveys can introduce error or bias into the findings of public opinion polls.