PRINCETON, NJ -- Mitt Romney has now edged ahead of Mike Huckabee in the Republican nomination horse race, with the support of 21% of Republican voters nationwide compared with 18% for Huckabee. John McCain, at 31%, maintains a double-digit lead, as he has since Jan. 20. Romney appears to have gained the most from Fred Thompson's campaign exit -- he is up five percentage points since Jan. 20, the last time Thompson appeared on the ballot. McCain is up two points since then, Rudy Giuliani and Ron Paul have gained one point each, and Huckabee is a point lower. These latest data are from interviewing conducted Thursday, Friday, and Saturday. The closely watched Florida primary will take place Tuesday, with Romney and McCain battling it out, according to the latest Florida pre-election polls.
Hillary Clinton leads Barack Obama by 13 points among Democratic voters nationwide. All interviews were conducted prior to the news of Obama's impressive South Carolina win. The initial impact of South Carolina will be measured in Sunday's interviewing, and Gallup's three-day rolling average will increasingly reflect the post-South Carolina environment over the next three days. Even before South Carolina, these data suggest Obama has been chipping into Clinton's formidable lead, which was 20 points about a week ago. It is unclear based on these data what could be behind the smaller Clinton lead -- whether it be the expectation that Obama would win South Carolina, reaction to the contentious debate between Clinton and Obama last week, or controversy over Bill Clinton's statements on the campaign trail. -- Jeff Jones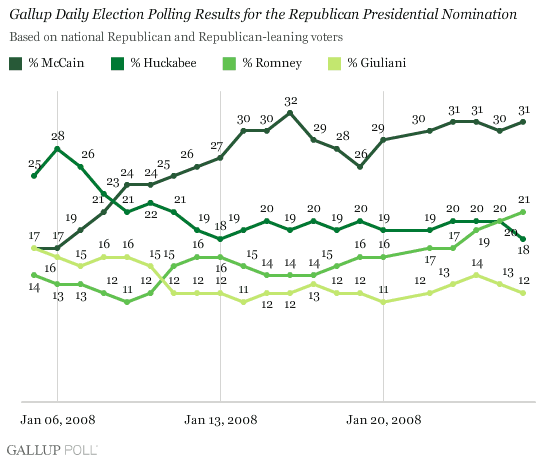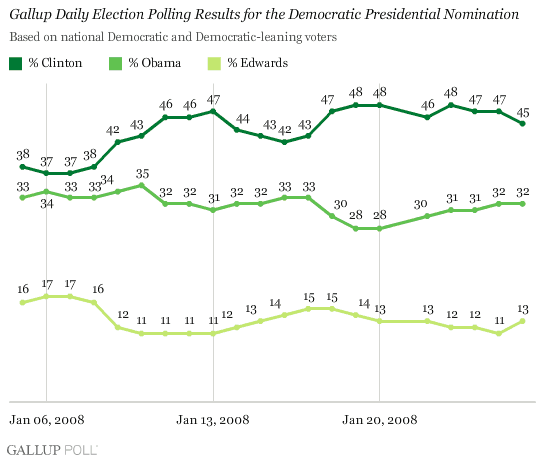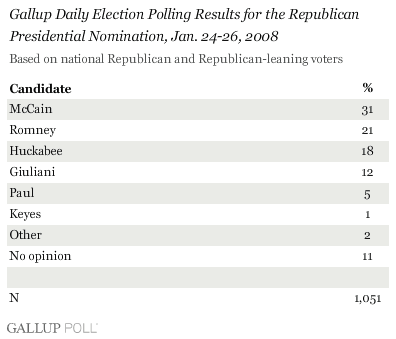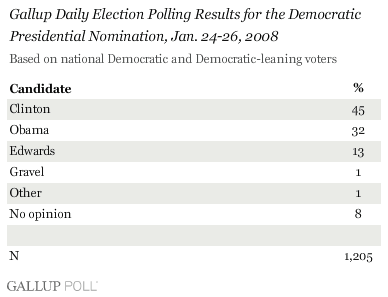 Methodology: Gallup is interviewing 1,000 U.S. adults nationwide each day during 2008. The results reported here are based on combined data from Jan. 24-26, 2008, including interviews with 1,051 Republican and Republican-leaning voters and 1,205 Democratic and Democratic-leaning voters. For results based on these samples, the maximum margin of sampling error is ±3 percentage points. In addition to sampling error, question wording and practical difficulties in conducting surveys can introduce error or bias into the findings of public opinion polls.