PRINCETON, NJ -- One of the most frequently heard mantras on the presidential campaign trail this year has been the call for "change." Several of the leading presidential candidates have adopted "change" as a campaign theme and have rushed to claim that they themselves are the candidates for change. Barack Obama has made change the central motif of his campaign from the beginning, saying he is for "real change in Washington." Former President Bill Clinton responded to Obama's claim to own the "change" theme by saying Obama is the "establishment" candidate and would engender only the "feeling of change." Republican Mitt Romney put out a press release entitled, "Governor Mitt Romney Calls for Change." A recent news story about John McCain carried the title: "McCain Also Calls Himself 'Agent of Change,'" quoting McCain as saying, "I've made the greatest change."
Given Americans' low levels of satisfaction with the way things are going in the United States, their very low ratings of government, Congress, and the president, and their low satisfaction level with the way the government system works, the desire for change is not surprising.
It's abundantly clear that Americans want a change from the presidency of George W. Bush, at a time when Bush's job approval rating has been stuck in the 30% to 35% range for many months. A question included in the Jan. 10-13 USA Today/Gallup poll found that almost 8 out of 10 Americans express the desire for the next president to change direction from Bush's policies.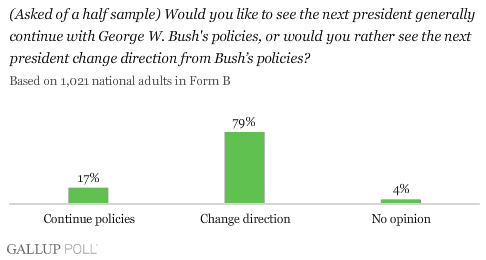 But exactly what form that "change" should take has been a little murky. Change is such a broad concept that -- like a Rorschach inkblot test -- an individual can read into it what he or she wants. One can seek a change from the way in which the Bush administration (and/or Congress) operates, a change in specific policy decisions, or perhaps just a more general change in the type of inspirational leadership the country has.
To help understand the "change" situation a little better, the Jan. 10-13 USA Today/Gallup poll included this open-ended question: "As you may know, a common theme in this year's presidential election has been a desire for change in this country. What type of change would you, personally, most like to see the next president bring about?"
The responses are in the accompanying table.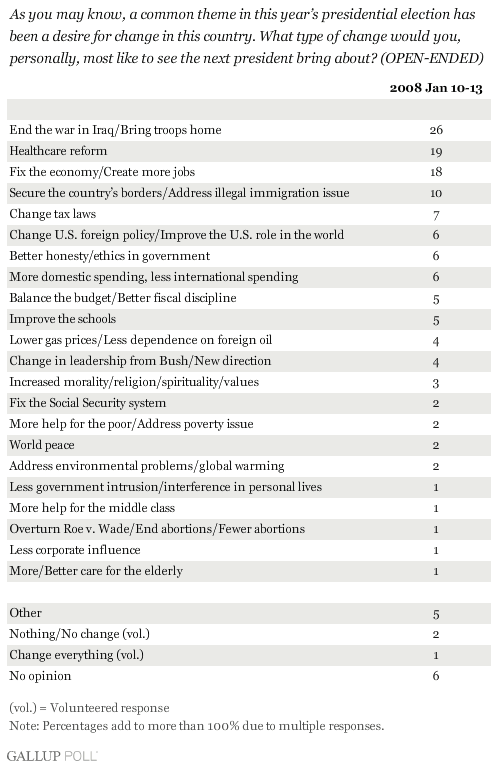 First and foremost, it is clear from these results that when Americans look ahead to the "change" the next president could bring about, they think very topically and specifically about problems and concerns, not about more general changes in the structure or systems of government.
In fact, these results to a significant degree mirror those found when Gallup asks Americans each month to name the most important problem facing the nation. The top four problems Americans mention in our January "most important problem" update are Iraq, the economy, healthcare, and immigration -- matching the top four specific areas in which Americans want to see "change" take place from the Jan. 10-13 poll. This finding is significant. It suggests that when Americans say they want the next president to bring about change, they mainly are thinking about solving what they perceive to be the nation's significant problems. There is very little discussion in these open-ends of a desire to bring about more fundamental changes in the way Washington operates, in the process of governing, and so forth.
The exact responses to this question, listed verbatim as recorded by Gallup interviewers, accompany this story. The interested reader is invited to read through them in order to gain a full understanding of how Americans are approaching this issue of "change."
Download the ZIP (60 KB) file to view all the verbatims.
It is possible, of course, that Americans see these more fundamental changes in the process to be necessary to solve problems. A Jan. 4-6 survey tracked Americans' satisfaction with "our system of government and how well it works" and found that the latest results continue a trend of declining satisfaction in recent years.
Back in 2001, before the 9/11 terrorist attacks, satisfaction with the government was at 68%. That rose in January 2002 to 76% but has been declining ever since, to the current 53%.
So the responses to the open-ended question about change do not in and of themselves preclude changes that are more fundamental to the government system. This question asked Americans what they wanted the next president to change, and the responses might have been different had the question asked about desired changes in Washington, or in government more generally. But the results reviewed here do suggest that the first reaction of the American people, when they hear discussion of the "changes" a new president could bring about, is to focus on change that very specifically involves solving the nation's problems.
Survey Methods
These results are based on telephone interviews with a randomly selected national sample of 2,010 adults, aged 18 and older, conducted Jan. 10-13, 2008. For results based on this sample, one can say with 95% confidence that the maximum error attributable to sampling and other random effects is ±2 percentage points.
For results based on the sample of 1,023 national adults, aged 18 and older, conducted Jan. 4-6, 2008, the maximum margin of sampling error is ±3 percentage points.
Interviews are conducted with respondents on land-line telephones (for respondents with a land-line telephone) and cellular phones (for respondents who are cell-phone only).
In addition to sampling error, question wording and practical difficulties in conducting surveys can introduce error or bias into the findings of public opinion polls.