PRINCETON, NJ -- Sens. John McCain and Hillary Clinton emerged as the winners of the New Hampshire primary Tuesday night. For both, it is their first win of the primary season (neither won last Thursday's Iowa caucuses), throwing the respective races into a fascinating and historically unique situation.
Gallup's national polling last weekend on Democratic and Republican nomination preferences had showed significant movement as a result of the Iowa caucuses. Barack Obama had moved into a tie with Clinton, and Mike Huckabee had edged ahead of former front-runner Rudy Giuliani (and McCain, who was one point behind Giuliani).
Now, with the McCain and Clinton victories, more change can be expected.
Gallup has usually observed significant shifts in national nomination preferences when the Iowa and New Hampshire results go against the conventional wisdom. The results have certainly defied expectations this year, with the pre-Iowa national Democratic front-runner Clinton losing in Iowa; Huckabee winning by a large margin over the previous Republican front-runner in Iowa, Mitt Romney; Romney -- governor of next-door-state Massachusetts -- losing again in New Hampshire; and Sen. Clinton winning in New Hampshire in the face of pre-election polls that pointed to an Obama win.
Typically in past elections, a Democratic candidate who swept both Iowa and New Hampshire emerged as the national leader (or, in the case of Carter in 1976, co-front-runner). A split decision between Iowa and New Hampshire has been rare in Democratic nomination campaign history during the primary era. Only in 1984 and 1988 did the two contests produce different winners. So it is unclear, based on prior history, how this year's Iowa and New Hampshire results might affect the national Democratic polls and subsequent primary voting. (Gallup did not do any immediate post-New Hampshire polling in 1988; in 1984, Hart's win in New Hampshire brought him within three points of Mondale.)
The accompanying table shows how previous Democratic presidential nomination races stood on a national basis prior to Iowa, and how the races looked on a national basis following New Hampshire.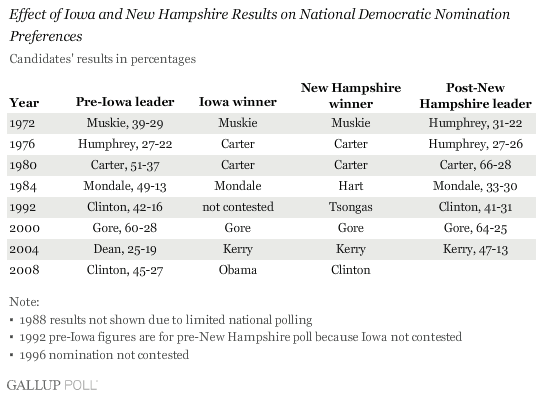 A key to national reactions to the New Hampshire outcome is expectations. Given the widespread expectation that Obama would win -- based on his Iowa win and on almost every New Hampshire pre-election poll, including Gallup's -- observers have interpreted Clinton's narrow win as a surprise victory. So one plausible scenario is that the impact of her win may thus be amplified in the post-election analysis and that voters outside of New Hampshire will see it as an even more significant victory than if a close contest had been predicted.
The 2008 Republican campaign marks the first time in the primary era that the national front-runner going into Iowa (Giuliani in this case) has lost both of the early contests. That is in part because Giuliani did not compete vigorously in Iowa and New Hampshire, deciding instead to concentrate his campaign efforts on the larger states that come later in the campaign, where he believed he had a better shot at winning.
The candidates have divided the spoils from the early states -- Huckabee and Romney placing first and second, respectively, in Iowa, and McCain and Romney leading the field in New Hampshire. Given that Huckabee enjoyed a bounce in the national poll after Iowa, one might expect that McCain, too, will enjoy a bounce after his New Hampshire victory.
From another perspective, an Iowa-New Hampshire sweep, while common in Democratic campaigns, has never occurred in a Republican nomination campaign when both were contested, making this year's results to a degree "business as usual" for the GOP. But historically, when the pre-Iowa national front-runner scored a victory in one of those states, he was usually able to keep the lead. For example, in 1980, following his win in Iowa, George H.W. Bush pulled into a statistical tie with Ronald Reagan, before Reagan regained his dominant lead with a win in New Hampshire. This year's pre-Iowa front-runner, Giuliani, of course, has not won yet.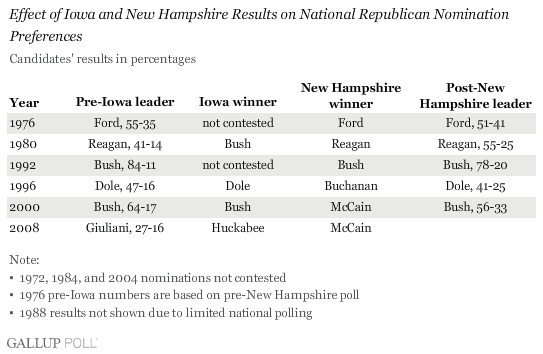 Last weekend's national poll (conducted after Iowa but before New Hampshire) showed Huckabee moving to the front of the GOP pack, with 25% support, compared with 20% for Giuliani and 19% for McCain. As noted, if any Republican is going to get a bounce out of New Hampshire, it would most logically be McCain, just as he did following his victory there in 2000. The key will be how big a bump, and whether McCain is able to ride it to victory in Michigan and South Carolina next week. Both of those are "open primary" states where independents can vote, and pre-election and exit-poll data show that McCain did particularly well among independents in New Hampshire. In 2000, in fact, he won the Michigan GOP primary.
Survey Methods
These results are based on telephone interviews with a randomly selected national sample of 1,023 national adults, aged 18 and older, conducted Jan. 4-6, 2008. For results based on this sample, one can say with 95% confidence that the maximum error attributable to sampling and other random effects is ±3 percentage points.
For results based on the sample of 499 Democrats and independents who lean to the Democratic Party, the maximum margin of sampling error is ±5 percentage points.
For results based on the sample of 423 Republicans and independents who lean to the Republican Party, the maximum margin of sampling error is ±5 percentage points.
Interviews are conducted with respondents on land-line telephones (for respondents with a land-line telephone) and cellular phones (for respondents who are cell-phone only).
In addition to sampling error, question wording and practical difficulties in conducting surveys can introduce error or bias into the findings of public opinion polls.