PRINCETON, NJ -- A new USA Today/Gallup poll finds the winners of the New Hampshire primaries leading their respective fields for the Republican and Democratic nominations, in some cases erasing candidate gains coming off of Iowa. More broadly, the Democratic race is similar to where it was before the real voting began this month, while the Republican race has been transformed.
According to the new survey, conducted Jan. 10-13, John McCain now leads the GOP field with 33% of the vote of Republicans and Republican-leaning independents. Mike Huckabee is in second place with 19%, and Rudy Giuliani about ties Mitt Romney for third, with both men in the low double digits (13% and 11%, respectively). Fred Thompson lags slightly behind with 9%.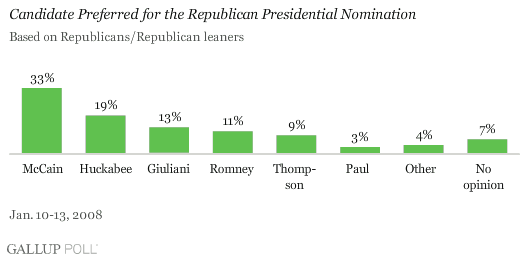 McCain is now the favorite among men and women; middle-aged and older Republicans; lower-, middle-, and upper-income Republicans; Republican identifiers; and, separately, independents who lean Republican. He leads Huckabee 47% to 12% among self-described "moderate" Republicans, but the two are about tied among "conservatives" (26% for McCain vs. 24% for Huckabee). More generally, conservative preferences in the race are highly dispersed across the five top-ranked candidates, while close to half of moderates choose McCain.
A 51% majority of Republicans and Republican leaners name McCain as either their first or second choice for the nomination -- potentially important for him when lesser-ranked candidates start to drop out. The next-closest candidate in total support is Huckabee, with 36%, followed by Giuliani with 34%.
The Democrats Post-New Hampshire
On the Democratic side, Hillary Clinton leads Barack Obama among Democrats and Democratic-leaning independents by a 12-point margin: 45% vs. 33%. John Edwards trails in third place with 13%.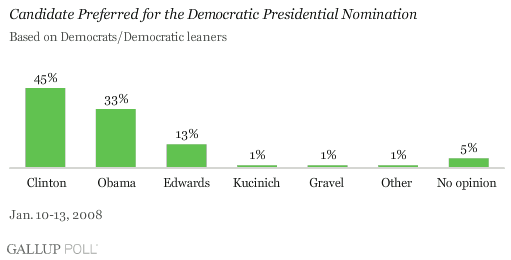 Clinton leads Obama by substantial margins among whites, women, middle-aged adults, seniors, people who identify themselves as Democrats, and among self-described conservatives, moderates, and liberals. Obama leads, and leads big, among young adults and blacks. The two are closely matched among men and independents who lean Democratic.
Factoring in second choices, Clinton and Obama are nearly evenly matched in total support among Democrats -- 70% for Clinton and 64% for Obama -- suggesting just how nip and tuck this race could be if they keep swapping wins in the early primary states.
McCain's Big Comeback
Stepping back and comparing the Republican race today to where it was in Gallup's last poll prior to the Iowa caucuses -- conducted Dec. 14-16, 2007 -- the big winner is McCain, whose support has more than doubled in less than a month. His unexceptional fourth-place showing in Iowa made little impression on national voters, according to a Jan. 4-6 Gallup Poll; but his big win in New Hampshire has now catapulted him into first place.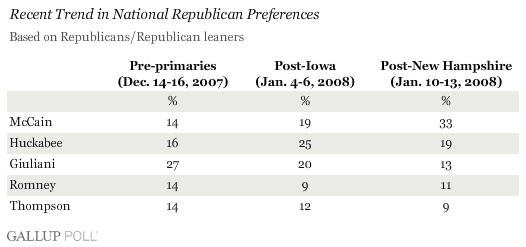 The clear losers -- at least for now -- appear to be Giuliani and Thompson, both of whom have seen their support shrink since December. Giuliani's tenuous front-runner position in December rapidly disintegrated through the early election period that he chose not to contest. At 9% in the new poll, support for Thompson has faded from the 14% recorded in December, and is his worst showing since he entered the race last spring.
Romney reportedly hoped to gain more from the initial rounds of state voting; so to the extent he didn't, that could be perceived as a loss. However, in terms of straight numbers, his current support registers about what it was prior to Iowa -- in the low double digits. Support for Huckabee surged nationally following his Iowa victory, putting him briefly in first place, but his support has since fallen back to about where it was in mid-December.
Ron Paul, Duncan Hunter, and Alan Keyes share the support of 6% of Republican voters among them, the same as in mid-December.
Clinton Back On Top
The millions of dollars spent in pursuit of the Democratic presidential nomination, along with back-to-back dramatic election nights in Iowa and New Hampshire, have resulted in little net change in the Democratic race, nationally, since December.
At 45%, Clinton's support is exactly the same today as it was in mid-December. The interim Gallup Poll, conducted immediately after the Iowa caucuses in early January, showed Clinton and Obama tied at 33%. Edwards, who edged out Clinton for second place in Iowa, rose to 20% in that same poll. However, following Clinton's unexpected win in New Hampshire, her national support has rebounded and that of Edwards has receded -- also to December's level. Obama's support level is the same as it was post-Iowa.

Since December, Bill Richardson, Joe Biden, and Christopher Dodd have all dropped out of the race, and, at least by the overall numbers, it appears their support has mostly gone to Obama. The only remaining lower-ranked candidates still in the race are Dennis Kucinich and Mike Gravel, both with 1%.
Bottom Line
Politically speaking, McCain is back, and Huckabee, Clinton, and Obama all survived the grueling Iowa and New Hampshire contests, but Giuliani and Thompson are on life support. The near-term fates of Romney and Edwards seem most uncertain following their Iowa and New Hampshire losses, depending in part on what expectations are set for their candidacies in the coming primaries.
But one shouldn't look back, or perhaps even take too much stock in the present. The upcoming contests in Michigan, Nevada, South Carolina, and Florida offer fresh opportunities for more drama and turmoil in what is developing into a most interesting set of races.
Survey Methods
Results are based on telephone interviews with 2,010 national adults, aged 18 and older, conducted Jan. 10-13, 2008. For results based on the total sample of national adults, one can say with 95% confidence that the maximum margin of sampling error is ±2 percentage points.
For results based on the sample of 831 Republicans or Republican leaners, the maximum margin of sampling error is ±4 percentage points.
For results based on the sample of 1,021 Democrats or Democratic leaners, the maximum margin of sampling error is ±3 percentage points.
Interviews are conducted with respondents on land-line telephones (for respondents with a land-line telephone) and cellular phones (for respondents who are cell-phone only).
In addition to sampling error, question wording and practical difficulties in conducting surveys can introduce error or bias into the findings of public opinion polls.