PRINCETON, NJ -- Highly religious Republicans continue to support former Arkansas Gov. Mike Huckabee more than any other GOP candidate, but just barely. In the wake of his win in last week's New Hampshire primary, Arizona Sen. John McCain's support has risen among religious Republicans to the point where he is just below Huckabee. Religious Republicans' support for former front-runner Rudy Giuliani has fallen precipitously, while support for former Massachusetts Gov. Mitt Romney has remained constant at a relatively weak level.
About 36% of Republicans nationwide report attending church every week, an important indicator of their overall religiosity. The presidential preferences of a group this large can be significant in the political process, and GOP candidates have, to varying degrees, attempted to win their allegiance as the 2008 campaign has progressed.
This year's Republican nomination contest has an unusual variety of religions represented among the major candidates, including a Mormon (Mitt Romney), a Catholic (Rudy Giuliani), and an ordained Baptist minister and former seminarian (Mike Huckabee).
Perhaps not surprisingly, Huckabee in recent months has gained the strongest allegiance from highly religious Republicans (operationalized for purposes of analysis as those who report attending church on a weekly basis). Among this group, Huckabee has been the top choice for the GOP nomination in each of four Gallup surveys conducted since late November.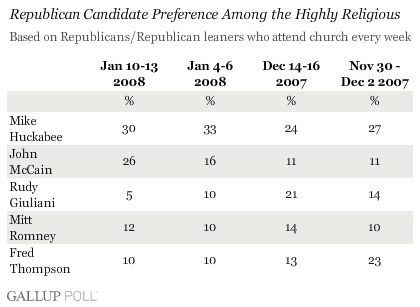 Despite his religious background, however, Huckabee by no means has a lock on the support of highly religious Republicans.
In Gallup's November/early December 2007 survey, Huckabee was just four percentage points ahead of former Tennessee Sen. Fred Thompson among this group. In December, he was just three points ahead of Rudy Giuliani, and in the current Jan. 10-13 survey, he is only four points ahead of John McCain. Only in the Jan. 4-6 survey -- conducted in the immediate aftermath of Huckabee's dramatic victory in the Iowa caucuses -- did he enjoy a sizable lead over every GOP contender.
The pattern of religious support for the other GOP contenders follows their overall national popularity at any given time.
John McCain's support from religious Republicans has risen in January, particularly in the latest survey conducted after his win in New Hampshire.
Rudy Giuliani has seen his support erode among religious Republicans, concomitant with his loss of support nationwide, which in turn reflects his strategic decision not to focus on winning the Iowa or New Hampshire contests.
Mitt Romney's support has been basically flat over the past two months.
Fred Thompson was, as noted above, at one point close to the lead among Republicans. Along with his downward drift among all Republicans, his support among religious Republicans has dropped to the 10% level in both of Gallup's January surveys.
Bottom Line
The short-term impact of the vote of highly religious Republicans varies from state to state as the primary season unfolds. Huckabee did well in Iowa, which has a strong cadre of evangelical Republican voters, but did relatively poorly in New Hampshire, where the rate of church attendance is one of the lowest of any state in the union. It can be predicted that Huckabee will do better in states that have a more religious population -- including South Carolina, which has one of the highest churchgoing percentages in the nation -- and in selected southern states on Feb. 5.
John McCain has generated significant support among the highly religious Republican group coming off his victory in New Hampshire. Whether he can maintain this support remains to be seen, and the upcoming primary contests in Michigan, Nevada, and South Carolina will be important tests of his ability to sustain this momentum among highly religious Republicans. Rudy Giuliani and Mitt Romney perform relatively less well among religious Republicans at this point. Although, history shows that Giuliani has done well among this group in the past, and therefore presumably has the potential to gain among them in the future.
Survey Methods
These results are based on telephone interviews with a randomly selected national sample of 2,010 adults, aged 18 and older, conducted Jan. 10-13, 2008. For results based on this sample, one can say with 95% confidence that the maximum error attributable to sampling and other random effects is ±2 percentage points.
For results based on the sample of 1,598 likely voters, the maximum margin of sampling error is ±3 percentage points.
Interviews are conducted with respondents on landline telephones (for respondents with a landline telephone) and cellular phones (for respondents who are cell phone only).
In addition to sampling error, question wording and practical difficulties in conducting surveys can introduce error or bias into the findings of public opinion polls.