WASHINGTON, D.C. -- In his State of the Union address Monday, President Bush urged legislators to pass several Free Trade Agreements (FTAs) pending for congressional ratification. Bush particularly emphasized the need to pass the Colombia FTA, which he sees not only as an economic benefit for both countries, but also as a way to promote security and democracy in the hemisphere. For his part, Colombian President Alvaro Uribe is betting on free-market economics and trade liberalization to fuel job creation and give the Colombian economy a much-needed boost that will help the country overcome its severe poverty and income inequality.
There is some momentum to build on; the Colombian economy grew 7% in 2006 and 2007. Nonetheless, roughly one in three Colombians (32%) told Gallup last year that the country's economic conditions are good. Similar proportions said they were satisfied with the country's efforts to deal with the poor (36%), and with the country's efforts to increase the number and quality of jobs (34%).
Colombians Generally Favorable Toward FTA
An urban poll Gallup conducted last month indicates that Colombians' views of the U.S.-Colombia FTA are predominantly positive. Fifty-seven percent currently say they agree with the FTA, while 33% say they disagree, and 10% either don't know or refuse to answer.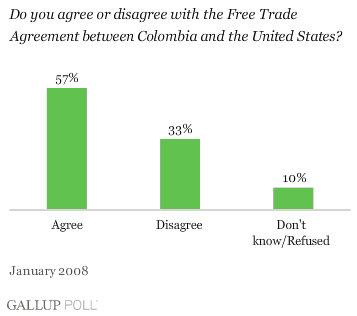 These results are consistent with optimism toward the agreement observed in 2006, when a nationally representative Gallup Poll asked those Colombians who indicated they were at least somewhat familiar with the U.S.-Colombia FTA (about half the respondents) a few questions about the issues being debated. Almost two-thirds of that group (63%) agreed that the FTA would help create more jobs for Colombians. However, 47% said they thought the FTA would also cause job losses.
Such results seem to reflect an important aspect of the local FTA debate. Treaty opponents fear some industries would be severely undercut if tariffs on U.S. imports are removed. Proponents of the deal -- including Uribe -- contend that the agreement would stimulate the export sector and the country's small and medium enterprises, leading to gains in job creation that would outweigh the losses that occur elsewhere. The Colombian government has linked the FTA to a project that would modernize its private sector and boost competitiveness.
Human Rights Issues Remain a Concern
Bush's State of the Union remarks came on the heels of a recent trip to Medellin by Secretary of State Condoleezza Rice, who met Uribe, union leaders, and former guerrilla members. Rice's visit was partly an attempt to alleviate concerns of U.S. legislators and rally support on Capitol Hill for the FTA.
Some of the skepticism of FTA opponents stems from human rights concerns. Colombia has embarked on a tenacious fight against political and drug-related violence, for which it has earned praise from the Bush administration along with financial aid and preferential treatment for some of its exports. However, critics allege human rights have been violated in the effort to curb violence, and point to the high number of labor union murders in the country. Uribe claims that the exposure of such violations -- some of which have resulted in the arrest of his allies, including members of his government -- demonstrates the determination of his government to crack down on violent groups. Uribe has also noted that Colombian paramilitary groups have been disarmed and the number of union leader killings has decreased dramatically since he took office in 2002.
Gallup Poll figures from 2007 suggest that politically motivated violence may have taken a toll on residents' perceptions of political freedom. Only 20% of Colombians say people in their country can feel safe and respected making political comments in public, while 18% say they or a relative of theirs have been denied an opportunity to advance because of their political ideas. The median figures for 20 Latin American countries surveyed are more favorable: 40% of those surveyed say people in their country can feel safe and respected making political comments in public, and 12% say they or a relative of theirs have been denied an opportunity to advance because of their political ideas.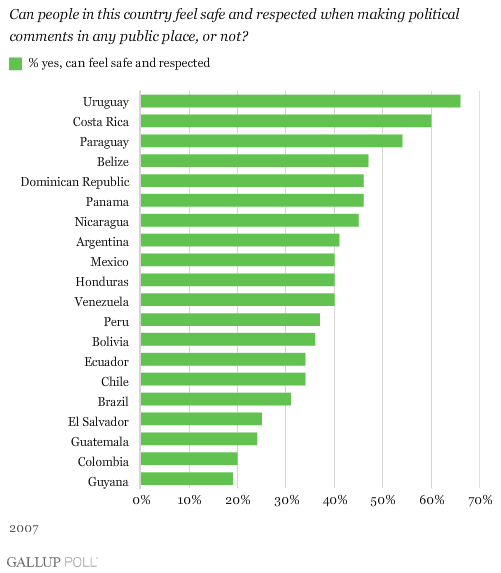 However, Colombians are no less likely than those in neighboring populations to say they have confidence in their country's government and security forces. Fifty-one percent of Colombians say they have confidence in the country's government, 55% express confidence in the military, and 53% say they trust their local police force. The regional median figures for these questions are slightly lower: 41% of those surveyed have confidence in their country's government, 46% express confidence in their country's military, and 47% say they trust their local police force.
Survey Methods
Results from the January 2008 survey are based on telephone interviews with 1,000 Colombians, aged 15 and older, in the cities of Bogota, Cali, Barranquilla, and Medellin. Telephone penetration for these cities is 85%. Results from the 2007 survey are based on face-to-face interviews with a nationally representative sample of 1,000 Colombians, aged 15 and older, conducted in October 2007.
For results based on these samples, one can say with 95% confidence that the maximum margin of error attributable to sampling and other random effects is ±3 percentage points. In addition to sampling error, question wording and practical difficulties in conducting surveys can introduce error or bias into the findings of public opinion polls.