PRINCETON, NJ -- A substantial minority of Democrats believe that Hillary and Bill Clinton have unfairly attacked Barack Obama during the presidential campaign. In turn, Democrats are much less likely to think Obama has attacked Hillary Clinton unfairly. There is not a widespread belief among Republicans that Mitt Romney or John McCain have attacked each other unfairly. Bill Clinton's public image has declined in the past few months -- mostly among Democrats -- possibly because of his controversial remarks during the campaign.
When Democrats Attack
The Jan. 30-Feb. 2 poll asked Democrats (including Democratic-leaning independents) for their views on the way the leading candidates have conducted their campaigns. Democrats are more likely to perceive that Hillary Clinton has been unfairly attacking Obama (35% say this) than to say the reverse (23% believe Obama has attacked Clinton unfairly). But Democrats are most likely to believe Bill Clinton has attacked Obama unfairly -- 41% of Democrats believe this.
It is important to note that while greater proportions of Democrats think the Clintons are attacking Obama unfairly than the other way around, more Democrats believe the Clintons are not attacking Obama unfairly than believe they are. In fact, the majority of Democrats (55%) say Hillary Clinton has not attacked Obama unfairly.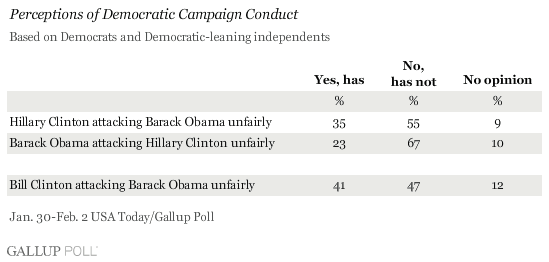 One of the major stories of the campaign has been the controversial remarks Bill Clinton has made about Obama while campaigning for Hillary. This includes his references to Obama's stated opposition to the Iraq war as a "fairy tale," and his attempts to downplay Obama's South Carolina primary win by pointing out that Jesse Jackson had also been victorious in that state.
These remarks may be a reason the former president's favorable rating has taken a slight dip in recent months. His rating is down to 50% in the current poll, compared with a 56% reading in October, the last time the favorability question was asked. Clinton's favorable rating has dropped a substantial 12 percentage points among Democrats during that time.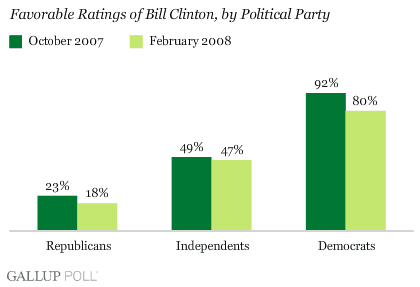 The data clearly indicate, though, that perceptions of unfairness are in the eyes of the beholder. More than half of Obama supporters believe the Clintons are attacking their preferred candidate unfairly, but only about 1 in 10 Obama backers think he has been unfair toward Hillary Clinton. Likewise, Clinton supporters are more likely to believe Obama has been unfair toward Hillary Clinton than to believe either Hillary or Bill has been unfair toward Obama.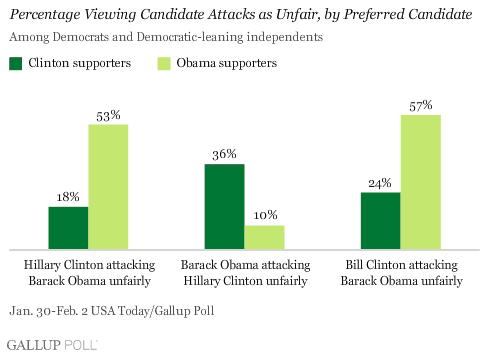 The tone of this year's Democratic campaign is apparently more negative than what Democrats perceived about the 2000 nomination contest between Al Gore and Bill Bradley. A mid-January CNN/USA Today/Gallup poll from that year found just 23% saying Bradley was attacking Gore unfairly, and only 15% saying Gore was being unfair to Bradley.
When Republicans Attack
There is not a large a gap in Republicans' perceptions about either of their leading presidential candidates engaging in unfair attacks on his opponent. Twenty-six percent of Republicans (including Republican-leaning independents) say McCain is attacking Romney unfairly, while 21% believe Romney is doing so to McCain. This in spite of the fact that one of the story lines in media coverage of last Wednesday's debate was the candidates' pointed remarks to each other.
Both McCain and Romney supporters are more likely to believe their preferred candidate is being attacked unfairly and to perceive that their preferred candidate is not attacking the other unfairly. In fact, nearly half of Romney supporters believe McCain is attacking their man unfairly. That could relate to McCain's recent claims that Romney has come out in favor of timetables on Iraq.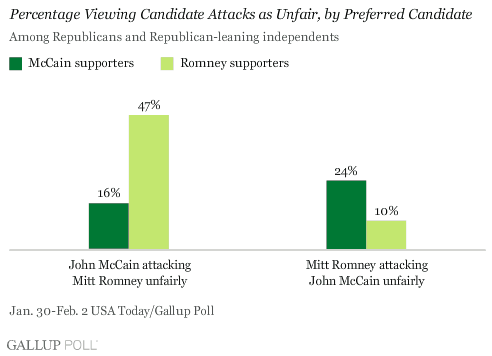 Republicans today are about as likely to say McCain is attacking Romney unfairly as they were to say McCain was attacking George W. Bush unfairly in 2000 (24%). At that time, relatively few Republicans believed that Bush was attacking McCain unfairly. It should be pointed out that those data were collected before the very contentious South Carolina primary that year.
Survey Methods
These results are based on telephone interviews with a randomly selected national sample of 2,020 adults, aged 18 and older, conducted Jan. 30-Feb. 2, 2008. For results based on this sample, one can say with 95% confidence that the maximum error attributable to sampling and other random effects is ±2 percentage points.
For results based on the sample of 985 Democrats and Democratic-leaning independents, the maximum margin of sampling error is ±3 percentage points.
For results based on the sample of 867 Republicans and Republican-leaning independents, the maximum margin of sampling error is ±4 percentage points.

Interviews are conducted with respondents on land-line telephones (for respondents with a land-line telephone) and cellular phones (for respondents who are cell-phone only).
In addition to sampling error, question wording and practical difficulties in conducting surveys can introduce error or bias into the findings of public opinion polls.