PRINCETON, NJ -- The Gallup Poll Daily election tracking results show John McCain with 57% of Republican preferences, and Mike Huckabee with 23%. These latest nationwide results from Feb. 7-9 polling among Republicans are based on the first three-day rolling average in which Mitt Romney no longer was listed as a candidate on any of the three days of interviewing.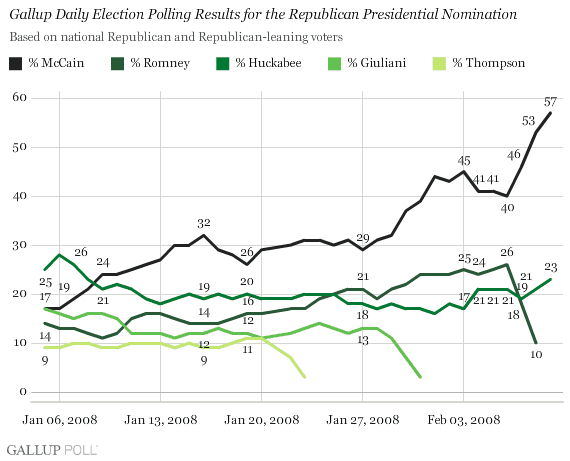 Romney's vote has now been totally redistributed, and it is clear that McCain has been the beneficiary. Looking back, the Feb. 4-6 rolling average -- the last that included three days of polling before Romney's announcement that he was leaving the race -- showed Romney with 26% of the vote, McCain with 40%, and Huckabee with 21%. Now, with Romney's total down to 0%, McCain has picked up 17 points while Huckabee has gained only 2 points. The rest of Romney's vote went to "other," "don't know," Ron Paul (up 2 points), and Alan Keyes (up 1 point).
Since the close of Gallup polling on Saturday, Huckabee has received favorable press coverage for his good showing in Saturday's GOP voting -- winning Kansas and Louisiana and coming very close to McCain in Washington. Whether this gives Huckabee a bounce in national Republican preferences (including independents who lean Republican) will begin to be answered in Sunday's interviewing and reflected in Monday's report.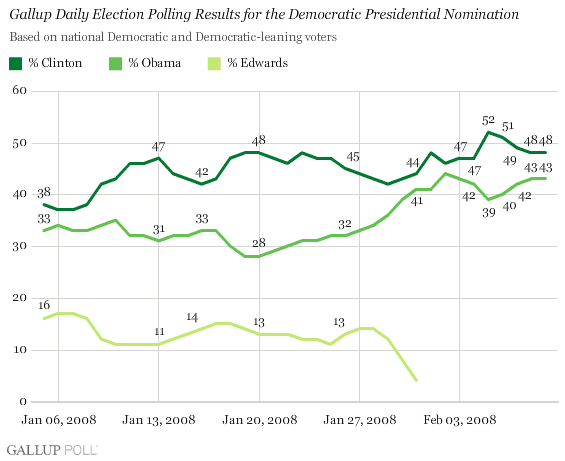 There has been no change in the structure of the Democratic race, with Clinton and Obama continuing to be separated by only five percentage points in the preferences of national Democrats (including independents who lean Democratic). Clinton leads Obama by 48% to 43%. Obama handily won caucuses and primaries in Washington, Louisiana, and Nebraska on Saturday, which could affect the patterns of Democratic support nationally beginning with Sunday interviewing. -- Frank Newport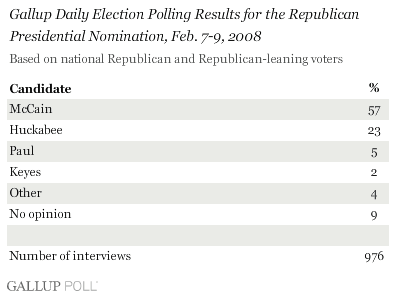 Methodology: Gallup is interviewing 1,000 U.S. adults nationwide each day during 2008. The results reported here are based on combined data from Feb. 7-9, 2008, including interviews with 976 Republican and Republican-leaning voters, and 1,257 Democratic and Democratic-leaning voters. For results based on these samples, the maximum margin of sampling error is ±3 percentage points. In addition to sampling error, question wording and practical difficulties in conducting surveys can introduce error or bias into the findings of public opinion polls.