PRINCETON, NJ -- Hillary Clinton and Barack Obama are now essentially tied in the Gallup Poll Daily tracking results for Feb. 8-10, with Clinton at 46% and Obama at 44%. Clinton's lead over Obama has eroded over the past five days. The current three-day rolling average is the first to begin to reflect the results of Obama's strong wins in three primary and caucus states Feb. 9, although he was gaining even before those results became known to Democrats.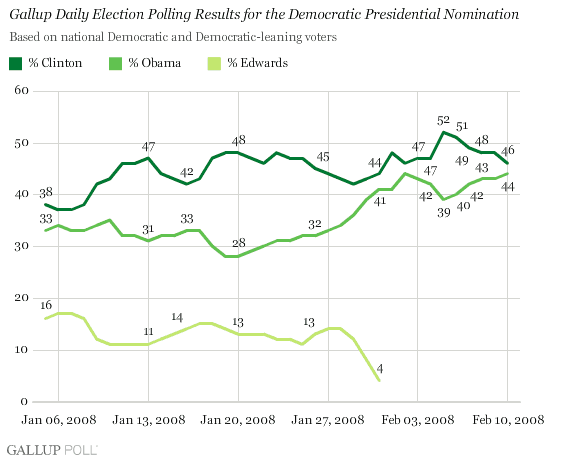 Clinton and Obama face off again Tuesday in the "Potomac primaries" in Virginia, Maryland, and the District of Columbia. Most observers make Obama the favorite in these three states, suggesting that when we know the results, and they begin to reflect in the Gallup Poll Daily tracking in Wednesday's interviewing, there is the possibility that Obama could gain even more on Clinton.
On the Republican side, the Gallup Poll Daily tracking results show John McCain with 56% of Republican preferences and Mike Huckabee with 25%.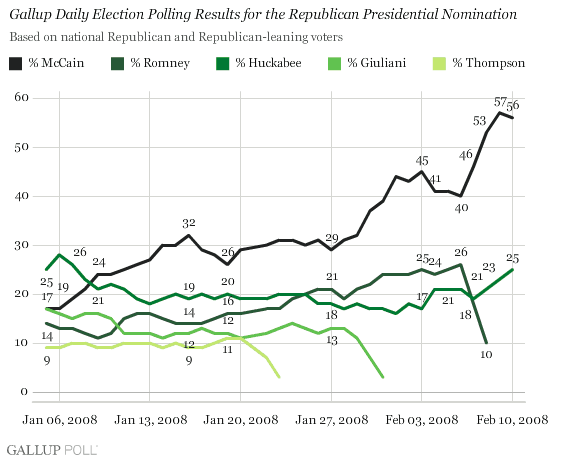 These latest nationwide results are only marginally different from those reported on Feb. 10. An analysis of the data from Sunday's interviewing -- after widespread news reports of Huckabee's strong performance in three state contests held on Saturday -- does not suggest that the former Arkansas governor is beginning to mount a significant challenge to McCain's front-runner status.
We will know more after the results of Tuesday's voting have filtered down to Republicans nationally, but several things are clear at this point from the Gallup Poll Daily tracking of Republicans' preferences. McCain is holding on to the support of more than half of Republicans nationally and maintains a lead of more than 30 percentage points above his nearest competitor. But, despite widespread discussion of McCain's status as the presumptive GOP nominee this year, the rise in support for him after Mitt Romney dropped out on Feb. 7 has essentially stalled -- at least for the moment. Despite Huckabee's slim mathematical chances of receiving enough delegates to win the Republican nomination, he has been able to hold on to the support of about a quarter of Republicans nationally. -- Frank Newport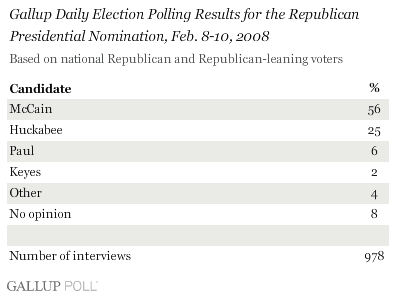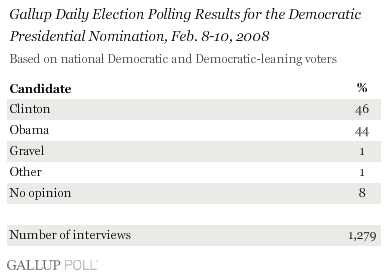 Methodology
: Gallup is interviewing 1,000 U.S. adults nationwide each day during 2008. The results reported here are based on combined data from Feb. 8-10, 2008, including interviews with 978 Republican and Republican-leaning voters, and 1,279 Democratic and Democratic-leaning voters. For results based on these samples, the maximum margin of sampling error is ±3 percentage points. In addition to sampling error, question wording and practical difficulties in conducting surveys can introduce error or bias into the findings of public opinion polls.