WASHINGTON, D.C. -- Until recently, the Feb. 19 presidential election in Armenia was anticipated to be largely a formality -- with opposition parties weak and fragmented, current Prime Minister Serzh Sarkisian was expected to be rubber-stamped as the country's new president. In January, however, former president Levon Ter-Petrosian entered the race, adding a viable contender that has made the campaign much more contentious.
Ter-Petrosian has aggressively accused Sarkisian and current President Robert Kocharian -- his former political protégés -- of corruption and abuse of power. Many Armenians may see little reason to doubt such charges; in July and August 2007, 82% of those surveyed told Gallup they thought corruption was widespread in the country's government. In response to another Gallup Poll conducted October 2007, 68% of Armenians said the wrongdoing and corruption of political leaders and authorities is a "very serious" problem, and 24% of Armenians called it a "rather serious" problem.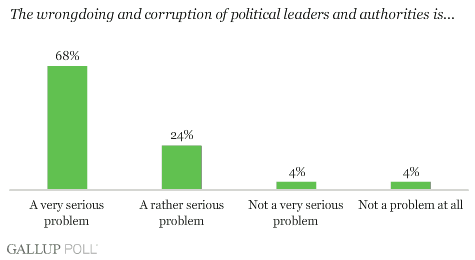 However, Ter-Petrosian has little credibility as the moral alternative. Armenians may remember the lack of tolerance for opposition parties during his presidency in the 1990s or the accusations of ballot rigging leveled against him in the 1996 election. Also, Ter-Petrosian's failure to unite key opposition parties has weakened his attempts to frame himself as the clear anti-establishment choice.
Confidence in the Media
On Feb. 8, Ter-Petrosian filed a petition to postpone the election with Armenia's Constitutional Court, claiming that the government was using its control of public television to discredit him. The court rejected the request, but opposition leaders have continued to complain about unbalanced coverage in the electronic media.
Favorable television coverage may well offer a powerful advantage for the incumbent; virtually all Armenians (99%) indicate TV news and programs are sources of political information for them. Further, they far outdistance any other source of political information, including relatives and friends (40%), newspaper articles (37%), and radio (30%). On the other hand, many may view political coverage with skepticism. Just 34% of Armenians say they have confidence in the quality and integrity of the country's media, while almost twice as many -- 62% -- say they do not.
Confidence in Elections
After elections in 2003 and 2005 that many held as flawed, cynicism about the country's electoral process is prevalent among Armenians. Despite the fact that transparency measures were added to the electoral code in 2006, just 14% of Armenians indicated in the July/August 2007 poll that they have confidence in the honesty and integrity of elections, while 83% said they do not.
What's more, many Armenians may doubt the government's repeated assurances that next week's election will meet international standards. The October poll asked, "Do you think that the Armenian government is implementing anti-fraud measures for the presidential election and that they will indeed be free and fair?" Only about one-third of Armenians (31%) said yes, they believed such measures were actually taking place, while slightly more than half (53%) said no, the government is not sincere about these efforts.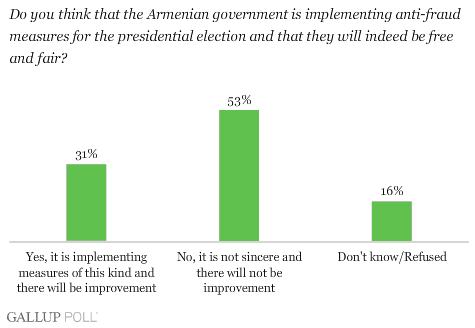 Bottom Line
Given the considerable challenges facing the country -- including the need for strong anti-corruption reform and fresh approaches to the growing conflict with Azerbaijan over the Nagorno-Karabakh region -- many Armenians would likely embrace an "outsider" candidate who inspires greater trust in government. But given Ter-Petrosian's prior political machinations and the acrimonious nature of the current campaign, the election on Feb. 19 offers little promise of an antidote to the population's political cynicism.
Survey Methods
Results from the July-August 2007 poll are based on face-to-face interviews with 1,000 adults, aged 15 and older, in Armenia. Results from the October 2007 poll are based on face-to-face interviews with 1,200 adults, aged 15 and older, in Armenia. For results based on the total samples of national adults, one can say with 95% confidence that the maximum margin of sampling error is ±3 percentage points. In addition to sampling error, question wording and practical difficulties in conducting surveys can introduce error or bias into the findings of public opinion polls.