PRINCETON, NJ -- Gallup Poll Daily tracking shows that consumer confidence for the first part of February is down from the same period in January -- particularly among middle-income consumers. Daily tracking of consumer perceptions provides much more detailed information than the traditional month-to-month comparisons of consumer confidence. Gallup data not only show a more detailed picture of consumer confidence by income but also allow tracking of changes in consumer perceptions within the month.
For example, Gallup Daily tracking shows that consumer confidence actually began to deteriorate slightly in the first two weeks of January, reaching its most negative level in the period between Jan. 16 and Jan. 27 -- right around the time of the Fed's emergency rate cut. There was a slight recovery in late January, but consumer perceptions of the U.S. economy remain more negative now than they were when the year began, and show no signs -- at least so far -- of responding to the Fed's interest-rate cuts or the newly passed economic stimulus package.
Consumer Ratings of the Current Economy Fell Significantly in Early February
During Gallup's most recent week of surveying, Feb. 6-12, one in three consumers rated current economic conditions as "poor" -- up significantly from the 27% who provided this rating during Jan. 6-12 polling (and 24% who said the economy was poor as the year began). This early February reading of consumer perceptions represents the highest percentage of consumers rating the U.S. economy as "poor" since February 2003 (just before the war with Iraq began), when 34% of consumers reported a similar view.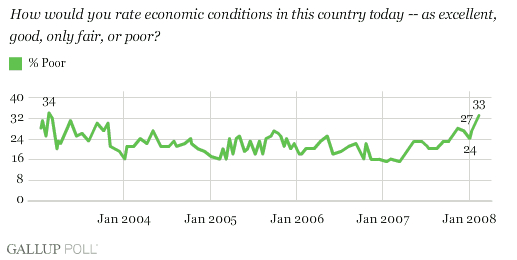 Comparing the Feb. 6-12 data to the Jan. 6-12 data, the largest decline in consumer ratings of the current economy took place among middle-income consumers. During early January, 39% of lower-income consumers (those making less than $24,000 a year) rated current economic conditions as "poor," compared to 27% of middle-income consumers (those with annual incomes of $24,000 to less than $60,000). By early February, the percentage of lower-income consumers saying the economy was poor had increased by 2 percentage points to 41%, while the percentage of middle-income consumers saying "poor" had surged by 10 points to 37%.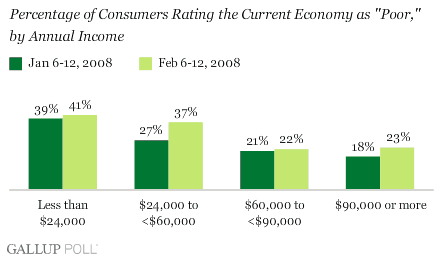 Consumer Expectations for the Economy Deteriorated in February
In early February, only 14% of U.S. consumers said current economic conditions were "getting better" while 79% thought they were "getting worse." This represents a slight deterioration in consumer expectations from Jan. 6-12 polling (17% getting better, 77% getting worse), and more of a deterioration from the first few days of January (20% getting better, 73% getting worse). More importantly, it means current consumer economic expectations remain below their prewar (March 2003 -- 23% better, 67% worse) and pre-9/11 (September 2001 -- 19% better, 70% worse) levels.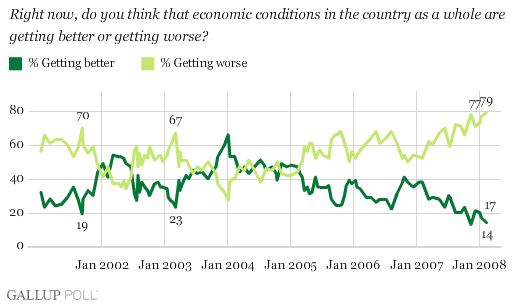 From early January to early February, the economic outlook of consumers making less than $90,000 a year grew more pessimistic. In contrast, among those with annual incomes of at least $90,000, the percentage saying conditions were getting worse actually declined by four percentage points (from 77% to 73%) in early February.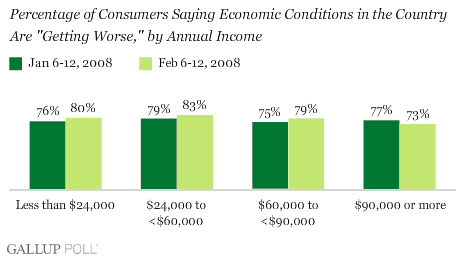 Middle-Income Consumer Confidence Deteriorating
Gallup's new daily polling shows that consumer confidence -- in terms of both how consumers rate the current economy and their expectations for the economy's direction -- deteriorated in early February compared in particular to early January. These findings comport with those of Bloomberg's survey of economists that show them expecting the Reuters/University of Michigan preliminary index of consumer sentiment for February 2008 (to be reported Friday) declining from its final January rating of 78.4 to 76 in early February.
The large number of consumer interviews that Gallup's daily polling provides -- more than 6,000 so far in February -- offers added reliability to estimates that consumer perceptions of the economy are deteriorating. It also allows a more in-depth look at consumer perceptions and gives evidence that the greatest deterioration in consumer confidence is taking place among middle-income consumers. In turn, this implies that the financial squeeze that has played such havoc with lower-income consumers in recent years is now spreading to middle-income consumers. Daily tracking of consumer perceptions also allows for monitoring of consumers' immediate reactions to the Fed's lowering of interest rates and the announcement of a new fiscal stimulus plan -- both of which appear to have had little, if not a slightly negative, effect on consumer perceptions during recent weeks.
Of course, none of this is good news for the nation's retailers or for the outlook for the U.S. economy in the months ahead.
Survey Methods
Results are based on telephone interviews with 5,448 national adults, aged 18 and older, conducted Jan. 6-12, 2008, and 2,624 interviews conducted Feb. 6-12, 2008. For results based on these samples of national adults, one can say with 95% confidence that the maximum margin of sampling error is ±2 percentage points.
Interviews are conducted with respondents on land-line telephones (for respondents with a land-line telephone) and cellular phones (for respondents who are cell-phone only).
In addition to sampling error, question wording and practical difficulties in conducting surveys can introduce error or bias into the findings of public opinion polls.