Forces are pushing U.S. companies toward mergers, consolidations, acquisitions and growth. Yet, Americans continue to show strongly negative attitudes toward "big" business, coupled with a continued strong attitudinal affinity for small business. This poses an essential dilemma for large enterprises attempting to build and maintain a thriving business-to-consumer customer base.
The basic data are clear. Gallup's most recent research shows that 70% of Americans have "a great deal" or "quite a lot" of confidence in small business, more than three times the 21% confidence rating for big business.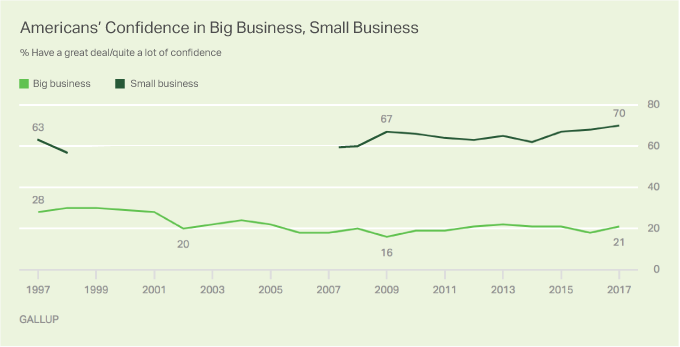 Americans' confidence in big business has never been high in the three decades that Gallup has measured these attitudes -- maxing out at 30% in 1998 and 1999 before settling into a confidence rating close to 20% since 2002.
Americans' confidence in small business, on the other hand, has always been high. Gallup first included small business in its confidence ratings in 1997 and 1998, and then began tracking it annually in 2007. This year's 70% confidence rating for small business is the highest in Gallup's trend, giving small business the second-highest rating of any of the 16 institutions tested in 2017, slightly below the military. Big business, by contrast, is the third-lowest rated of the group. More broadly, big business has an overall net-negative image, with the 36% of Americans who give it a "very little" confidence rating significantly lower than the 21% who are positive.
Thus, as American business moves toward bigness, fueled by a variety of economic and practical forces, the consumer, at least in theory, has a strong predilection to favor smallness. This creates what would appear to be an opportunity for small business -- and an essential dilemma for very large business-to-consumer enterprises.
The actual impact of customer attitudes on behavior, of course, is not always straightforward. If big business delivers lower costs and higher efficiencies, it's hard for customers to resist, regardless of their underlying preference for small business. Customers may, in theory, prefer Main Street small businesses to Walmart -- but when the latter has appeared in local communities over the past five decades, it has almost always won out. And Amazon, one of the largest companies in the world based on value, is disrupting many small businesses that may be favored in concept by Americans but that can't compete with the online behemoth's selection of products and low prices.
What Businesses Can Learn From the Public's Preferences
Still, attitudes matter, and the question becomes what both small and big businesses can learn from the public's very strong preference for small over big, at least in principle.
To that end, Gallup recently asked Americans who expressed a great deal or quite a lot of confidence in small business to explain these attitudes in their own words.
Based on those who have a great deal/quite a lot of confidence in small business
Great deal/Quite a lot

%

American dream; backbone of the economy
29
Personally invested; determined; accountable to customers
28
Create jobs for local people; community involvement
14
Respondent or family owns/owned small business
13
Had positive experience working for small business
7
Ingenuity; innovation
5
Trustworthy
2
Trump's involvement with
1
Positive experiences dealing with small businesses
1
Other
6
None
<1
No opinion
2
Percentages total more than 100% due to multiple responses
Gallup, July 5-9, 2017
About three in 10 explain their confidence by expressing the belief that small business is the backbone of America and exemplifies the American dream. About the same percentage say they are confident in small business because the owners are personally invested in the business, directly accountable to customers and determined to succeed.
A smaller percentage are confident because they believe small businesses create jobs for local people and are involved in their communities. And a similar percentage are confident because they or a family member have owned a small business, including some who say they have worked for a small business.
Taken together, these results suggest that the high level of confidence in small business results from a combination of general positive feelings, personal experience and practical considerations.
What Big Businesses Can Do
Big business is not oblivious to the perceived attributes of small versus big, of course.
Many retail industries are seeing big businesses purchasing successful and popular small businesses while keeping those small businesses publicly intact and unchanged.
As one example, when large beer companies purchase popular craft breweries, they generally keep this connection behind the scenes and don't attempt to make the new ownership highly visible. A similar pattern occurs when big food companies purchase smaller natural or organic food purveyors but keep the small companies' labeling and names.
There are some individual exceptions to Americans' anti-bigness attitudes. Separate Gallup research shows that U.S. adults have very positive views of internet and computer companies, many of which are among the largest companies in the world by value. Americans may remember that Apple, Google and Amazon started out as small businesses -- or perhaps Americans' positive feelings about the technological benefits provided by these companies override any negative feelings about their bigness.
Big businesses may be able to take aspects of Americans' love affair with small businesses into account in their marketing and positioning. They can attempt to prove they are close to the customer and highly responsive to their needs -- one of the most important perceived attributes of small businesses. Big businesses can also, where possible, emphasize the number of jobs they create at the local level.
Perhaps the big-business model of creating a patchwork quilt of business units operating as separate small businesses may become more of the norm in the future. Or, big business could increasingly adopt the model exemplified by the auto industry, in which local dealerships interface with the community as liaisons for the big auto companies behind them. Americans also seem to like the fact that small businesses are owned by the people who run them -- which could persuade big businesses to move more in the direction of employee stock ownership.
All in all, big business faces an essential dilemma. There is pressure to grow, merge and acquire in order to meet the demands of shareholders and investors who demand continually rising stock prices, and to seek operational and competitive efficiencies. This, in turn, creates bigger companies about which average citizens have generally negative attitudes. The attitudinal preference for "small" provides lessons that big businesses can continue to take into account as they move forward -- and it provides an opportunity for marketing and promotional positioning for small businesses that are attempting to survive.
Create Exceptional Workers
Strengthen employee performance with a culture of engagement.