PRINCETON, NJ -- Surging pessimism about the job market suggests the Federal Reserve should rethink its economic outlook.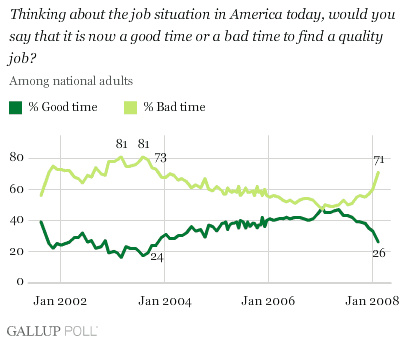 Gallup's Job Measure Plunges
Federal Reserve Chairman Ben Bernanke testified last week before the Senate, stating that "Payroll employment, after increasing about 95,000 per month on average in the fourth quarter, declined by an estimated 17,000 jobs in January." He went on to note that there remain downside risks to the Fed's baseline economic outlook, including that "the labor market may deteriorate to an extent beyond that currently anticipated." A new Gallup Poll, conducted Feb. 11-14, 2008, suggests such a deterioration of conditions in the job market may already be underway.
The percentage of Americans saying now is a "bad time" to find a quality job surged from 60% in January to 71% in February. This represents the largest monthly increase in the percentage holding this view since Gallup began asking this question on a regular basis in August 2001, with the sole exception of a 15-point increase following 9/11. The latest increase puts the percentage holding this negative view of the jobs market at its highest level since November 2003, when 73% said it was a bad time to find a quality job. The all-time high is 81%, reached twice during 2003.
Of course, this sharp deterioration in job-market perceptions is taking place in conjunction with a similar sharp drop in consumer confidence, as Gallup has been reporting. As a result, today's negative labor-market perceptions may not only reflect current trends in jobs and hiring, but also, as Bernanke mentioned in his testimony, they "seem likely to weigh on consumer spending in the near term."
More Upper-Income Americans Say This Is a "Bad Time" to Get a Quality Job
As might be expected, in January, a higher percentage of lower-income Americans than of those with higher incomes said it was a bad time to get a quality job. However, the February surge in those holding this view comes disproportionately from those in middle- and higher-income households.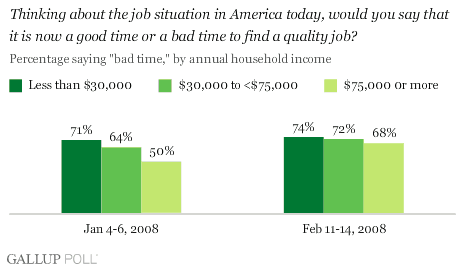 The percentage of lower-income families (those making less than $30,000 a year) who are pessimistic on this measure increased by just 3 percentage points, from 71% in January to 74% in February. In sharp contrast, among higher-income households (those making more than $75,000 annually), the percentage holding this same view increased by 18 points, from 50% to 68%. The percentage of middle-income households (those making $30,000 but less than $75,000 a year) with this view increased by 8 points, from 64% to 72%.
Americans Are Worried About Losing Their Jobs
Nearly one in four Americans say they are worried that they or their spouse will lose their job in the next 12 months. This is similar to the percentage having such worries in January 2004 (21%) and December 2002 (24%), but remains below the roughly one-third of Americans who said they were worried during late 1991 and early 1992, when consumer confidence was as low as it is today.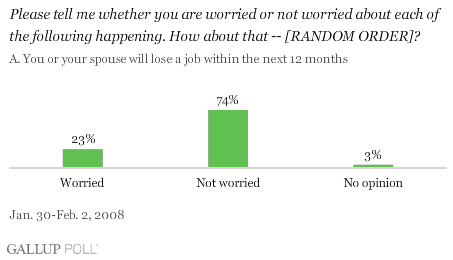 The Fed May Have to Rethink Its Baseline Outlook
Many observers referred to the nation's last economic recovery as a so-called "jobless recovery." As the economy expanded, job growth was anemic, at best, by historical standards. Some of this may have been related to increased productivity, globalization, and even the growth of the underground economy. Similarly, it may be that as the economy has slowed, these same factors have mitigated the impact of the slowdown on the U.S. job market. Regardless, it is the continued strength in the jobs market during the past several months that many economists point to as a reason for optimism that the U.S. economy will avoid a recession.
Gallup's new polling data suggest that soon, the jobs outlook may more fully reflect the economic slowdown, with another decline in jobs and an increase in the unemployment rate in the months ahead. This suggests that Bernanke's 2008 baseline outlook of "sluggish growth, followed by a somewhat stronger pace of growth starting later this year" may already be out of date. Bernanke concluded his testimony last week by alluding to a possible further drop in interest rates: "The FOMC (Federal Open Market Committee) will be carefully evaluating incoming information bearing on the economic outlook and will act in a timely manner as needed to support growth and to provide adequate insurance against downside risks." He is likely to find the markets ready to take him up on this implied promise.
Survey Methods
For results based on telephone interviews with 1,023 national adults, aged 18 and older, conducted Jan. 4-6, 2008, and on 1,007 interviews conducted Feb. 11-14, 2008, one can say with 95% confidence that the maximum margin of sampling error is ±3 percentage points. For results based on telephone interviews with 2,020 national adults, conducted Jan. 30-Feb. 2, 2008, the maximum margin of sampling error is ±2 percentage points.
Interviews are conducted with respondents on land-line telephones (for respondents with a land-line telephone) and cellular phones (for respondents who are cell-phone only).
In addition to sampling error, question wording and practical difficulties in conducting surveys can introduce error or bias into the findings of public opinion polls.