WASHINGTON, D.C. -- President George W. Bush visits Liberia Thursday, where a Gallup Poll reveals that the percentages of Liberians who express confidence in the national government (74%) and the honesty of elections (68%) are much higher than the regional medians for sub-Saharan Africa.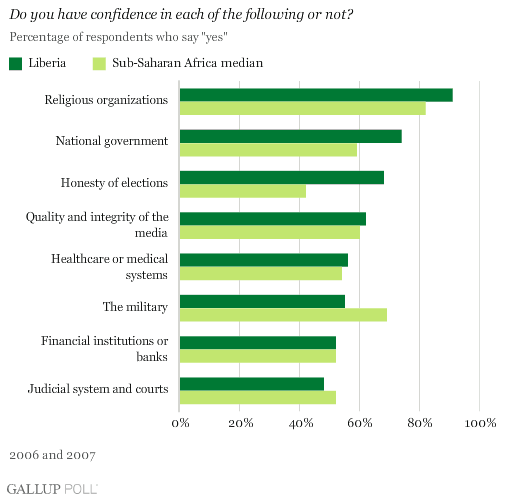 About a year after Liberians chose to elect Ellen Johnson Sirleaf to lead them in the aftermath of a long-running civil war, Gallup measured their confidence in their country's social and political institutions. As with most populations surveyed in sub-Saharan Africa, Liberians are more likely to express confidence in religious organizations (91%) than in the other institutions the poll tests. Majorities of Liberians also express confidence in their national government (74%) and the honesty of elections (68%); both scores are considerably higher than the regional medians of 59% and 42%, respectively. Further, Liberians' confidence in the other national institutions such as the healthcare system (56%) and the quality and integrity of the media (62%) are on par with the regional medians.
While addressing high-level officials in Monrovia, Liberia's capital, President Bush said the United States would help "build a new armed forces that will be a source of security for the Liberian people instead of a source of terror." An estimated 250,000 people were killed in Liberia's civil war, which ended in 2003. As part of the national reconstruction and peace process, Liberia demobilized its entire army and part of its police force. Currently, the government is engaged in a recruitment and training effort to rebuild its military and police personnel. In this shadow of violence, a majority of Liberians (55%) have confidence in the military, perhaps expressing cautious optimism that a future Liberian army will be protecting them if need be. However, such confidence in the military lags behind the median score for sub-Saharan Africa by 14 percentage points.
Priorities for the Government
In late 2005, Johnson Sirleaf became the first woman to be elected president of an African country, receiving 59% of the vote in elections widely considered free and fair. Gallup also asked Liberians about their perceptions of the government's greatest improvement in its first year in office. No one measure stands out, as Liberians are as likely to say that the government's greatest improvement has been to restore some electricity (30%), fight corruption (29%), and reduce violence (28%), three initiatives that were among Johnson Sirleaf's campaign promises.
Against the daunting backdrop of anchoring peace and stability and rebuilding their country, a Gallup Poll asked Liberians to pick the most important issue for the government to address over the next 12 months. Almost three-quarters of respondents (74%) chose issues that underline the devastating impact of the war on Liberia's infrastructure and human capital: the road system (33%), education (24%), water (10%), and electricity (7%).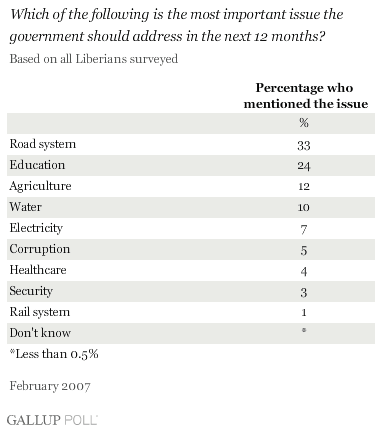 Speaking at the Council on Foreign Relations in March 2006, shortly after her inauguration, Johnson Sirleaf said, "we've got hundreds of thousands of war-affected youth, both victims and ex-combatants, that have been equally affected by the war and the inability to be schooled. And so one of our biggest challenges is to reverse this trend and to move up this generation so that they become competitive."
Survey Methods
Results are based on face-to-face interviews with at least 1,000 adults, aged 15 and older, in Liberia in February 2007. Poll data from Burkina Faso, Cameroon, Ghana, Kenya, Malawi, Mozambique, Nigeria, Senegal, South Africa, Tanzania, Zambia, and Zimbabwe were collected in 2007. For Angola, Benin, Botswana, Burundi, Chad, Mali, Madagascar, Mauritania, Niger, Rwanda, Sierra Leone, Uganda, and Togo, the data were collected throughout 2006.
For results based on the total sample of national adults, one can say with 95% confidence that the maximum margin of sampling error is ±5 percentage points. In addition to sampling error, question wording and practical difficulties in conducting surveys can introduce error or bias into the findings of public opinion polls.