WASHINGTON, D.C. -- So far into his six-day African tour, which includes stops in Benin, Tanzania, Rwanda, Ghana, and Liberia, President George W. Bush has received warmer welcomes than he likely would get many places. Gallup surveys in each of these countries show many Africans are more likely to approve than to disapprove of U.S. leadership.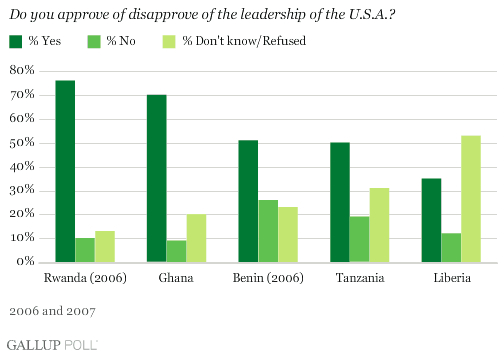 The friendly reception Bush has received likely reflects recognition of substantial humanitarian and health initiatives during his presidency, as does general approval of U.S. leadership across Africa. Median approval across 26 countries surveyed in sub-Saharan Africa in 2006 and 2007 is 66%.
Benin and Tanzania
In Benin and Tanzania, two countries Bush has already visited on his trip, at least half of residents surveyed say they approve of the leadership of the United States. In Tanzania, tens of thousands reportedly lined Bush's route, which was plastered with billboards expressing thanks for his support in fighting malaria and HIV/AIDS.
Ghana and Rwanda
At least 7 in 10 residents in Ghana (70%) and Rwanda (76%), which Bush visits Tuesday and Wednesday, say they approve of U.S. leadership. Rwanda, like Tanzania, has benefited from HIV/AIDS and malaria initiatives, such as the President's Emergency Plan for AIDS Relief, or PEPFAR. Ghana, on the other hand, is part of the president's malaria initiative, but also has been a key strategic ally and trade partner with the United States for some time.
Liberia
In her song "Thank You," Liberian singer Juli Endee thanks Bush for democracy, rule of law, and debt relief. Endee told The Associated Press recently "if you were to take a survey, you would find that there is not one Liberian that doesn't love George Bush." While Gallup's 2007 survey of Liberians did not ask specifically about Bush, a majority of Liberians (53%) didn't have an opinion when asked about U.S. leadership. Residents were, however, more likely to say they approve (35%) than to disapprove (12%). Liberia, the last stop of Bush's trip, has offered to serve as the headquarters of the U.S. Africa command, but the U.S. military announced Monday that the headquarters would remain in Germany for now.
Survey Methods
Results are based on face-to-face interviews with randomly selected national samples of approximately 1,000 adults, aged 15 and older, who live permanently in the 26 African nations surveyed in 2006 and 2007. Surveys were conducted in Rwanda and Benin in 2006, and in 2007 in Liberia, Tanzania, and Ghana. For results based on these samples, one can say with 95% confidence that the maximum error attributable to sampling and other random effects is ±5 percentage points. In addition to sampling error, question wording and practical difficulties in conducting surveys can introduce error or bias into the findings of public opinion polls.