PRINCETON, NJ -- The latest Gallup Poll Daily tracking update on Democratic voters' presidential nomination preferences show equal percentages preferring Barack Obama and Hillary Clinton.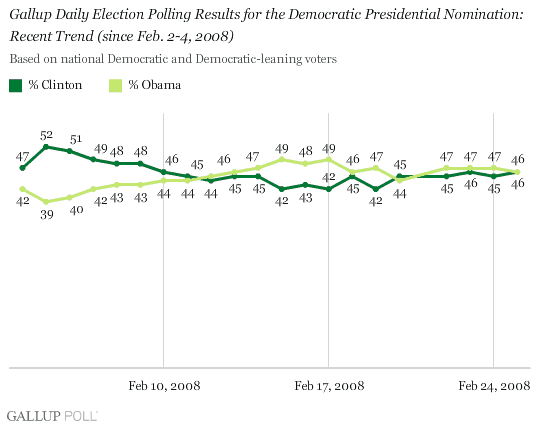 The Gallup Poll Daily tracking data have shown a tight contest in each of the last five days, with neither candidate enjoying a statistically significant lead. Obama has been ahead more often than not in Gallup Poll Daily tracking. (In a separate poll Gallup conducted with USA Today Feb. 21-24 and released Monday, Obama did lead by a statistically significant margin.) The tracking data have shown many twists and turns since January, as Democratic voters choose between two candidates of which they think very highly.
John McCain's support as the GOP nominee among Republican voters continues to be roughly triple that of his closest challenger, Mike Huckabee. The latest Gallup Poll Daily tracking figures show McCain to be the choice of 64% of Republicans and Huckabee the preferred nominee of 20%. That level of Huckabee support matches his lowest since Mitt Romney exited the race. Huckabee's support rose as high as 29% after Romney suspended his campaign. -- Jeff Jones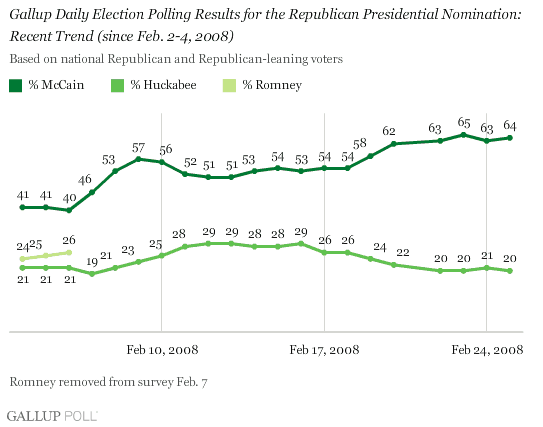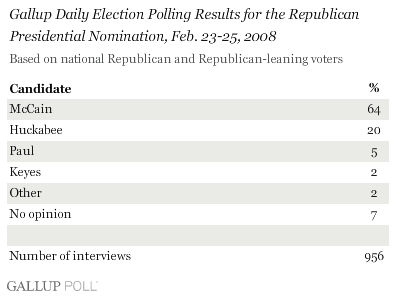 Methodology: Gallup is interviewing no fewer than 1,000 U.S. adults nationwide each day during 2008. The results reported here are based on combined data from Feb. 23-25, 2008, including interviews with 956 Republican and Republican-leaning voters, and 1,272 Democratic and Democratic-leaning voters. For results based on these samples, the maximum margin of sampling error is ±3 percentage points. In addition to sampling error, question wording and practical difficulties in conducting surveys can introduce error or bias into the findings of public opinion polls.