PRINCETON, NJ -- According to a new USA Today/Gallup poll, conducted Feb. 21-24, more than four in five Democrats (including independents who lean Democratic) believe Hillary Clinton has "the experience necessary to be a good president." Only about three in five Democrats say the same of Barack Obama.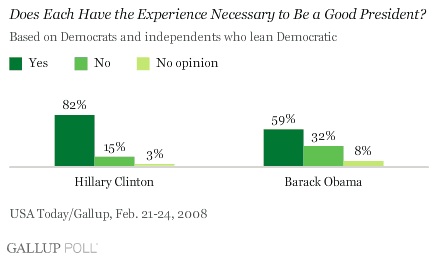 Given this, Clinton seems to have won the argument in the Democratic Party over whether she or Obama has the better résumé to be president, but that is just one of many flanks in their nomination battle, and not one on which Democrats put a tremendous amount of weight.
Democrats also believe Clinton is more apt than Obama to "get things done," to offer "a clear plan for solving the country's problems," and to be a "strong and decisive leader."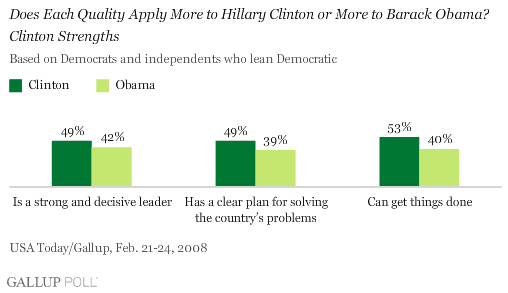 At the same time, Obama beats Clinton among Democrats in perceptions that he cares about the needs of people like themselves, shares their values, has a vision for the country's future, is honest and trustworthy, and has the best chance of beating the Republican candidate for president in November.
Obama's better than 2-to-1 lead over Clinton in electability is the strongest advantage seen for either candidate on any issue or dimension measured in the survey.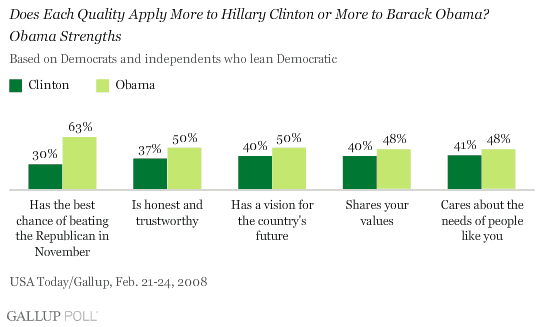 The two are closely matched (Obama 47%; Clinton 43%) in ratings of who better "understands the problems Americans face in their daily lives."
What Matters Most?
In the new poll, Democratic voters were asked to say which of three qualities -- leadership skills and vision, positions on the issues, or experience -- is most important to their vote for president. Of these, experience is last by a significant margin.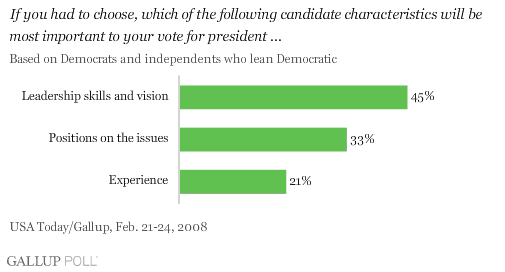 The top-ranked quality is leadership skills and vision. Both candidates have perceptual strengths with voters that speak to different aspects of this.
As noted, Clinton has the higher marks for such leadership qualities as being able to "get things done," offering a clear plan to solve the country's problems, and being a "strong and decisive leader."
Obama beats Clinton by 10 points on having a vision for the country's future.
Regarding "positions on the issues," which Democrats rank second in importance, the two candidates are nearly at a draw in Democratic perceptions of who is better on each of seven national issues.
Clinton and Obama are quite close when Democrats are asked to say which of the two would better handle five specific issues: energy, Iraq, the economy, the environment, and terrorism.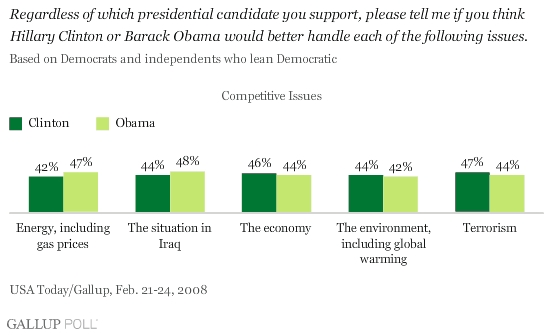 Obama has a strong advantage on handling corruption in government (leading Clinton by 24 points), but this is matched by Clinton's strong advantage on her signature issue, healthcare (leading Obama by 21 points).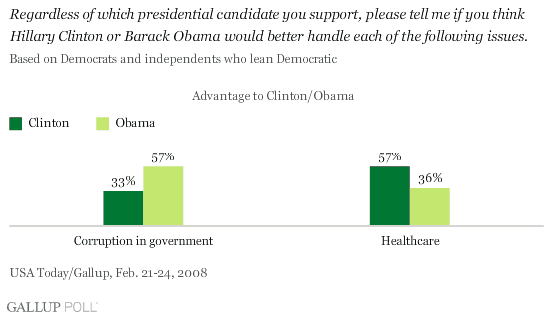 Putting this all in context, Democrats attach much more importance to the economy -- an issue on which the two are about tied -- than to healthcare.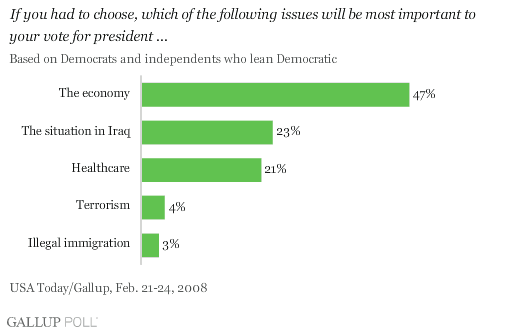 Bottom Line
Clinton beats Obama in Democrats' perceptions of the two candidates' experience and leadership skills. Obama has solid advantages in Democrats' perceptions about his vision, values, and honesty, and enjoys a big advantage on electability. He and Clinton are about evenly matched in voter perceptions of their handling of major issues, though Obama captures the outsider image as the one who can better clean up government corruption, while Clinton has a big advantage on healthcare.
Although it is not entirely clear how much Obama's perceptual deficits on "experience" and healthcare hurt him with Democrats, or how much his perceived strengths on vision, anti-government corruption, and electability help him, it all seems to balance out in his favor. The same poll producing these findings shows Obama favored for the nomination by a 12 percentage-point margin over Clinton, 51% to 39%.
Survey Methods
Results are based on telephone interviews with 2,021 national adults, aged 18 and older, conducted Feb. 21-24, 2008. For results based on the total sample of national adults, one can say with 95% confidence that the maximum margin of sampling error is ±2 percentage points.
For results based on the sample of 1,009 Democrats or Democratic leaners, the maximum margin of sampling error is ±3 percentage points.
Interviews are conducted with respondents on land-line telephones (for respondents with a land-line telephone) and cellular phones (for respondents who are cell-phone only).
In addition to sampling error, question wording and practical difficulties in conducting surveys can introduce error or bias into the findings of public opinion polls.