PRINCETON, NJ -- More Americans said Bob Dole was too old to be president when he ran in 1996 than say John McCain is too old this year.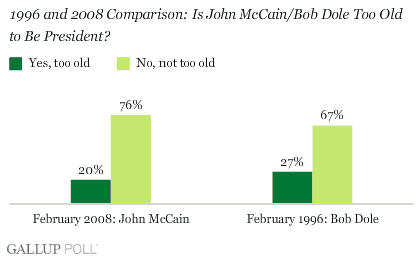 Twenty-seven percent of American adults in February 1996 said Dole was too old to be president. Twenty percent this year say McCain is too old.
In fact, Dole was slightly older during his run for the presidency than McCain is this year. Dole was born in July 1923, making him 72 and 73 during the course of the 1996 campaign year. McCain was born in August 1936, making him 71 now and 72 in the fall. (McCain would be the oldest president to be elected for the first time if he were to win in November.)
Of some comfort to McCain is the fact that Americans on average perceive him to be slightly younger than his real age. When the public is asked to guess McCain's age, the average of all guesses puts McCain at 67. The majority of Americans -- 57% -- guess that he is 70 or younger, including 35% who say he is 65 or younger. A small 4% say he is 76 or older.
There is a partisan difference in perceptions of the impact of McCain's age. Twenty-eight percent of Democrats say McCain is too old to be president, compared with 11% of Republicans.
Counterbalancing McCain's older age on the Republican side is Barack Obama's relative youth on the Democratic side. Obama was born in August 1961, making him 46 now and 47 next fall. (Obama would not be the youngest president were he to win in November; John Kennedy was 43 when he was inaugurated in January 1961 and Theodore Roosevelt was 42 when he ascended to the presidency upon the death of William McKinley in 1901.)
Only 13% of Americans say Obama is too young to be president. Republicans are only slightly more likely than Democrats to say Obama is too young.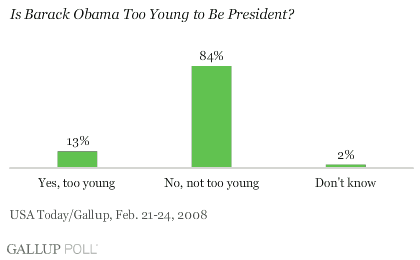 Americans are quite accurate in their estimates of Obama's age. The average guess is his actual age, 46. Seventeen percent of Americans guess that Obama is 40 or younger, while 15% say he is 51 or older.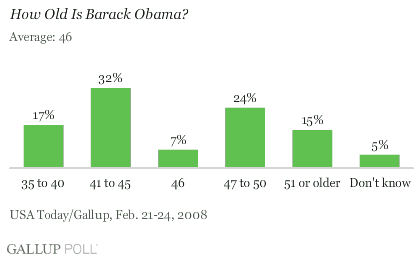 Hillary Clinton is between McCain and Obama in terms of age. She was born in October 1947, making her 60 now and 61 before Inauguration Day for the next president in January 2009. The recent Gallup Poll did not ask Americans whether Clinton was too young or too old to be president, but did ask them to guess her age. There's presumed good news for Sen. Clinton in the results. The average guess is a youthful 56, and 66% of Americans guess that she is under 60, including about 4 in 10 who believe she is 55 or younger. Only 12% of Americans say she is 61 or older.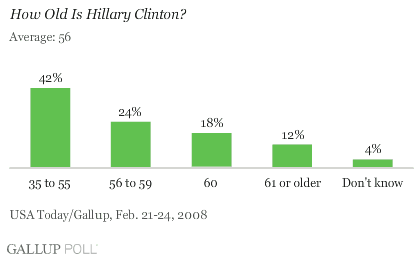 Survey Methods
Results are based on telephone interviews with 2,021 national adults, aged 18 and older, conducted Feb. 21-24, 2008. For results based on the total sample of national adults, one can say with 95% confidence that the maximum margin of sampling error is ±2 percentage points.
For results based on the 1,010 national adults in the Form A half-sample and 1,011 national adults in the Form B half-sample, the maximum margins of sampling error are ±3 percentage points.
Interviews are conducted with respondents on land-line telephones (for respondents with a land-line telephone) and cellular phones (for respondents who are cell-phone only).
In addition to sampling error, question wording and practical difficulties in conducting surveys can introduce error or bias into the findings of public opinion polls.