PRINCETON, NJ -- Gallup Poll Daily interviews from March 4-6 continue to give Hillary Clinton a slight edge over Barack Obama, 48% to 44%, in the nomination preferences of national Democrats.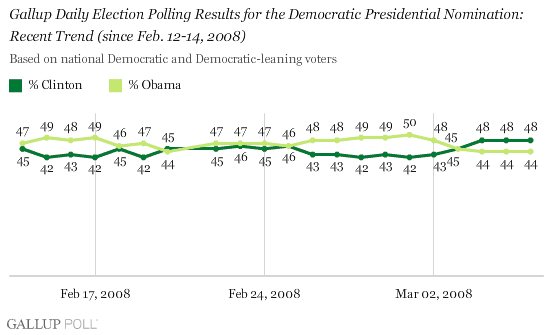 Although Clinton seemed to exceed expectations for the March 4 primaries by winning handily in Ohio and beating Obama in Texas, her recent move from running behind Obama (by as much as 8 percentage points) to running ahead, started over the March 1-2 weekend. Friday's report includes two nights of interviews conducted after the March 4 primaries. However, neither Wednesday nor Thursday night's interviewing show any additional increase in national Democratic support for her candidacy over what Gallup found prior to Tuesday.
Clinton's 4-point lead is within the margin of sampling error for Friday's report, and, therefore, is not statistically significant. That she has held the same lead in each of the past three Gallup Poll Daily reports, however, suggests that Clinton does hold a narrow advantage in recent Democratic preferences. -- Lydia Saad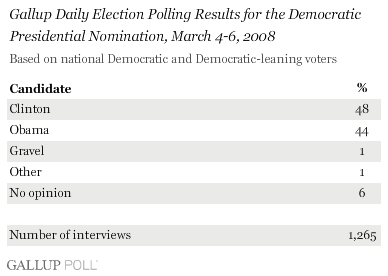 Methodology: Gallup is interviewing no fewer than 1,000 U.S. adults nationwide each day during 2008. The results reported here are based on combined data from March 4-6, 2008, including interviews with 1,265 Democratic and Democratic-leaning voters. For results based on these samples, the maximum margin of sampling error is ±3 percentage points. In addition to sampling error, question wording and practical difficulties in conducting surveys can introduce error or bias into the findings of public opinion polls.
To receive Gallup Poll Daily tracking reports each day as soon as they are published, please
register here
and add Gallup Daily to your e-mail subscriptions.