PRINCETON, NJ -- Forty-nine percent of Democratic voters nationally support Barack Obama for the Democratic nomination compared with 44% backing Hillary Clinton, giving Obama a slight but statistically significant five percentage point lead.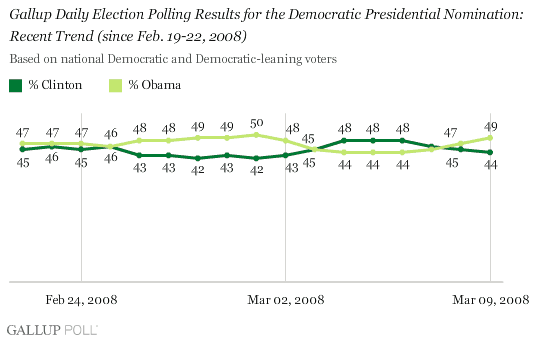 For the past week Clinton and Obama had been neck and neck in national Democratic support, but preferences have now returned to where they stood in late February when Gallup Poll Daily tracking found Obama consistently ahead by a 5- to 8-point margin.
This comeback for Obama started prior to his victory in the Wyoming caucuses on Saturday, March 8, thus blunting Clinton's winning streak coming off of the March 4 primaries. Obama has led Clinton on each of the individual days included in today's three-day rolling average, from March 7-9. -- Lydia Saad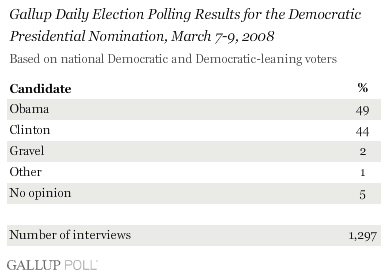 Methodology: Gallup is interviewing no fewer than 1,000 U.S. adults nationwide each day during 2008. The results reported here are based on combined data from March 7-9, including interviews with 1,297 Democratic and Democratic-leaning voters. For results based on these samples, the maximum margin of sampling error is ±3 percentage points. In addition to sampling error, question wording and practical difficulties in conducting surveys can introduce error or bias into the findings of public opinion polls.
To receive Gallup Poll Daily tracking reports each day as soon as they are published, please register here and add Gallup Daily to your e-mail subscriptions.