PRINCETON, NJ -- John McCain's 67% favorable rating is the highest of any of the three major candidates running for president, and ties for his highest in Gallup polling history.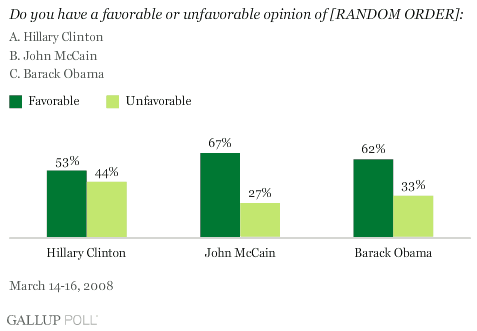 McCain's favorable rating matches the 67% he received in February 2000, when he was in the middle of his first run for president. But since that point, McCain's image in the eyes of Americans has undergone significant shifts. The Arizona senator had favorable ratings in the 57% range as he began his presidential campaign last winter, but as his campaign floundered this past summer, his favorable rating dropped as low as 41%. At that point, many observers had written off the former POW's campaign. But McCain came roaring back, winning the New Hampshire primary and then clinching the Republican nomination. His current favorable rating represents a gain of 26 points since last summer, including an 11-point increase since he won enough delegates to ensure his nomination on March 4.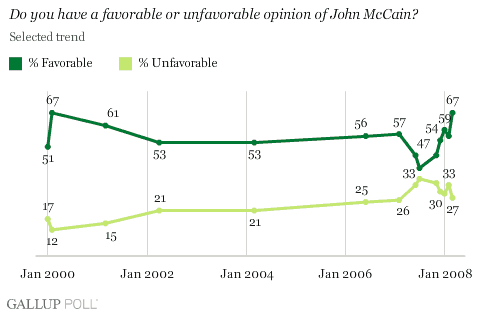 Illinois Sen. Barack Obama's favorable rating is now at 62%, by one point the highest Gallup has recorded for Obama since the first reading in December 2006 (at which point almost half of Americans did not know enough about him to give him a rating). Obama's ratings have been fairly stable in recent months, ranging between only 58% and 61% across five Gallup Polls conducted since January.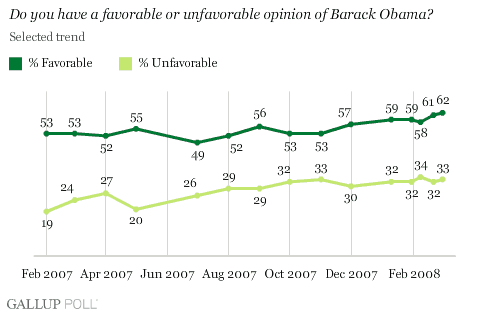 Hillary Clinton's favorable rating, 53%, is significantly lower than those of the other two candidates, in part no doubt because of her long history in the public eye, including eight years as first lady in her husband's administration. Still, this is Clinton's highest favorable rating since October of last year.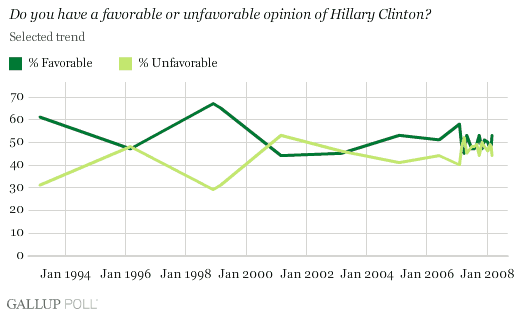 Clinton over the years has seen a number of ups and downs in her image. Her highest favorable rating of 67% came in December 1998, just as her husband was being impeached for charges relating to his involvement with a White House intern. Since then, however, her rating has fallen as low as 44% in March 2001, and 45% as recently as April of last year. Her current rating represents an increase of five points since late February (prior to her wins in the crucial Ohio and Texas primaries).
Both Obama and Clinton have slightly higher favorable ratings among Democrats now than they had in February, suggesting that the negative infighting that has characterized the Democratic campaign in recent weeks is not damaging either candidate's image in the eyes of the party faithful.
One reason for the higher favorable ratings McCain and Obama enjoy is their cross-appeal to Americans who identify with the "other" party.
McCain gets an extraordinarily high 52% favorable from Democrats and independents who lean Democratic, while Obama gets a 39% favorable rating from Republicans and Republican leaners. Clinton, on the other hand, receives only a 20% favorable rating from Republicans and Republican leaners.
McCain is also helped by the fact that he receives an 87% favorable rating from Republicans, higher than the 80% and 79% that Clinton and Obama, respectively, currently receive from Democrats.
Survey Methods
Results are based on telephone interviews with 1,025 national adults, aged 18 and older, conducted March 14-16, 2008. For results based on the total sample of national adults, one can say with 95% confidence that the maximum margin of sampling error is ±3 percentage points.
Interviews are conducted with respondents on land-line telephones (for respondents with a land-line telephone) and cellular phones (for respondents who are cell-phone only).
In addition to sampling error, question wording and practical difficulties in conducting surveys can introduce error or bias into the findings of public opinion polls.