PRINCETON, NJ -- Hillary Clinton's recent lead over Barack Obama in national Democratic nomination preferences has dwindled to the point that the two are now nearly tied, with Clinton at 47% and Obama at 45% in March 18-20 Gallup Poll Daily tracking.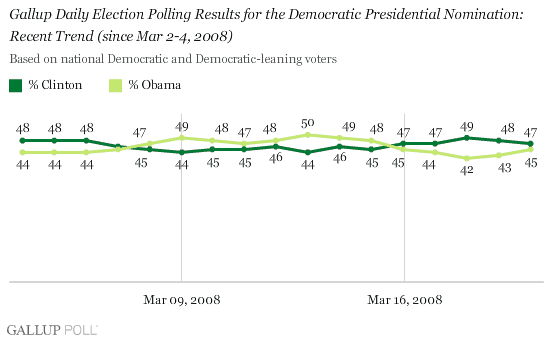 Clinton moved 7 percentage points ahead of Obama in Gallup's March 19 report and sustained a significant 5-point lead on March 20. Her gains were coincident with the controversy over Obama's former pastor and "spiritual mentor," Rev. Jeremiah Wright. However, the surge in Democrats' preference for Clinton that Gallup detected earlier in the week has started to move out of the three-day rolling average, and the race is back to a near tie. It is possible that Obama's aggressive efforts to diffuse the Wright story, including a major speech about race on March 18, have been effective.
Still, Obama has yet to recover fully from the apparent damage done by the Wright controversy. It was only one week ago that Obama led the race by a significant six-point margin over Clinton, 50% to 44%. (To view the complete trend since Jan. 3, 2008, click here.)
All of this turmoil on the Democratic side may be slightly beneficial to the Republicans' White House aspirations, at least for the time being. In separate trial heats for the fall election, John McCain continues to hold slim advantages over Clinton and Obama among national registered voters. Earlier in the month, both Democrats held the slight edge on this measure. -- Lydia Saad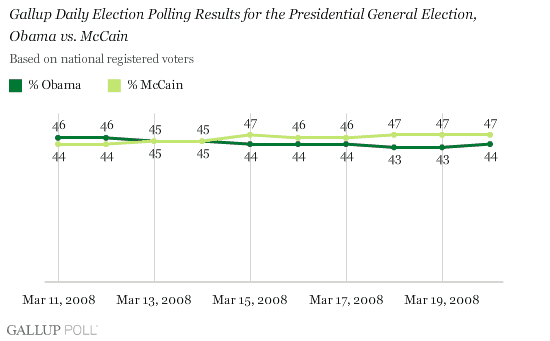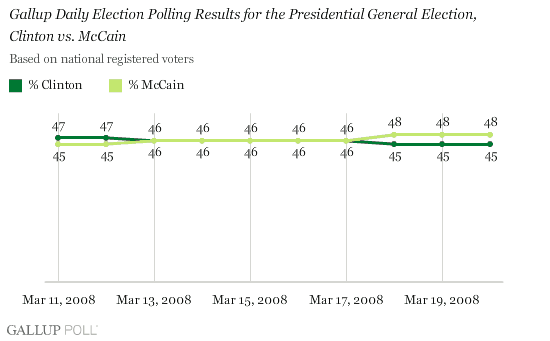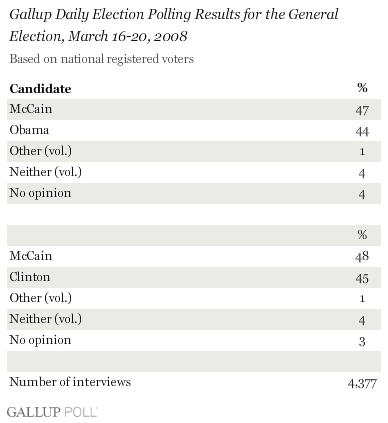 Methodology: Gallup is interviewing no fewer than 1,000 U.S. adults nationwide each day during 2008.
The general election results are based on combined data from March 16-20, 2008. For results based on this sample of 4,377 registered voters, the maximum margin of sampling error is ±2 percentage points.
The Democratic nomination results are based on combined data from March 18-20, 2008. For results based on this sample of 1,227 Democratic and Democratic-leaning voters, the maximum margin of sampling error is ±3 percentage points.
In addition to sampling error, question wording and practical difficulties in conducting surveys can introduce error or bias into the findings of public opinion polls.
To receive Gallup Poll Daily tracking reports each day as soon as they are published, please
register here
and add Gallup Daily to your e-mail subscriptions.