PRINCETON, NJ -- Gallup Poll Daily tracking for April 10-12 shows Barack Obama continuing to hold a solid lead over Hillary Clinton in national Democratic voters' support for the presidential nomination, 50% to 41%.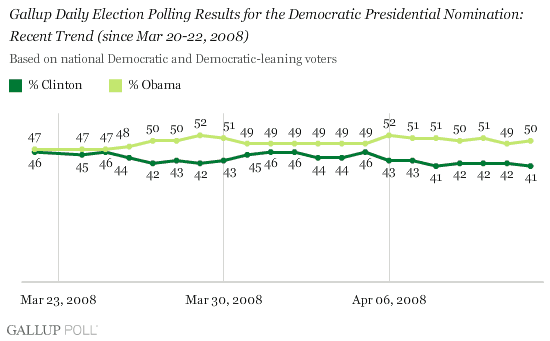 The latest news in the campaign focuses on remarks Obama made, first reported on Friday, about working class and rural voters being "bitter" about the economy. Clinton and John McCain have seized on the remarks.
Initial indications are that the controversial remarks have not yet hurt Obama -- his 9-percentage point lead in the current results (based on March 10-12 polling) is right in line with the average 8.5-point lead he held in the prior six days' tracking results. Also, his lead in the current results shows a slight improvement from his 7-point advantage in March 9-11 polling. As the story gains momentum in the press, the coming days' tracking results will measure its ultimate impact.
The controversy comes just as Obama has established himself as the leader in Democratic voters' preferences for the nomination, holding a statistically significant lead in each of the past seven days' tracking results. Prior to that, he had only managed to hold a significant lead in as many as four consecutive days' results, doing this in late March. (To view the complete trend since Jan. 3, 2008, click here.)
The results of the general election trial heats are the same as in previous days, with Obama ahead of McCain 46% to 43% and Clinton up on McCain 46% to 45%. Though both results are within the poll's margin of error, the fact that the Democrats' advantages have held up for several days suggests a high probability that they actually hold a lead in the underlying population of registered voters. -- Jeff Jones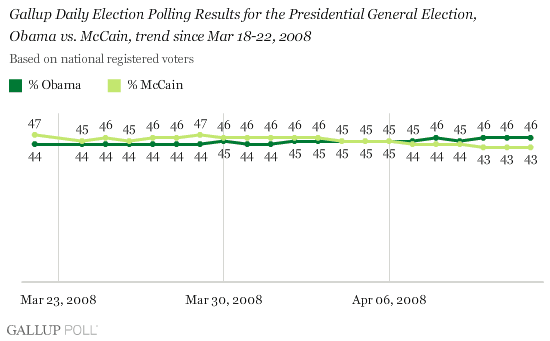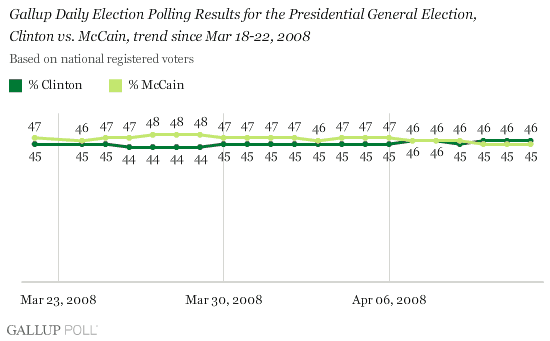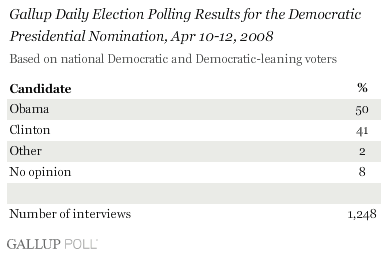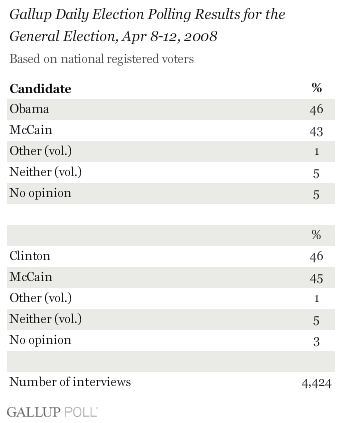 Survey Methods
For the Gallup Poll Daily tracking survey, Gallup is interviewing no fewer than 1,000 U.S. adults nationwide each day during 2008.
The general election results are based on combined data from April 8-12, 2008. For results based on this sample of 4,424 registered voters, the maximum margin of sampling error is ±2 percentage points.
The Democratic nomination results are based on combined data from April 10-12, 2008. For results based on this sample of 1,248 Democratic and Democratic-leaning voters, the maximum margin of sampling error is ±3 percentage points.
In addition to sampling error, question wording and practical difficulties in conducting surveys can introduce error or bias into the findings of public opinion polls.
To receive Gallup Poll Daily tracking reports each day as soon as they are published, please
register here
and add Gallup Daily to your e-mail subscriptions.