PRINCETON, NJ -- Forty-nine percent of consumers say their financial situations are "getting worse" and only 32% say they are "getting better" -- the worst consumer assessment of personal financial trends this decade.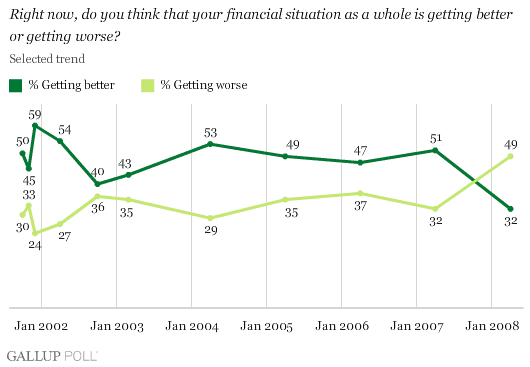 Consumers' Expectations for Their Finances Are Worst of Decade
American consumers tend to be optimistic about their own financial future, particularly in comparison to their attitudes about the national economy. For example, immediately after the 9/11 terrorist attacks, in October and November 2001, the percentage of consumers saying their financial situations were getting better ranged between 45% and 50%. The previous low this decade for such an optimistic view was 40% in October 2002, and 43% held this view in March 2003 -- just as the Iraq war was beginning. Given this context, the current percentage of consumers who say their finances are getting better (32%) and the percentage who say they are getting worse (49%) are not only a complete reversal of consumer perceptions from a year ago, but, more importantly, are the worst reading on the measure this decade. (Gallup first asked about personal finances using this question in 2001.)
Additionally, consumers' self-assessments of their current finances are more negative than at any time this decade. In the April poll, the percentage of consumers rating their financial situations as "poor" is 17%, while the percentage rating their situations as "excellent" or "good" is 45%.
Significantly, these are consumers' ratings of their own finances -- something they know much more about and tend to relate more accurately than when they are asked to rate the national economy. As has generally been the case, consumers' perceptions of their own financial situations are considerably more positive than their ratings of the national economy (83% of Americans now say the U.S. economy is getting worse, and 46% rate the national economy as "poor").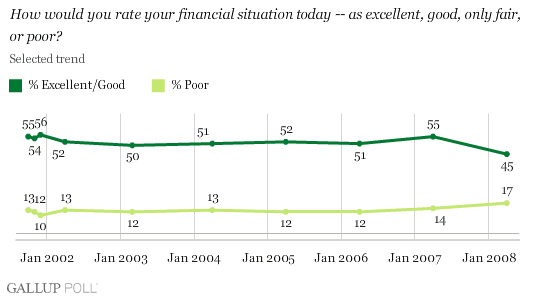 Negative Implications for Consumer Spending
Consumers' perceptions of their current financial situations and their expectations for future improvement can have a major impact on their spending intentions. When asked to consider their finances and assess their future spending, only 22% said they feel they are in a "good" position to buy some of the things they would like to have, while 74% said they feel it is a "bad" time to spend money. Gallup has asked this spending question only occasionally over the last 30 years, but the current readings are the worst of the six times it has been measured. More consumers feel now is a bad time to spend than the 53% who felt that way in September 2001 (just after 9/11) and the 67% holding that view during October 1991, just after the 1990-91 recession.
From another perspective, only 29% of consumers say they would feel comfortable making a major purchase such as a home, a car, major appliances, or other significant purchase in the next three months -- down from 47% a year ago. Similarly, 37% of consumers say they are less comfortable making such purchases now than they were just three months ago.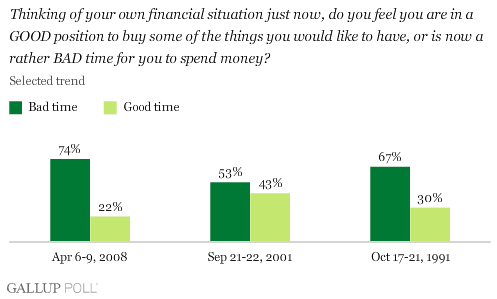 Could the Recession Be Worse Than Expected?
During recent months, fears of a financial crisis have dominated the business news, and the relief experienced as a result of the Federal Reserve's and the Treasury's aggressive response to assist the financial markets has been palpable. However, this improved perspective on the part of the credit markets may be hiding a rapidly deteriorating situation on Main Street.
Consumers are being squeezed not only in the credit markets, but also by record food and energy prices -- not to mention a worsening jobs market. Gallup's new polling suggests that the current consumer squeeze is more intense than the situations consumers experienced following 9/11, the beginning of the Iraq war, and the aftermath of the 1990-91 recession. In turn, this implies that the weakened consumer spending levels that many retailers are already anticipating may turn out to be too optimistic. Consumers' perceptions and their spending intentions suggest this recession could be somewhat worse than the "mild" downturn of the consensus forecast, and that retailers may be wise to plan accordingly.
Survey Methods
Results are based on telephone interviews with 1,021 national adults, aged 18 and older, conducted April 6-9, 2008. For results based on the total sample of national adults, one can say with 95% confidence that the maximum margin of sampling error is ±3 percentage points.
Interviews are conducted with respondents on land-line telephones (for respondents with a land-line telephone) and cellular phones (for respondents who are cell-phone only).
In addition to sampling error, question wording and practical difficulties in conducting surveys can introduce error or bias into the findings of public opinion polls.
To provide feedback or suggestions about how to improve Gallup.com, please e-mail feedback@gallup.com.