PRINCETON, NJ -- As of Wednesday night, only 3% of Americans say they have received their tax stimulus plan rebates.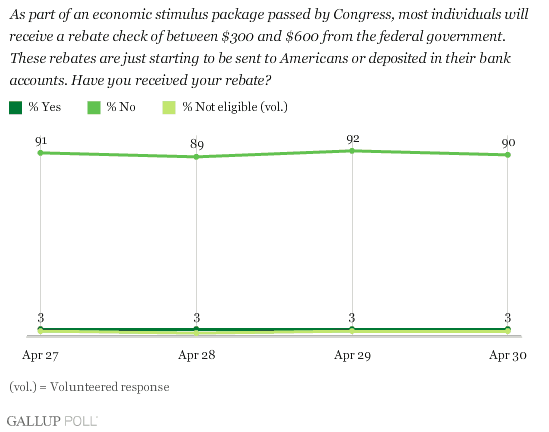 Gallup began tracking the perceived penetration of the stimulus rebates on Sunday. At that point, when no rebates had yet been sent to Americans' bank accounts (according to the government), 3% reported having received the rebate.
There has been no change in this baseline percentage reporting that they have received the stimulus rebates in Gallup's Monday, Tuesday, or Wednesday night interviewing. This is despite government reports that rebates had begun to be deposited in bank accounts Monday for taxpayers who used direct deposit with their tax returns and whose Social Security numbers ended in a range of digits from 00 to 20. In other words, despite the fact that the rebate program has begun, there has been no uptick in perceptions of having received the rebate as of Wednesday. (Gallup will continue to track perceived rebate receipt in the days, weeks, and months to come, and will post the ongoing monitor on its Web site.)
The rebates are supposed to "stimulate" spending, of course, but Gallup research shows that given a list of choices, Americans are more likely to say they will pay off bills and invest the money they receive rather than spend it.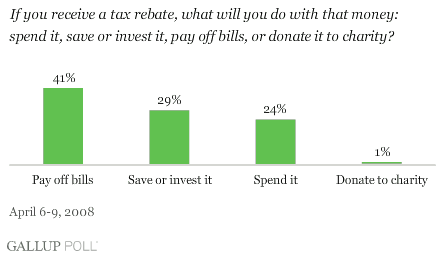 Of course, it's possible that if consumers pay off bills with the stimulus checks, they will free up money to spend (and possibly feel better about spending) other money on consumer goods. Based on ongoing Gallup research, it wouldn't be surprising if Americans spend the money on gas and food, the rising cost of which is described as "a crisis" for as many as 4 in 10 Americans, based on recent research.
With rebates for households with two adults and children exceeding $1,000, one potential use of that money could be for travel or a vacation, no doubt raising hopes for an economic boost in the travel industry. Recent Gallup research (to be explored in detail Monday on gallup.com) shows that Americans who report having had to reduce spending recently say they are cutting back on vacations and travel as much as anything else.
In fact, Gallup's April 18-20 poll asked Americans directly if they were going to spend their stimulus rebate toward a vacation or travel, and didn't receive a very enthusiastic response.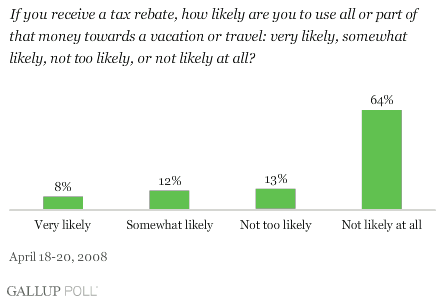 Bottom Line
There is no sign yet that an appreciable number of Americans are aware of receiving the tax stimulus rebates from the government, and there are some questions about how directly it will be spent -- once it does arrive -- on consumer items.
Survey Methods
Results are based on telephone interviews with 1,021 national adults, aged 18 and older, conducted April 6-9, 2008. For results based on the total sample of national adults, one can say with 95% confidence that the maximum margin of sampling error is ±3 percentage points.
Other results are based on telephone interviews with 1,016 national adults, conducted April 18-20, 2008. For results based on this sample, the maximum margin of sampling error is ±3 percentage points.
Interviews are conducted with respondents on land-line telephones (for respondents with a land-line telephone) and cellular phones (for respondents who are cell-phone only).
In addition to sampling error, question wording and practical difficulties in conducting surveys can introduce error or bias into the findings of public opinion polls.
To provide feedback or suggestions about how to improve Gallup.com, please e-mail feedback@gallup.com.