PRINCETON, NJ -- After steadily deteriorating since early January, Americans' economic mood is stabilizing so far in May, albeit at last month's very dismal levels. Aggregated Gallup Poll Daily tracking data from May shows 43% of Americans describing current economic conditions as "poor," identical to the average for all of April.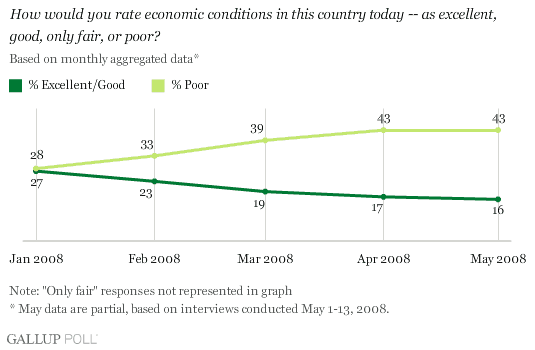 Pessimism about the direction of the economy also remains high, as 86% of Americans polled from May 1-13 say the economy is getting worse, similar to the 85% in April.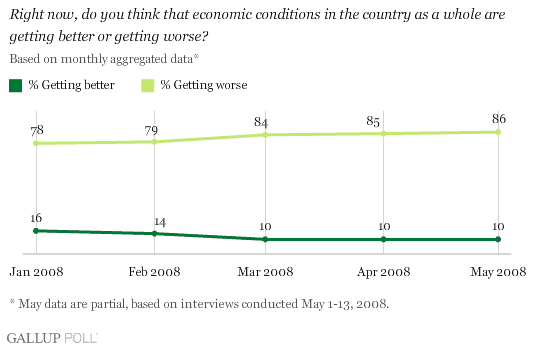 An overall assessment of Americans' views of the economy can be derived by creating an Economic Mood measure based on responses to the two questions discussed here. Respondents who say the economy is either "excellent" or "good" and getting better (or who volunteer that it is staying the same) are considered "positive" about the economy. Those who say the economy is "only fair" or "poor" and staying that way or getting worse are considered "negative." All others are considered "mixed" in their economic views.
The majority of Americans -- 65% -- were already negative about the economy in January. But that swelled to over three-quarters of Americans by April. The percentage considered "positive" has nearly vanished, dropping from 12% in January to 7% in April and May. And the percentage "mixed" has dwindled from 20% to 13%.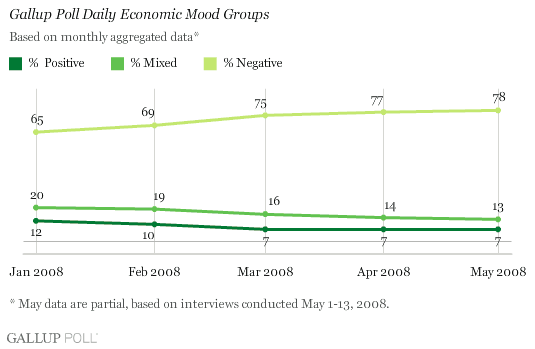 With negative economic views so high, they are also widespread. According to the aggregate of May 1-13 Gallup Poll Daily tracking, Americans living in high-income households, Republicans, and residents of the Southwest and Rocky Mountain states are a bit more likely to have a positive economic outlook than are others; but even the vast majority of these groups are negative about the economy.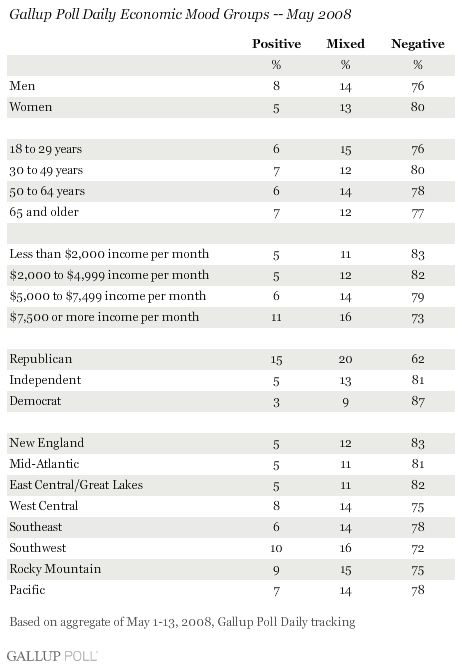 Implications
With tremendous stock market volatility, a crisis in the housing and credit markets, rising unemployment, and fuel prices going through the proverbial roof, Americans have had little reason to feel good about the economy in 2008. Mounting problems in many of these areas have brought about a steady decline in Americans' economic ratings since January.
As bad as the current ratings are, there is still opportunity for them to get worse if the remaining 20% of Americans now categorized as either positive or mixed in their economic views move into the "negative" column.
Thus, if there is any good news out of Gallup's daily tracking of Americans' views of the economy, it's that confidence hasn't gotten any worse in May. The bad news is that it is holding at the very negative level reached in April.
Survey Methods
The May 2008 results reported here are based on combined interviews with 6,459 national adults, conducted May 1-13. For results based on this sample, the maximum margin of sampling error is ±1 percentage point.
The trends reported here are based on monthly aggregates of Gallup Poll Daily tracking from January 2008 through April 2008, including interviews with approximately 15,000 national adults each month. For results based on samples of this size, the maximum margin of sampling error is ±1 percentage point.
The eight geographic regions described in this report are based on the following state groupings: New England (Maine, New Hampshire, Vermont, Massachusetts, Rhode Island, Connecticut), Middle Atlantic (New York, New Jersey, Pennsylvania, Maryland, Delaware, West Virginia, District of Columbia), East Central/Great Lakes (Ohio, Michigan, Indiana, Illinois), West Central (Wisconsin, Minnesota, Iowa, Missouri, North Dakota, South Dakota, Nebraska, Kansas), Southeast (Virginia, North Carolina, South Carolina, Georgia, Florida, Kentucky, Tennessee, Alabama, Mississippi), Southwest (Arkansas, Louisiana, Oklahoma, Texas), Rocky Mountain (Montana, Arizona, Colorado, Idaho, Wyoming, Utah, Nevada, New Mexico), and Pacific (California, Oregon, Washington, Hawaii, Alaska).
In addition to sampling error, question wording and practical difficulties in conducting surveys can introduce error or bias into the findings of public opinion polls.
To provide feedback or suggestions about how to improve Gallup.com, please e-mail feedback@gallup.com.