WASHINGTON, D.C. -- Although Russia received formal recognition as a market economy six years ago this week, Gallup Polls suggest Russian citizens have not bought into the idea that this type of economy is right for their country's future.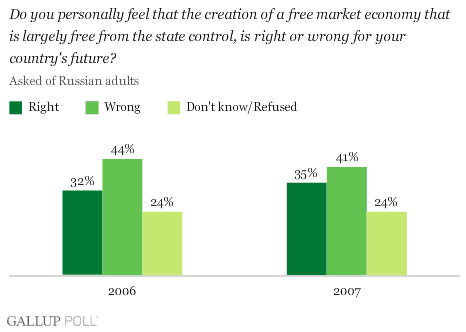 In late May and early June 2002, the European Union and the United States acknowledged Russia's transition from a centrally planned economy to a market economy, which was a milestone on its path toward World Trade Organization (WTO) membership. Since then, Russia has watched several of its former republics join the trade group while its own membership has remained delayed, and the power between Russia's businesses and government has been rebalanced considerably in favor of state control.
Gallup Polls in Russia in 2006 and 2007 show citizens tend to think the creation of a free market economy that is largely free of state control is wrong, rather than right, for their country's future, but the gap between those who think a free market economy is right or wrong has narrowed.
Mark Medish, a Russia expert with the Carnegie Endowment for International Peace, says several factors may be behind Russians' responses to Gallup's questions, including their memories of the rapid, rocky economic transition in the 1990s. "Part of the story is that the '90s were viewed and are viewed as chaotic, both politically and economically," Medish says. "The phrase 'free market economy' conjures up the 'Wild East' and loss of control."
Medish says Russians may also be wondering whether increasing income inequality in their country, which particularly affects the elderly and pensioners who desire social protections, may be part of the free market package.
Gallup's findings do demonstrate apparent differences between older and younger Russians' attitudes: Older Russians are significantly more likely to say this type of economy is wrong, rather than right, for their country's future, while opinions among younger Russians are more mixed. However, younger Russians are more likely than older Russians are to see such an economy as right for their future.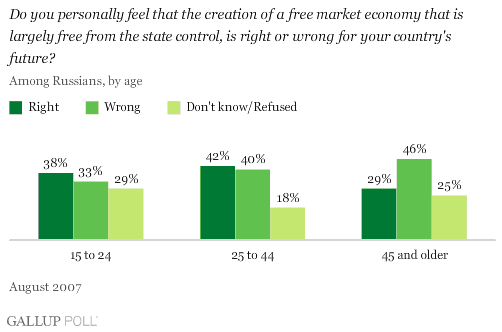 Such a bifurcated response is very typical in emerging markets where rapid change occurs, Medish says. "[In Russia] the young people have grown up in this context of globalization, and they know how to swim in this new ocean, whereas the older generations are just resistant to change because the change will mean less for them and less security."
The Future
Gallup's findings suggest Russians are not sure a market economy is best for their country's future. However, sentiment could potentially change with the country's new president, Dmitry Medvedev, at the helm. Medvedev's background as a businessman and a lawyer could mean some rebalancing back in the direction of more respect for rule of law, property rights, and contract law.
Medvedev is "not Milton Friedman, but less KGB," Medish says, and more of a technocrat and pro-business modernizer. "He's emphasized freedom, political freedom and economic freedom, in a number of speeches and that seems to be significant and seems to reflect what he really believes and what he's interested in. The question is how he will be able to shape policy working with Putin in this new arrangement."
Survey Methods
Results are based on face-to-face interviews with 1,479 adults in Russia, aged 15 and older, conducted in August 2007. For results based on the total sample of national adults, one can say with 95% confidence that the maximum margin of sampling error is ±3 percentage points. In addition to sampling error, question wording and practical difficulties in conducting surveys can introduce error or bias into the findings of public opinion polls.