WASHINGTON, D.C. -- Only days before stepping down as president last week, Vladimir Putin signed a long-awaited law restricting foreign investment in Russia. Gallup Polls in Russia suggest most citizens likely approve of the new limits: 68% of Russians say their government should prohibit foreign companies from buying big Russian companies.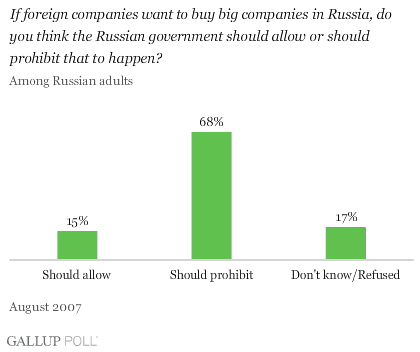 Russia's new law restricts foreign investment in any one of 42 sectors -- from oil and gas to fishing and publishing -- deemed strategically important to the country's security. Foreign private investors must get government approval to buy majority stakes in companies in these sectors and foreign state-run companies must get approval to acquire more than 25% of these companies.
The Russian public is not unique it its aversion to ceding control of big companies and lucrative industries to foreign interests. Sizable percentages of residents in several former Soviet republics, from 40% in Moldova to 63% in Kazakhstan, say their governments should prohibit foreign companies from buying big businesses. However, among the former Soviet populations surveyed, Russians are the most likely to object.
Though many Russians may balk at the idea of foreign companies buying big Russian companies, they are more likely to see foreign direct investment, which has surged over the past several years, as good rather than bad for their economy. Forty-two percent of Russians say foreign investments will help their economy, while about a third (34%) say these investments will hurt the economy.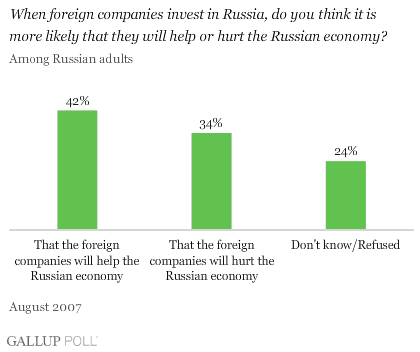 While the new law clarifies the rules for foreign investors, who likely view this as welcome change from previously hazy policies, concern remains about the scope of the sectors included and the possibility that it will get broader. Gallup's data suggest many Russians understand how important foreign investments are to sustaining economic growth, though viewpoints vary.
The Northwest region, which includes St. Petersburg, has attracted a high percentage of total foreign direct investment. A majority of this region's residents (58%) view foreign investments as helpful. Yet attitudes are much different in another prime investment target, the Central region, which includes Moscow. Only 35% of this region's residents perceive the investments as beneficial.
Younger Russians are more likely than older Russians to see foreign investment as a good thing for the nation's economy. Forty-four percent of Russians aged 54 and younger say such investments are helpful, compared with 36% of Russians aged 55 and older who say the same thing. Many younger Russians, who came of age during and after perestroika, likely cannot remember a time when the government did not allow foreigners to invest in their country.
Russians with higher educations are more likely than are those with less education to see benefits in foreign investment. Fifty-two percent of Russians with more than a secondary education see foreign investments as beneficial to their economy, compared with 37% of Russians with a secondary education or less who say the same thing.
Bottom Line
While the new investment rules bring much-needed clarity that foreign investors wanted, they've been in effect for less than a week, and it is still too early to tell whether their implementation will encourage or discourage new foreign investors.
One thing is certain, however: Russia's foreign investment climate has changed since 2003, when then-Prime Minister Tony Blair and then-President Vladimir Putin lauded the 50-50 joint venture between BP and Russian company TNK that formed the country's third-largest oil company. Five years later, as prime minister, Putin will head the government commission that approves or turns down foreign investors' requests to acquire shares in Russian companies.
Survey Methods
Results are based on face-to-face interviews with 1,479 adults, aged 15 and older, in August 2007 in Russia. For results based on the total sample of national adults, one can say with 95% confidence that the maximum margin of sampling error is ±3 percentage points. In addition to sampling error, question wording and practical difficulties in conducting surveys can introduce error or bias into the findings of public opinion polls.
Ian Brown contributed to this report.