PRINCETON, NJ -- Less than a majority of Americans approve of the job performance of each of the three branches of the federal government, with the Supreme Court rated most positively and Congress least positively. The ratings for all three branches approach the lowest Gallup has measured historically.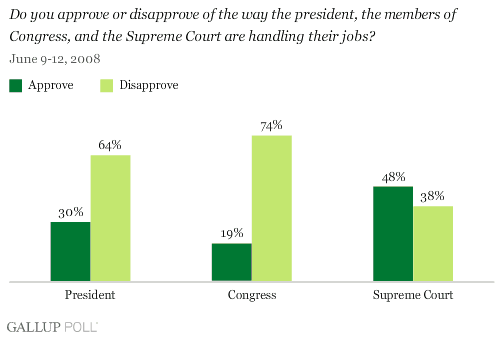 According to the June 9-12 Gallup Poll, 30% of Americans approve of the job George W. Bush is doing as president. That figure is two percentage points better than his personal low rating of 28%, which he has received four times in the past two months. The all-time low approval rating for any president in Gallup annals is 22% for Harry Truman in 1952.
The current poll marks Bush's first approval rating at 30% or above since March 2008. He has not had an approval rating at 40% or above since September 2006 and has not had one at 50% since May 2005.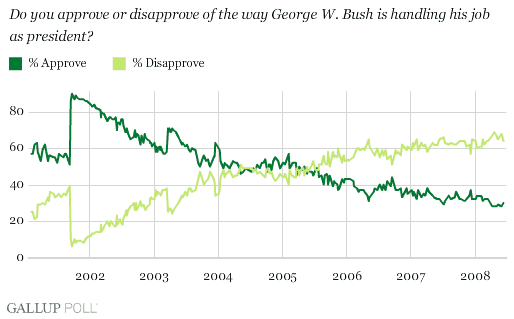 Congress' 19% approval rating is one point better than last month's 18%, which matched August 2007 and March 1992 readings as the worst Gallup has measured since it began tracking Congressional job approval in 1974.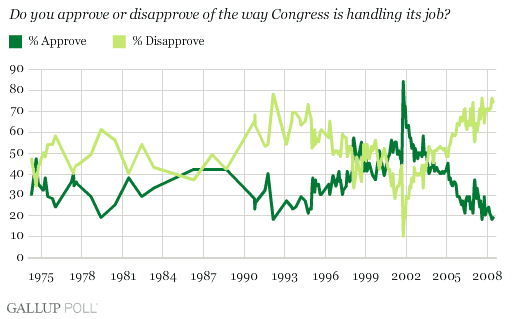 Congress typically receives the lowest approval ratings of the three branches. Since the beginning of Bush's presidency, Congress has averaged 39% approval, compared with 51% for Bush and 55% for the Supreme Court. The general pattern has held prior to Bush's presidency as well.
Currently, 48% of Americans approve of the job the Supreme Court is doing. Gallup does not have the same long track record of measuring approval of the Supreme Court (first asked in 2000) that it does for the president and Congress. But it has only measured a lower approval rating once before, in June 2005 when 42% approved of the Court following a controversial decision that allowed government greater power to seize private property for public purposes. That marked the only time more Americans disapproved than approved of the Court, even though it has made a number of controversial rulings in recent years concerning the disputed 2000 election outcome, affirmative action, and homosexual relations to name a few.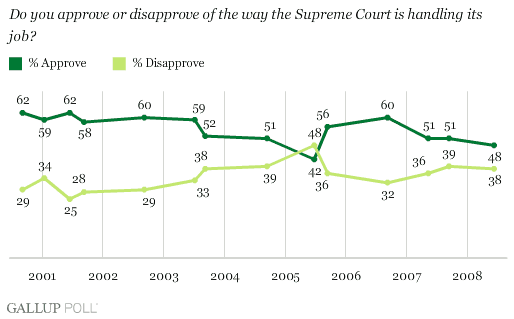 Approval Ratings by Party
There is some variation in approval of the different branches of the federal government, with the greatest partisan divides seen in opinions about the job President Bush is doing.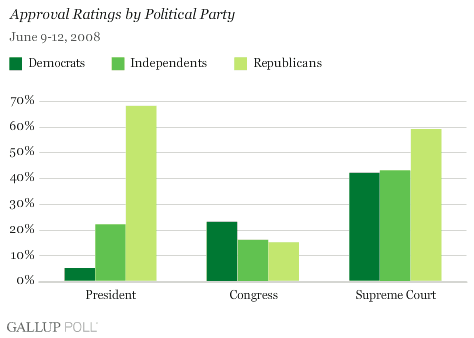 Sixty-eight percent of Republicans approve of Bush's performance as president, compared with 22% of independents, and just 5% of Democrats.
Even though the Democratic Party currently controls both houses of Congress, just 23% of Americans who identify themselves as Democrats approve of the job Congress is doing. Still, that is a better review than independents or Republicans give Congress.
Bush's recent appointments of John Roberts and Samuel Alito to the Supreme Court have moved it in a more conservative direction, so it is not surprising that Republicans evaluate the court most positively. Fifty-nine percent of Republicans approve of the job the Supreme Court is doing, but a substantial minority of Democrats (42%) and independents (43%) also give the court positive marks. Since Bush became president, this has been the typical pattern. However, in Gallup's only measurement during the Clinton presidency (August 2000), Democrats were more likely to approve of the Supreme Court than Republicans.
Survey Methods
Results are based on telephone interviews with 822 national adults, aged 18 and older, conducted June 9-12, 2008. For results based on the total sample of national adults, one can say with 95% confidence that the maximum margin of sampling error is ±4 percentage points.
Interviews are conducted with respondents on land-line telephones (for respondents with a land-line telephone) and cellular phones (for respondents who are cell-phone only).
In addition to sampling error, question wording and practical difficulties in conducting surveys can introduce error or bias into the findings of public opinion polls.
To provide feedback or suggestions about how to improve Gallup.com, please e-mail
feedback@gallup.com
.